The Royal Children Need To Perfect This Skill Before Dining With William & Kate
According to the former royal chef, Darren McGrady.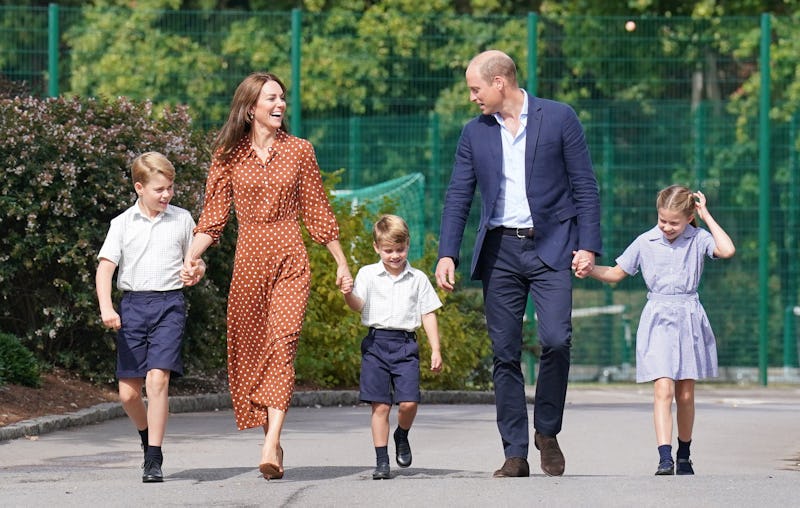 Pool/Getty Images Entertainment/Getty Images
The British monarchy is well known as a stickler for royal rules, and those high expectations extend to the children of the royal family. As per The Mirror, the former royal chef Darren McGrady, who previously worked for the late Queen Elizabeth II and Princess Diana, disclosed to Harper's Bazaar that royal youngsters including Prince George, Princess Charlotte, and Prince Louis are not permitted to attend official dinners with their parents, including during the holidays, until "they have learned the art of polite conversation."
Instead, royal children are required to eat dinner with their nannies in the nursery. "The children always ate in the nursery until they were old enough to conduct themselves properly at the dining table," McGrady added, while also revealing that nannies play an important role in educating the royal children's palates.
"The royal nursery wasn't just for educating the minds of the young royals but educating their palates, too," McGrady recalled of his time working for the British monarchy. "Nanny always had control of the menu and made sure they ate balanced meals that included not only lots of healthy vegetables but introduced them to new grown-up dishes too."
Speaking previously to Bustle, McGrady also revealed that Prince William and Harry inherited their mother's sweet tooth, and had a particular love of banana flan and chocolate ice cream during their youth. "The boys were bananas, and they loved bananas," he recalled. "William was really into the chocolate biscuit cake, which was also the Queen's favorite. We made it all the time at Buckingham Palace."
Meanwhile, McGrady also disclosed to Bustle that Princess Diana was a big fan of a British chocolate classic and shared the real reason why the late princess wasn't very fond of champagne and cocktails.