The Queen's Cause Of Death Has Been Revealed
Plus what we know about the late monarch's health over the years.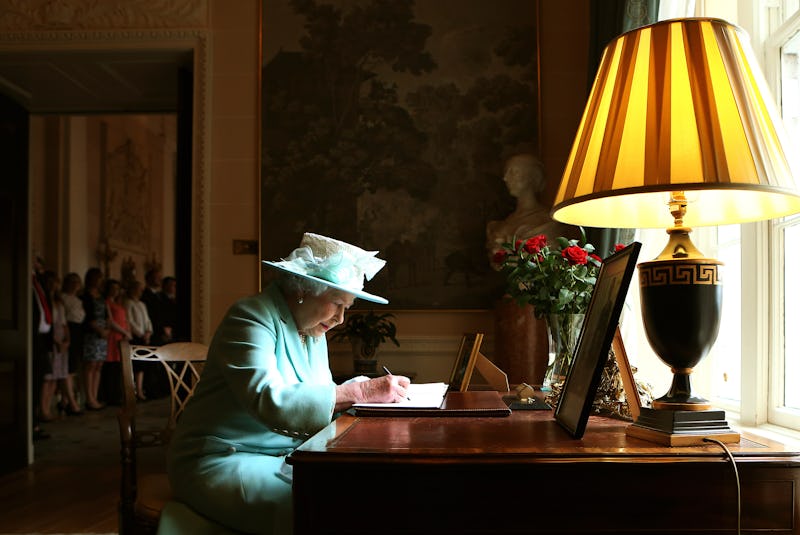 WPA Pool/Getty Images Entertainment/Getty Images
Britain's longest-reigning monarch, Queen Elizabeth II, passed away on Sept. 8 at her home in Balmoral, Scotland. The announcement from Buckingham Palace came after officials announced earlier in the day that the Queen was being placed under "medical supervision" following the concern of her doctors. Her family immediately travelled to be with her. The announcement of her death specified she had "died peacefully," but notably did not include the Queen's specific cause of death.
On Sept. 27, her death certificate was made public by National Records of Scotland, per Metro, and specified "old age" as her cause of death and 3:10 p.m. as the time she passed. Prior to that very few details made known to the public about the Queen's health in recent years. Buckingham Palace is famously private regarding the health and wellbeing of royal family members, especially the ruling monarch. However, we do know that the Queen had to step back from many royal duties and engagements due to her health in the months of late. Deteriorating health was unfortunately only natural at the age of 96, but here is what we do know about the Queen's health issues leading up to her passing.
The Queen's Documented Health Issues
Over the last few years it became quite a common sight to see the Queen using a walking stick and citing "mobility issues". Per Time, the late monarch had been suffering from back pain over the years, and had also had knee surgery in the 2000s. In October 2021, she was also seen using a walking stick in public for the first time, upon arrival at Westminster Abbey for a service (discounting her time in recovery after her 2003 knee operation).
Earlier in February, Reuters reported that video footage was released of the Queen receiving Royal Navy officers at Windsor Castle, in which she had pointed to her left leg and quipped smilingly, "Well, as you can see, I can't move." Buckingham Palace declined to comment, though a palace source did say that the monarch was feeling stiff, and had not been referring to any injury.
These mobility issues have caused the Queen to gradually hand over her duties to other members of the royal family. Most notably, in May this year, she had pulled out of the State Opening of Parliament, with the palace confirming the day before the event that she will not attend due to "episodic mobility problems".
The monarch did manage to make her first major public appearance since being hospitalised in October 2021, attending the Thanksgiving memorial service in honour of her late husband Prince Philip in March 2022. But some concessions had to be made. Instead of making her traditional entrance at the Great West Door of Westminster Abbey and walking down the length of the church, the Queen had taken a shorter route from the back via Poets' Corner, and her entrance was also not televised in order to avoid highlighting her difficulties with mobility, per the Guardian.
As mentioned, the Queen had caused some alarm in October 2021 when palace officials confirmed that she had been hospitalised for one night, for what was described as "preliminary investigations" — the first time in years such a stay had happened. The last time Queen Elizabeth II had spent a night in hospital was back in 2013, when she had reportedly shown symptoms of gastroenteritis. Buckingham Palace announced that the Queen was advised to rest, and so would be cancelling trips to Northern Ireland and Glasgow for the COP26 summit.
Barely a month later, the Queen also had to miss the annual Remembrance Day service after straining her back. The palace announced that she had decided not to attend "with great regret" and was disappointed that she had to miss the ceremony, per the Guardian. Throughout her lengthy 70-year reign, the Queen had only missed six other Cenotaph ceremonies: four occasions when she was overseas in 1961, 1968, 1983, and 1999, and when she was pregnant with Prince Andrew and Prince Edward in 1959 and 1963.
On Feb. 20 this year, Buckingham Palace announced that the Queen had tested positive for Covid, and was experiencing "mild cold-like symptoms", per the BBC. She had caught the virus after meeting then-Prince of Wales, Charles, in Windsor Castle on Feb. 8, who had tested positive along with his wife Camilla a few days later.
According to the BBC, the Queen had already been vaccinated in January 2021, and was also believed to have received all her follow-up shots afterwards. During a virtual visit to the Royal London Hospital later in April, the Queen chatted via video call to a former Covid patient Asef Hussain, whose father and brother had both died from the illness. She also spoke of her own experience with the virus, recalling that "It does leave one very tired and exhausted."
The Queen's Final Days
On Sept. 6, the Queen met with newly-elected Prime Minister, Liz Truss, at Balmoral, rather than travelling to Buckingham Palace. Royal watchers were quick to point out that the Queen's hands appeared visibly bruised. Speaking on the monarch's hands, Dr Deb Cohen-Jones was quoted in the Daily Mail, saying "it looks like there is possibly evidence of peripheral vascular disease. It's a blood circulation disorder that causes the blood vessels outside of your heart and brain to narrow, block, or spasm."
Some broadcasters, like the BBC, also speculated that the Queen may have been suffering with an underlying health condition that was not known to the public. The BBC Royal Editor, Nicholas Witchell, said on air on Sept. 8: "It comes back to this issue that we were just discussing a moment ago as to whether it is merely this mobility issue, or whether there is and has been something else and you know, I think we can be candid, there have been rumours of cancers but no, of course, confirmation and one wouldn't expect that to be because there is an insistence by members of the Royal Family which is reflected by royal officials, that these matters are private." Prince Philip passed away in April 2021 but his cause of death was recorded officially as "old age", per The Sun.
This article was originally published on