Ryan Reynolds Brought Some Famous Friends To Wrexham A.F.C's Last Game Of The Season
Including none other than footballing legend David Beckham.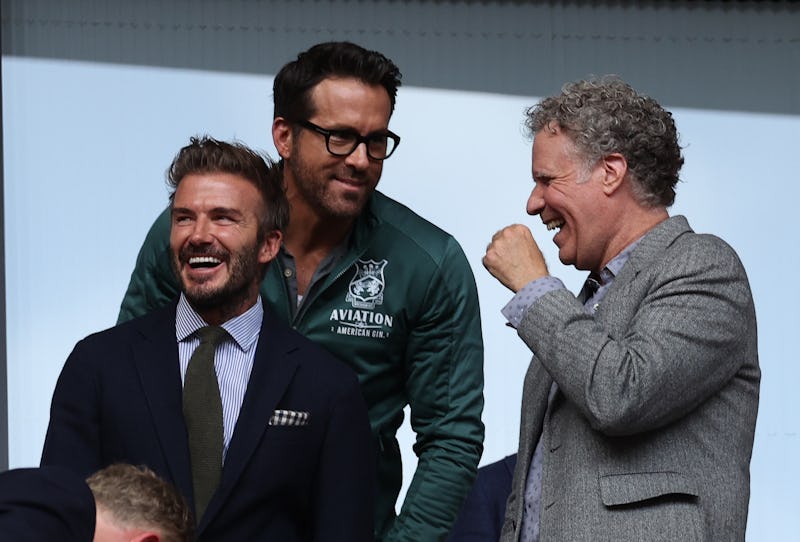 Eddie Keogh - The FA/The FA Collection/Getty Images
It was a huge day for football on Sunday (May 22) with scores of Premier League teams playing their final matches of the season. A rocky performance from league winners Manchester City – eventually rescued by three goals within five minutes – left Liverpool fans briefly in reach of the trophy, and clutching the edge of their barstools. For a lot of footie fans, it was the biggest game of the day but at Wembley Stadium, Ryan Reynolds, Reynolds' wife Blake Lively, actors Will Ferrell and Rob McElhenney, and footballing legend David Beckham all opted to watch Wrexham A.F.C play instead.
And how did a bunch of Hollywood celebs end up watching a Welsh side fighting for promotion against South London's Bromley, you may very well ask? Back in 2020, Ryan Reynolds and fellow actor Rob McElhenney became part-owners (and then took full control in February 2021) and injected around £2 million into the ailing club, and the weekend's game marked their big chance to bag Wrexham a promotion in the football league.
Since buying into the club, the pair have been filming a documentary about the takeover called Welcome to Wrexham and hoped for the fairytale ending of moving on up.
This possibly explains why Ryan Reynolds celebrated a disallowed goal during extra time; the actor's nerves were probably in complete tatters with Bromley one-nil up in the final few minutes of the game. Though it was tight, Jake Hyde's last-minute header into the net was offside, and so didn't end up counting towards the final score.
Elsewhere, Reynolds and McElhenney were snapped joking with Blake Lively, Will Ferrell, and David Beckham at the game. Becks first became a Wrexham fan when the team sent the former England and Man United legend a personalised shirt last year, but unfortunately his star power didn't rub off on the team this time.
"If you can just make heavy eye contact with Beckham for... about 20 seconds, your football knowledge grows exponentially," Reynolds previously told Alison Hammond on This Morning, revealing that he's also been going to the veteran player for advice. "Sometimes I just FaceTime him and I'm just like, 'Don't speak. Just stare at me″."