Shakira & Gerard Piqué Have Separated After More Than A Decade Together
Some fans want Shakira's rebound to be... Pete Davidson.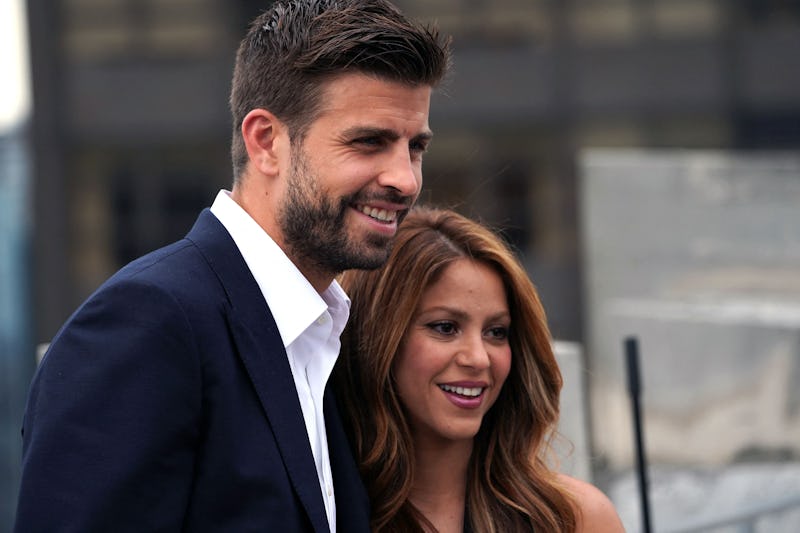 BRYAN R. SMITH/AFP/Getty Images
After 11 years and two children together, Shakira and Gerard Piqué have split. The three-time Grammy winner and the Spanish soccer star went on the record about their breakup in a statement on Saturday, June 4.
"We regret to confirm that we are separating," they said, per the Associated Press. "For the well-being of our children, who are our highest priority, we ask that you respect our privacy. Thank you for your understanding."
The now-exes' relationship began in 2010 after Piqué was one of the footballers who appeared in Shakira's music video for "Waka Waka (This Time for Africa)," the official song for the 2010 FIFA World Cup. "I wasn't a soccer fan so I didn't know who he was," she recalled during a joint 60 Minutes interview in 2020. "But when I saw the video, I was like, 'Hmm. That one's kind of cute.' … And then someone decided to introduce us."
Though the two never married, they went on to have two sons together — Milan in 2013 and Sasha in 2015 — and Shakira would sometimes refer to Piqué as her husband. Explaining why they hadn't tied the knot, the pop star said in their 60 Minutes interview that she preferred for him to see her as "his girlfriend" and not "the wife."
"It's like a little forbidden fruit, you know?" Shakira said. "I want to keep him on his toes. I want him to think that anything's possible depending on behavior."
In May 2022, soccer coach and sports pundit Gary Neville asked Piqué about the "forbidden fruit" comment, and the Barcelona center-back responded that "it's her mentality," adding, "I like it how we are right now. … We work good as a couple."
Just weeks later, though, their relationship came under scrutiny as cheating rumors began swirling. Spain's El Periódico reported that Shakira had caught Piqué stepping out and cited sources who said he'd moved back into his old apartment. The couple has not addressed the rumors so far, and their statement offered no details about their choice to separate.
Whatever the facts, Shakira's supporters have been vocal on Twitter. She became a trending topic as fans discussed the split, with some joking about Piqué "fumbling" when he had such a catch and others dreaming about it being their "time" now that she's single. "I told my husband that Shakira is officially single and the first thing he does is take off his wedding ring……but like, I'm not even mad tho," one person tweeted.
Hilariously, multiple fans wondered about what this development could mean for a certain Saturday Night Live vet. Despite the fact that Pete Davidson and Kim Kardashian appear to be happily coupled up, some worried that he might shoot his shot with Shakira. "Someone tell Pete Davidson to stay away from Shakira now that she's single," one fan wrote. Another, however, thought he'd be a perfect rebound and tweeted, "Kim needs to break up with Pete Davidson so that Shakira can have her turn."
For now, the "Te Felicito" singer and the footballer still have their breakup to work through, including figuring out how to co-parent as exes.