A Walk To Remember Co-Stars Shane West & Mandy Moore Had Crushes On Each Other IRL
"We were just there for each other in the most honest and purest of ways."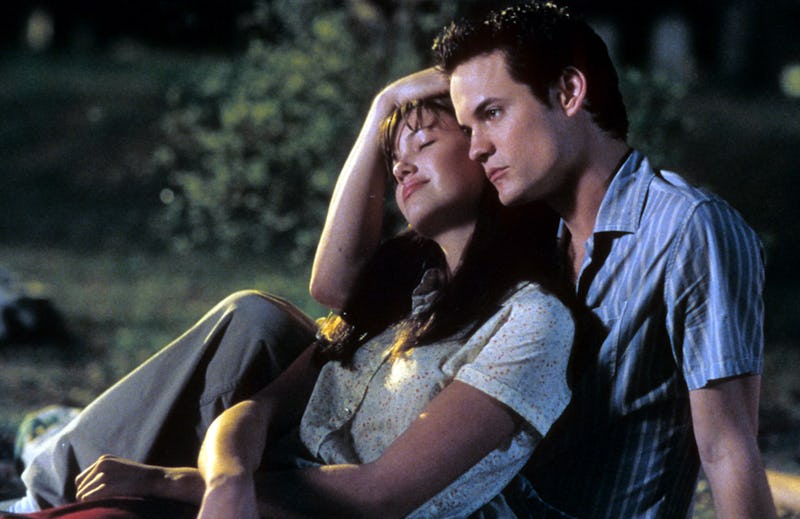 Archive Photos/Moviepix/Getty Images
Nearly 20 years after the release of A Walk to Remember, Shane West wants fans to know that the onscreen chemistry between him and Mandy Moore was totally real. In a recent interview with People, the 43-year-old actor reflected on working with the This Is Us star and revealed that they actually had feelings for each other IRL. "I think we both had a little bit of a crush, but then we were just there for each other in the most honest and purest of ways," he said. "That sounds incredibly corny but is true and rare."
West and Moore weren't the only ones who connected on the set of the Nicholas Sparks adaptation. According to West, the entire cast clicked despite the petty high school drama that played out in the film. "We all had chemistry offscreen, in the sense of bonding and in friendship, including [Mandy], which is the funniest thing because all the other characters had been bullying her," he said. "Everyone liked each other. It was the opposite of the movie. Everyone got along and had a great time."
Apart from the friendships that developed on set, West shared details about a fan-favorite moment from the film when Landon (West) gave Jamie (Moore) a temporary butterfly tattoo. "We were just pulled over near the alleyway. Then [director Adam Shankman] put a camera inside of the car," he recalled. "It was fun to do. It's hard to not smile when you're looking at Mandy's cute, adorable face — to react to that. And it made it easy."
"I couldn't get that tattoo right. I was screwing it up constantly," West continued. "There should be outtakes. I don't think there are — where I peel it off and it's like a third of a butterfly, or half a butterfly, or it didn't work at all." Fortunately, Moore was a good sport and all of West's tattoo fails only made way for a successful final take. "I think the combination of us joking around made the ultimate reveal more of a success," he said.
This isn't the first time the duo gushed about working together, nor is it the first time they've spoken about their undeniable real-life chemistry. To celebrate the 15th anniversary of A Walk To Remember in 2017, Moore told Entertainment Weekly how she really felt about West while filming. "Shane was so cool," she said. "Everything about him — the way he dressed, the little cigarettes that he smoked, and the music he listened to. He was the character to me and there was definitely a part of me that absolutely fell in love with him."
Two years later, West essentially said that he felt the same way in an interview with BUILD. "I do know that we absolutely fell in love with each other as human beings and people," he revealed. "I think that is kind of what helped make the relationship and the chemistry work in that film… I don't even know if we liked each other day one, but it quickly changed day two, and it just kind of grew from that." In that same interview, he also revealed that the two held hands on set.
Although the actors moved on to other relationships (Moore recently had a child with her husband Taylor Goldsmith), West isn't so sure that Landon moved on after Jamie's untimely death at the end of the film. "I think he continued doing what he was going to do," West told People. "She was his inspiration. I think he lived his life to the fullest. It's hard to say if he would remarry, because you could really go two different ways with that."
"You can say that this is the love of his life, and having her near him in his heart keeps him going with his life and his career. But you could also say the same thing would set him up for happiness with someone else, just with all respect to the past," West continued. Regardless, the actor hopes that his character found love again. "Let's be honest: They were so young, for God's sake," he said. "I would hope that he would have another wonderful relationship later in life."