Obsessed With Who Killed Sara? Watch These 6 Murder Mystery Shows Next
The new crime drama is Netflix's most popular non-English show to date.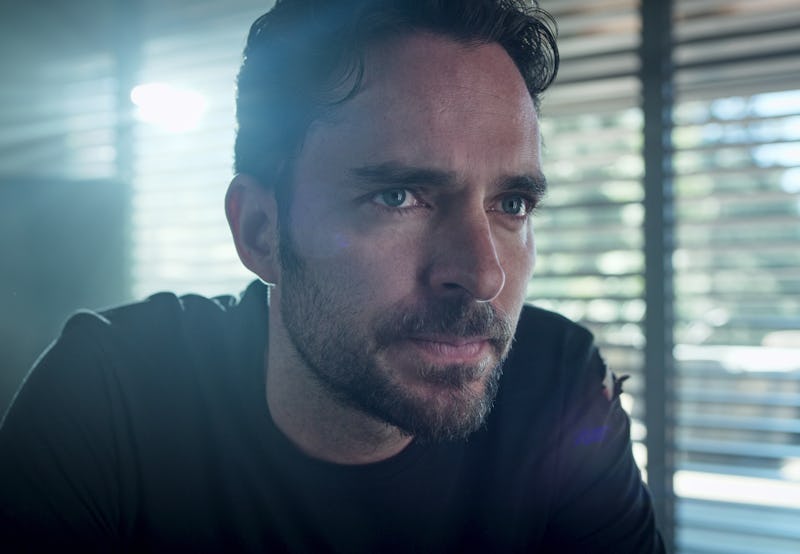 Netflix
Starring Manolo Cardona as Alex Guzmán, Netflix's new thriller series Who Killed Sara? follows a man determined to avenge his sister Sara, whose murder he was wrongly imprisoned for 18 years prior. At first he suspects Rodolfo Lazcano, the rich man who Sara was dating when she fell to her death in a tampered parachute. But after starting a relationship with the youngest Lazcano daughter, Alex soon uncovers a tangled web of crime and deceit. Was Sara killed by Rodolfo's dad César, whose baby Sara was carrying when she died? Or was it Rodolfo's mom Mariana, who seemingly convinced Elroy to cut Sara's parasailing straps before she went up? Or does Sara's secret journal suggest she was in way deeper than Alex thought, and it was someone else entirely?
Read more: Shows & Movies Like 'Bridgerton' To Watch After The Netflix Series
Viewers never learn who killed Sara in Season 1, but the twisty investigative drama quickly became Netflix's most popular non-English series, with over 55 million subscribers tuning in since its March 24 debut. Who Killed Sara? has already been renewed for a second season, which will debut on May 19. In the meantime, here are some other crime shows like Who Killed Sara? to watch next.
Lupin
While a little more light-hearted than Who Killed Sara?, the French show Lupin also revolves around a wrongful imprisonment and a man trying to piece together who killed his family member. Based on the classical character Arsène Lupin, the series follows Omar Sy's Assane as he pulls off clever jewelry heists and unravels who framed — and killed — his father.
Streaming on: Netflix
The Irregulars
If you're looking for investigative dramas, you could always watch BBC's Sherlock, starring Benedict Cumberbatch and Martin Freeman. But if you want a more fun twist on Arthur Conan Doyle's classic characters, you should try The Irregulars, which follows a group of street urchins who team up with Watson (Royce Pierreson) to solve supernatural crimes. It stars a young Asian woman as the lead Bea (Thaddea Graham), and Polygon recommends it over the other new Victorian crime show, Joss Whedon's The Nevers.
Streaming on: Netflix
The Flight Attendant
The Flight Attendant is one of 2020's most mind-bending shows, earning lead actor Kaley Cuoco nominations for both a Golden Globe and SAG award. Both darkly comedic and heartbreaking, the story kicks off when Cassie (Cuoco) wakes up next to the dead body of the guy she slept with the night prior, Michiel Huisman's Alex. Cassie converses with Alex in her head throughout the season, and together they work to figure out who killed him while Cassie battles her own inner demons.
Streaming on: HBO Max
Sharp Objects
Based on a novel by Gillian Flynn, HBO's miniseries Sharp Objects stars Amy Adams as Camille Preaker, a reporter who returns to her small hometown to investigate the murder of two girls. While Camille looks into the murder, she also confronts the ghosts in her relationships with her controlling mother (Patricia Clarkson) and estranged half-sister (Eliza Scanlen).
Streaming on: HBO Max
The Killing
Similar to Who Killed Sara?, AMC's The Killing centers around the mystery of who killed teenager Rosie Larsen, with the truth also not being unveiled until a later season. The show follows homicide detectives Sarah Linden (Mireille Enos) and Stephen Holder (Joel Kinnaman), who work together to figure out why Rosie was targeted.
Streaming on: Hulu
Perry Mason
Yet another HBO murder mystery, Perry Mason follows 1930s defense lawyer Perry (Matthew Rhys) as he investigates a baby kidnapping gone very wrong. Rhys' drunken Perry is pretty different from the well-dressed Perry of Erle Stanley Gardner's crime novels, but Indiewire praised it for being a striking new origin story for the character that's attuned to "modern sensibilities."
Streaming on: HBO Max