Simone Biles & Jonathan Owens Got Married & Shared The Beautiful 1st Photos
Next up is their destination wedding.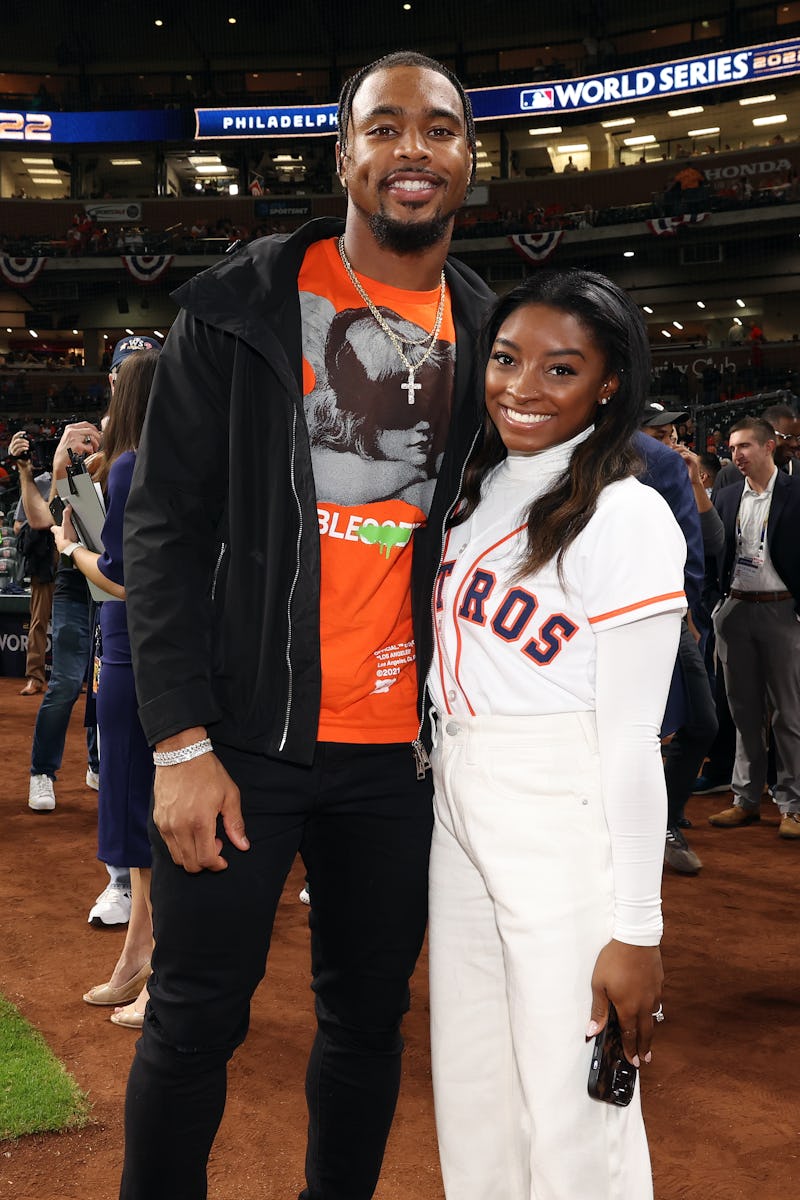 Mary DeCicco/Major League Baseball/Getty Images
After months of teasing their wedding day, Simone Biles and Jonathan Owens' big day finally arrived. The Olympic gymnast and the NFL player both posted a set of wedding photos on Instagram on April 22, showing that they got married in a small but beautiful ceremony ahead of their planned destination wedding. "I do … officially owens," Biles captioned her post, adding two white heart emojis. Owens wrote, "My person, forever," alongside red heart and ring emojis.
The photos show the couple at the 1910 Harris County Courthouse in Houston, Texas, where they live. Photographer Rachel Taylor captured the new husband and wife on the steps, the stunning staircase, and even the roof, among other sites. Biles is wearing a tiered Selfie Leslie wedding dress, as she later revealed in an Instagram story, and Owens is dressed in a tan suit and white loafers.
In the lead-up to the couple's nuptials, fans had many clear clues that their wedding was fast-approaching. Not only did Biles share photos from her bachelorette party and her bridal shower in February and early April, respectively, both she and Owens posted a snap of the two of them holding their marriage license on April 14. "Almost time to say 'I do'," she wrote.
Next up for the newlyweds is still another wedding ceremony. Biles previously shared some of their plans during an Instagram stories "Ask Me Anything" in February and told fans they were "having a destination wedding," per Essentially Sports. The seven-time Olympic medalist didn't share where it would take place at the time, but she noted they'll have a "mini moon" afterward. Their full honeymoon will come many months later, in 2024 during Owens' football off-season, and will be in Bora Bora. For their upcoming wedding day, Biles will have another gown to wear, as she picked out multiple dresses during a trip to the Los Angeles bridal shop Galia Lahov.
After the couple's courthouse ceremony, Biles opened up her Instagram DMs for another AMA on April 22, promising she'd answer the next day. Naturally, fans had a lot of questions about their wedding. She confirmed the destination wedding is still on and set to take place "in a couple of weeks." That's when they'll exchange their "actual wedding bands," she said, and in the meantime, they're wearing rings from Amazon.
Biles and Owens' love story began over three years ago, when they met on the dating app Raya and then connected in real life "literally two days before" public health lockdowns began in March 2020. "We're a quaran-couple!" she told Bustle in June 2021. Of the surprising benefit of that period, Biles added, "We got to spend a lot of quality time to see if we really liked each other, and we did!"
They liked each other so much that Owens set up a romantic proposal in a gazebo in Houston for Valentine's Day 2022 and managed to pull off the perfect surprise. Biles had "no clue what was coming," Owens wrote in an engagement Instagram post afterward, and the two looked adorable and joyful in the photos. Calling it "THE EASIEST YES," Biles wrote to Owens, in part, "I can't wait to spend forever & ever with you, you're everything I dreamed of and more!"
Forever and ever seems like it's off to a good start so far, especially with more wedding fun to come.
This article was originally published on