Every Song In The Umbrella Academy Season 3
From Queen to… Jeremy Renner?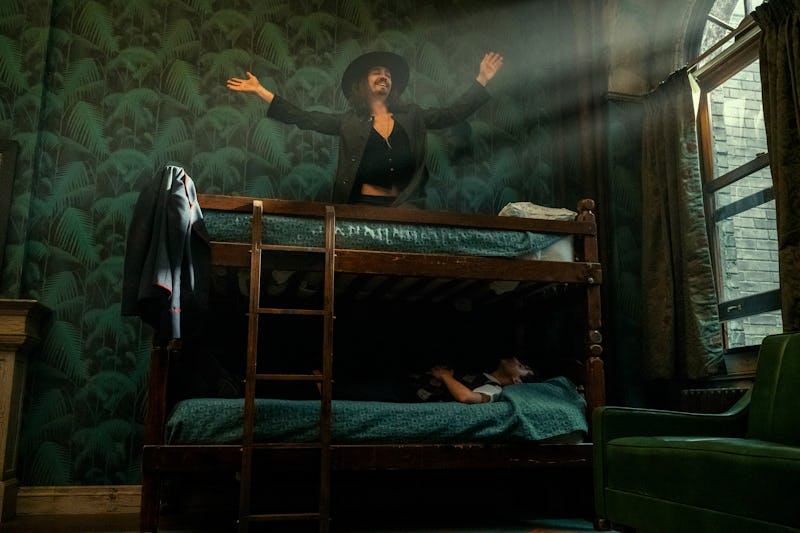 Christos Kalohoridis/Netflix
The Umbrella Academy sets itself apart from the crowded landscape of superhero entertainment in several ways. The idea of found family and the spectacle of apocalyptic time hijinks may draw audiences in, but The Umbrella Academy is just as renowned for what it creates visually as it is for what it puts together audibly. For all its successes, it's hard to overlook just how integral The Umbrella Academy soundtrack is to the show's originality.
Ahead of Season 2, the series creator Steve Blackman told Parade. "Music is its own character on the show, and it's fun to counterpoint a song against a scene where they shouldn't fit together but amazingly they do." And Blackman is right. The smorgasbord of song choices shouldn't work together on paper, but they do. Take Season 2, for instance; the soundtrack included Frank Sinatra, The Backstreet Boys, and My Chemical Romance's Gerard Way. Should Everybody by the Backstreet Boys work as a backing to a knock-down-drag-out fight? Probably not, but the series' commitment to its anachronistic music choices continues to succeed in Season 3.
Featuring songs from Kenny Loggins and Queen to Nelly and Jeremy Renner (yes, that Jeremy Renner), The Umbrella Academy Season 3 soundtrack is just as unpredictable as ever. Here is every classic and danceable track from each new episode.
Episode 1 - "Meet The Family"
"Sometimes" by Gerry Cinnamon
"Footloose" by Kenny Loggins
"No More Heroes" by The Stranglers
"Let's Go On A Hayride" by The McSharry Sisters
Episode 2 - "The World's Biggest Ball of Twine"
"The Passenger" by Iggy Pop
"Oogum Boogum" by Brenton Wood
"Quando Quando Quando" by Engelbert Humperdinck
"Higher Love" by Lilly Winwood & Steve Winwood
Episode 3 - "Pocket Full of Lightning"
"Do You Believe In Magic" by The Lovin' Spoonful
"Lady in Red" by Chris DeBurgh
Episode 4 - "Kugelblitz"
"House of the Rising Sun" by The Animals
"House of the Rising Sun" by Jeremy Renner
Episode 5 - "Kindest Cut"
"Crystalised" by The xx
"My Silver Lining" by First Aid Kit
Episode 6 - "Marigold"
"Into My Soul" by Gabin
"Hot Damn" by Baby Strange
"We'll Get Through" by The Slugs
"I Gotta Cry" by Jeff Williamson
Episode 7 - "Auf Wiedersehen"
"Bruttosozialprodukt" by Geier Sturzflug
"Let's Be Badder" by Lucern Raze
"Ride Wit Me" by Nelly
"Cat's in the Cradle" by Ugly Kid Joe
"Another One Bites the Dust" by Queen
"What Makes You A Man" by The Ninth Wave
Episode 8 - "Wedding at the End of the World"
"Total Eclipse Of The Heart" (karaoke)
"I've Had The Time Of My Life" by Bill Medley & Jennifer Warnes
"Teenage Dream" by The Rescues
"Come In Mr. Lonely" by Jerry Dyke
Episode 9 - "Six Bells"
"Friday I'm In Love" by The Cure
"Bitter Taste" by Billy Idol
Episode 10 - "Oblivion"
"Short Change Hero" by The Heavy