Stranger Things Season 4 Volume 2 Trailer Teases Eleven & Vecna's Epic Showdown
As if we weren't excited (and nervous) enough.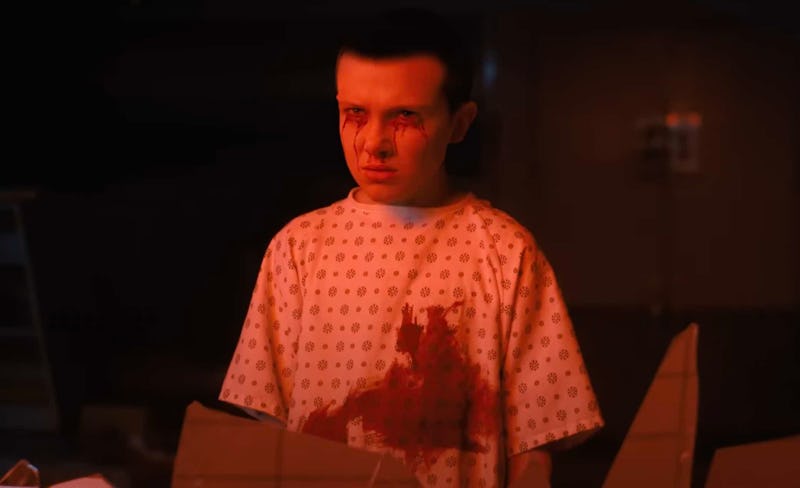 Netflix
Spoilers ahead for Stranger Things Season 4, Volume 1. We are just days away from Stranger Things Season 4 Volume 2 — yet somehow, the wait still feels pretty unbearable, especially considering the precarious situation we left our Hawkins family in. A brief refresher: Steve and Nancy are still stuck in the Upside Down (with the latter apparently under Vecna's trance); Joyce and Hopper are reunited but very far from home, and Eleven finally tapped into the source of her powers — but as for whether or not she'll be able to use them in time to help her friends? That's one of many questions Season 4 Volume 2 will hopefully answer.
As we collectively count down the days until new episodes arrive July 1, there's at least one tiny clue to dig into: a new Stranger Things Season 4 Volume 2 trailer. Netflix released the official trailer, which highlights the season's biggest conflicts and teases what comes next, all soundtracked to Kate Bush's "Running Up That Hill."
Based on this new trailer, the final two episodes look action-packed, leading up to Eleven's final battle with Vecna. The villain ominously announces at the end of the trailer, "Your friends have lost," as we see a bloody-nosed Eleven unleash her power in the Upside Down. Now, more than ever, the fate of the Hawkins gang is in jeopardy.
Netflix also dropped the 30-second clip as part of its Geeked Week, a celebration of all things under its fandom genre umbrella, on June 9.
While the teaser doesn't divulge too much in the way of specific plot points, it does do a good job of setting the tone for Volume 2, which can only be described as, well, horrifying. "It is over, Eleven," says Vecna in a voiceover. "You have freed me. You can't stop this now."
Several viewers took to Twitter and Reddit to share their reactions to potentially telling frames from the teaser — like a pair of floating feet (uh oh) and a few missing characters.
Stranger Things Season 4 Volume 2 Theories
Some fans wondered where Will and Mike might be — especially after many theorized about the pair's relationship during Volume 1.
As for Nancy's fate, she seems to escape Vecna's trance at some point (what will her "Running Up That Hill" moment be???), as several fans pointed out with frames from the teaser. But others noticed that Robin seems to be in danger next, as she's apparently held up against a wall in the Upside Down.
Redditor u/ThievedYourMind pointed out that one image from the teaser looks very Mind Flayer-esque. "I think this swirling mass in the new teaser is a trapped Mind Flayer in the same facility Hopper and Bauman are in," the user wrote, suggesting that "it got to our side via a gate opened in Russia."
Days before the trailer dropped, the Duffer brothers weighed in on the impending Season 4 finale. "[There are] character reveals, there are also big plot reveals," Ross Duffer promised Entertainment Weekly. "I mean, Episode 7 is the big, big one with Vecna, but we have a few big, more surprises to come."
Whatever happens, expect it to connect to the end of Stranger Things in a meaningful way. "I will say, I think when fans reach the end of Season 4, they'll see more clearly than perhaps with previous seasons, where Season 5 is headed," Matt Duffer added.
This article was originally published on