A Major Succession Season 4 Scene Was Almost Cut
The show's director explained why in an interview with The Hollywood Reporter.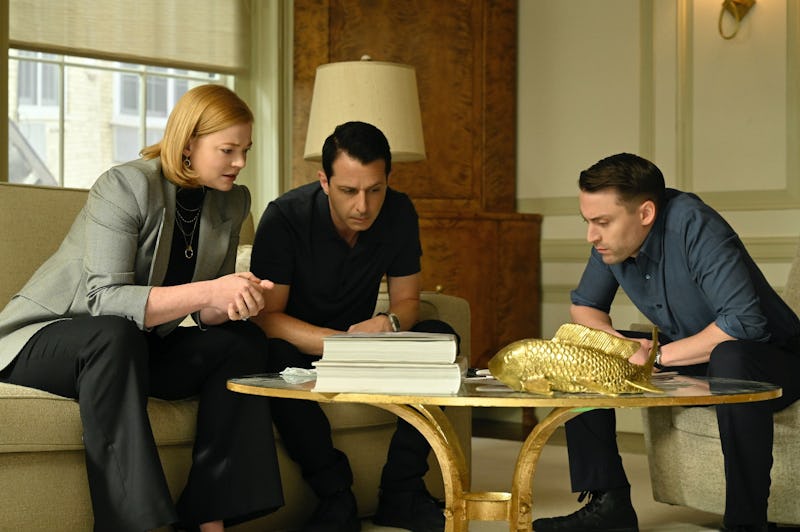 HBO
The fourth and final season of Succession continues to thrill fans with some major twists and turns as the show approaches its much-anticipated conclusion. In the HBO drama's April 30 episode, titled "Living+," viewers watched as Kendall Roy (played by Jeremy Strong) gave a surprisingly successful Investor Day speech to introduce the company's latest project. To celebrate, Kendall took a solo trip to a nearby beach, during which he took a moment to float on his back in the ocean and smile toward the sky, before drawing a "1" in the sand in reference to his late father. However, the episode's director, Lorene Scafaria, has revealed that this pivotal Season 4 moment almost never happened.
Speaking to The Hollywood Reporter, Scafaria disclosed that the scene in question "wasn't always in the script," adding: "It appeared in a draft and then it disappeared." The director also shared that she was "adamant" about including the beach scene because she's "just such a superfan" of the show. "I was excited to see Ken face up in the water even if there are dark clouds on the horizon. That was one of those scenes that felt like a very important final beat," Scafaria explained.
Fans were quick to draw comparisons between the powerful scene and the Season 3 episode "Chiantishire," during which the character of Kendall almost drowns while lying face down on a raft.
"He was face down on that raft, and that did feel like the lowest of lows for him," Scafaria said of the Season 3 moment, adding that Kendall's celebratory Season 4 beach trip subverted "expectations." She continued: "Kendall actually has a win, in spite of all the anxiety and tension that comes with just knowing he's about to take the stage. And all of his manic ideas that went into it."
Meanwhile, Brian Cox's Logan Roy — who passed away suddenly in Season 4, Episode 3 — made a brief return during Episode 6 via a pre-recorded video announcing the company's latest venture, Living+.