Twitter Can't Get Over This Bombshell From Succession's S4 Premiere
"This scene is pure art."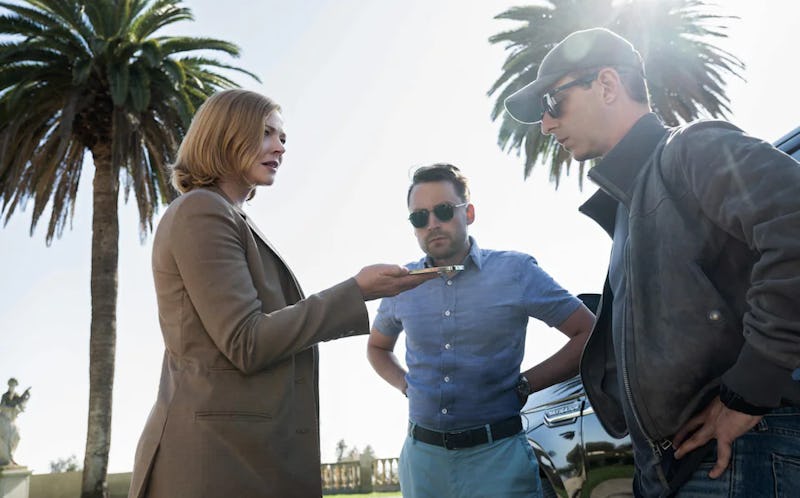 HBO/Sky Atlantic
Warning: Spoilers for Succession Season 4 ahead.
The wait is finally over — telly's most infuriating band of billionaires are back for one last bust-up. The fourth series of the comedy-drama Succession is set to be the final, with the show's creator Jesse Armstrong telling the New Yorker: "I've never thought this could go on forever. The end has always been kind of present in my mind." Teasing what could lie ahead, Armstrong hinted that he and his fellow writers have opted for something "a bit more muscular and complete."
When Succession Season 3 wrapped at the end of 2021, we left the Roy family in tatters. Though the three Roy children — Roman, Kendall, and Shiv —plotted to double-cross Logan by acquiring a rival streaming giant, they're thwarted at the 11th hour by the epic betrayal of a power-hungry Tom Wambsgans. The first episode of S4, titled "The Munster Family" in honour of the 1960s horror sitcom, aired on March 26, with subsequent instalments of the final season airing every Sunday. In the premiere episode, we find the Roy kids getting along uncharacteristically well as they regroup to cook up a revenge scheme, going head-to-head with their bitter and lonely dad in a bidding war. Along the way, Greg manages to hit Logan with a searingly hilarious one-liner, asking, "Where are your kids?" during a laugh-out-loud scene. Talk about kicking a gloomy billionaire when he's down. And a breakup happens at the end of the episode, when Tom and Shiv share one of the most heartbreaking scenes in the entire show to date as they reckon with their crumbling relationship. Although the split is unsurprising to many, it's still a bombshell scene to end the season premiere with.
Following the show's return, fans of the Machiavellian drama are still unpicking recent developments, as well as recovering from the unexpected touching moment shared by Tom and Shiv. Below, see what social media had to say about the hotly-anticipated episode.