Taylor Swift Yells At Security To Defend A Fan & Then Gifts Her Tour Tickets
"We're dancing, we're having fun, and he didn't like it. And Taylor noticed."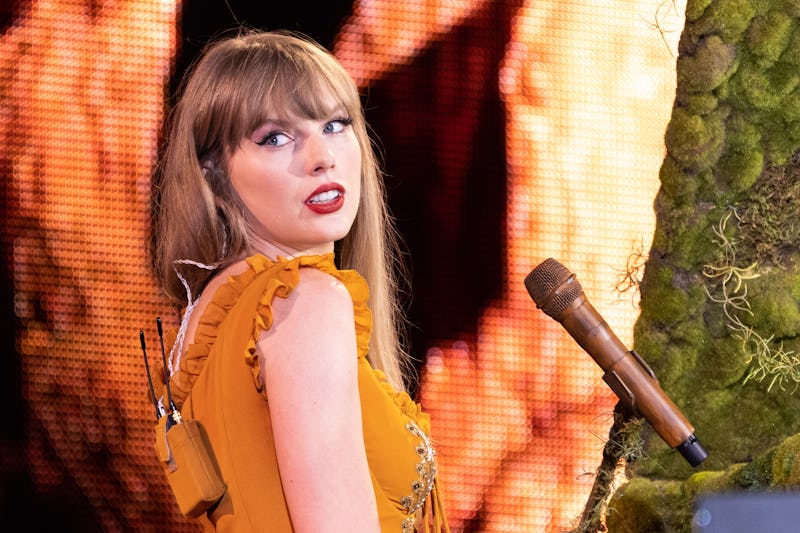 Terence Rushin/TAS23/Getty Images Entertainment/Getty Images
Taylor Swift didn't miss a beat when she spotted a Philadelphia Eras Tour concertgoer in distress on May 13. Videos circulating on social media show the 12-time Grammy winner repeatedly telling security at Lincoln Financial Field to stop bothering a fan in the audience — all while singing her 2014 hit "Bad Blood," no less. "She wasn't doing anything," Swift said, mid-song, on the second of her three "hometown" shows in the City of Brotherly Love. Along with multiple requests to "stop!" she also interjected that the unseen Swiftie was "fine."
The clip didn't capture exactly what was transpiring in the crowd, but several Eras Tour attendees tweeted their claims that concert security got physical with fans. "Taylor was yelling at a security guard because they fully kept putting their hands on us to physically push us off of the barricade instead of just telling us to move," one wrote. "It's really scary how every single man had a power trip towards every single [woman] who was standing on the barricades. all the men didn't even hesitate to touch us to move us and they were very very aggressive when they were doing it."
In a followup tweet, the same person added that they "weren't throwing anything" or "screaming anything insane," but every time Swift came over to dance and sing with them, "it resulted in security being extremely aggressive for no reason." Bustle reached out to Lincoln Financial Field representatives, but did not receive an immediate response.
Meanwhile, another fan tweeted that a security guard pushed them into a chair, and a third claimed that an employee "put his hands on" her 13-year-old daughter while she attempted to take her photo in front of the stage. As one tweeter put it, "For [Taylor] to actually speak up while she's singing it must have been bad."
On May 14, the fan involved in the incident, whose name is Kelly Inglis, spoke out about what happened. "He just kept telling us not to touch the rail, and every time we did anything, he was on top of us," the third-grade teacher and mother revealed in a friend's TikTok video. "We're dancing, we're having fun, and he didn't like it. And Taylor noticed." The security guard was ultimately escorted out after the incident and Kelly was offered free tickets to the Sunday show to make up for it.
"The fact that you did that for me last night and you stood up for me meant so so so so much," Kelly said in a second video shared to her own TikTok, taken on her way to the Sunday show. "I can't even explain, like, you did that for me and for your fans, and if there's anything I know about you, you just want your fans to go to the show and have fun and that's all we were doing."
Regardless, Swift's Philadelphia shows still included plenty of high notes, too. While the onstage drama was unfolding, a fan filmed Gigi Hadid singing along to "Bad Blood" in the VIP section — eight years after she appeared in the song's star-studded music video, alongside Selena Gomez, Kendrick Lamar, Zendaya, Cara Delevingne, Lena Dunham, Hailee Steinfeld, Serayah, Ellie Goulding, and several others.
During Swift's first night in Philadelphia on May 12, rumored new boyfriend Matty Healy of the 1975 performed with opening act Phoebe Bridgers. Later the same night, fans reportedly spotted Healy in the VIP area with Blake Lively and her two oldest daughters with Ryan Reynolds: 7-year-old James and 6-year-old Inez. Eagle-eyed Swifties even noticed the singer gave Lively's girls a special shoutout during the concert, and, according to PEOPLE, Swift exited the stage holding hands with James and waving goodbye to fans.
That's much more closely aligned with the "mad love" Swift wants on her Eras Tour.
This article was originally published on