Travis Kelce Said Unexpected Matchmakers Helped Set Him Up With Taylor Swift
"I had somebody playing Cupid."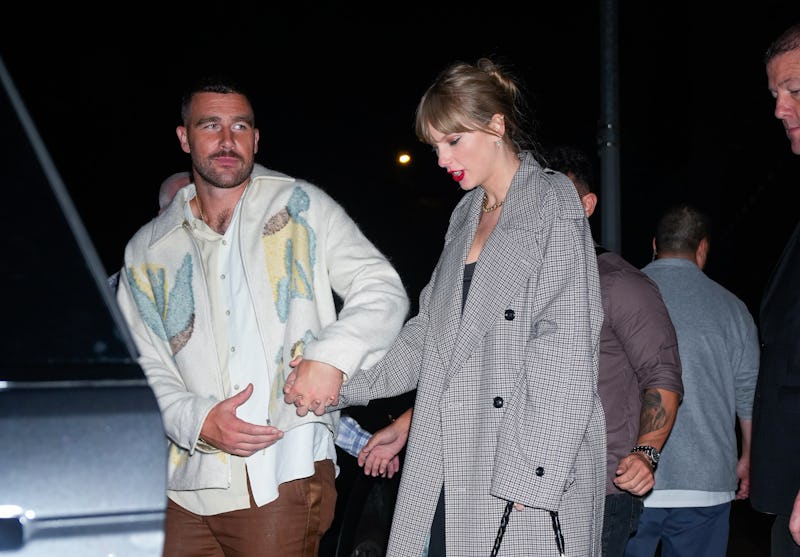 Gotham/GC Images/Getty Images
Even the most investigative Swifties haven't completely uncovered exactly how Taylor Swift and Travis Kelce's love story started, but now, he's providing some answers. In a new cover story for WSJ Magazine, the NFL player opened up about how he met the singer, revealing that he had some matchmakers working on his behalf without his knowledge.
"I don't know if I want to get into all of it," he said, before proceeding to get into it, according to the writer.
As he's mentioned before, Kelce attempted to meet Swift and give her a friendship bracelet when she was performing in Kansas City on her Eras Tour in July, but he was apparently blocked by security. When he told this story on his podcast, some of Swift's team and friends were listening.
"There were definitely people she knew that knew who I was, in her corner [who said], 'Yo! Did you know he was coming?'" he said. "I had somebody playing Cupid." However, he didn't know this until a few weeks later, when he received a surprise message from Swift.
"She told me exactly what was going on and how I got lucky enough to get her to reach out," he recalled.
Some of the unexpected people in Kelce's corner happened to be very close to Swift. "She'll probably hate me for saying this," he warned. "When she came to Arrowhead, they gave her the big locker room as a dressing room, and her little cousins were taking pictures…in front of my locker."
Their First Date
Kelce drew the line at giving specifics about his first date with Swift, though he said he had no nerves leading up to it. "When I met her in New York, we had already kind of been talking, so I knew we could have a nice dinner and, like, a conversation, and what goes from there will go from there," he said.
However, his team and close friends were very nervous, with Kelce recalling how "everybody around me [was] telling me, 'Don't f*ck this up!' And me sitting here saying, 'Yeah—got it.'" Needless to say, he did something right.
Swift & Kelce's Future
Now that the two are reportedly starting to get serious, Kelce said he's become more guarded with the media, which is a new feeling for him. "That was the biggest thing to me: make sure I don't say anything that would push Taylor away," he noted.
However, that didn't stop him from gushing about Swift, calling her "hilarious" and "a genius," and pointing out how his perspective on her music has shifted, as he now focuses more on her songwriting than the beats behind it.
"I've never been a man of words," he said. "Being around her, seeing how smart Taylor is, has been f*cking mind-blowing. I'm learning every day." Even the song he was most looking forward to hearing at the Eras Tour was one of her lyrical masterpieces.
"'Blank Space' was one I wanted to hear live for sure," he said. "'I could make a bad guy good for the weekend.' That's a helluva line!"
He's not the only one who has praise for Swift. His mother, Donna Kelce, has given her the stamp of approval after she tried to stay quiet about their relationship in an October interview. "He's happier than I've seen him in a long time," she told the outlet. "God bless him, he shot for the stars!"