Everything To Know About Charity's Bachelorette Season
Host Jesse Palmer made the surprise announcement during the Women Tell All special.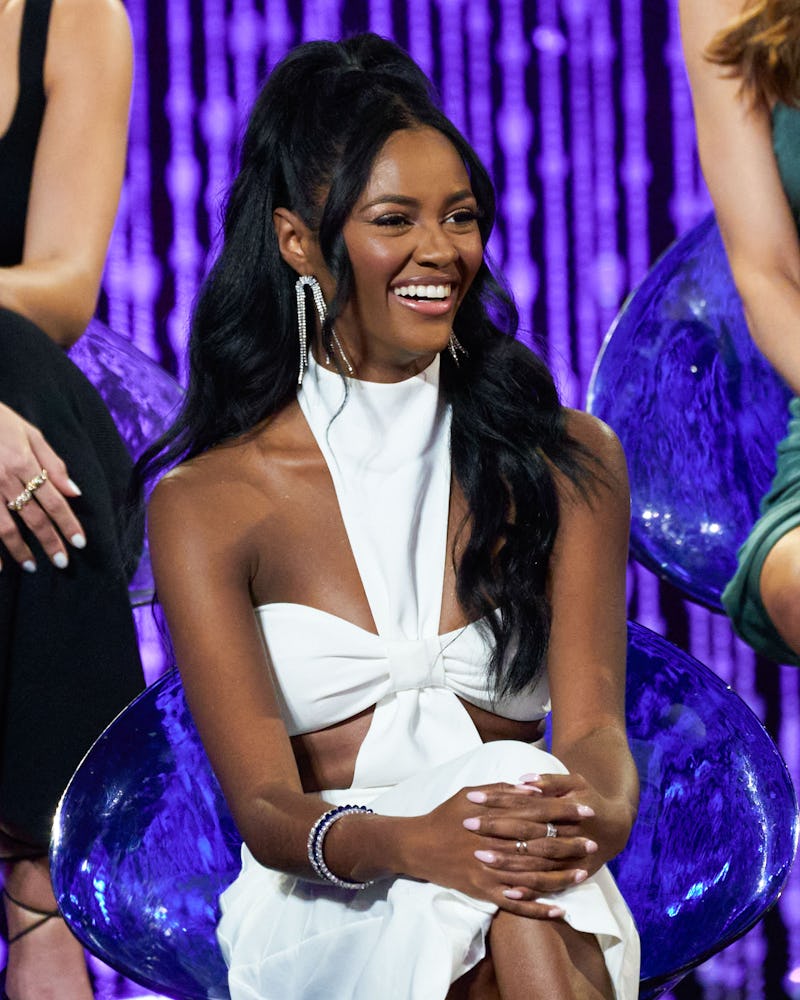 ABC/Craig Sjodin
ABC's The Bachelor: The Women Tell All special featured a surprise proposal — but there was no Neil Lane engagement ring involved. Immediately after filming wrapped, host Jesse Palmer marked a first for The Bachelorette franchise and surprised Zach Shallcross' ex, Charity Lawson, backstage to ask her to be the new Bachelorette for Season 20. Under the guise that they were shooting a promotional "This or That" game segment for the show's social media account, Jesse eventually gave the prompt, "Bachelor in Paradise or The Bachelorette?" Still unaware of what was about to happen, Charity answered, "Goodness gracious. Let's say Bachelorette."
After Jesse dropped a few not-so-subtle hints, she finally caught on just in time for him to announce, "I want you to be our next Bachelorette." Initially refusing to believe the proposal, the 27-year-old child and family therapist eventually gave her answer: "It is a yes! Absolutely! 100%, like, absolutely. Wait, I'm gonna cry. I'm shaking right now."
Charity, who also shared the happy news with her parents on speakerphone, slowly began to wrap her head around all the ways in which her life was about to change. "I've waited forever to find the love of my life, and it blows my mind that I could meet my person and be engaged and literally have my happily ever after," she explained during an interview in the March 14 episode. "I'm feeling so many emotions. I'm truly so happy, so grateful, and I am so ready to get engaged to the right person."
Meanwhile, it wasn't lost on Charity that she is now only the fourth Black lead in 20 seasons either. "I can't wait to show little girls that look like me [that] being in a position like this is possible," she added. "I know that I'll be making a lot of people proud."
As she gears up to find love, here's everything to know about Charity's Bachelorette season.
The Bachelorette Season 20 Cast
During her first interview as the new Bachelorette on Good Morning America's 16 episode, Charity revealed the qualities she wants in a potential future husband. "I definitely am looking for someone who is a compassionate person, so someone who is extremely kind and treats others well. I think, for me, that's something that I value and I have in myself, so I also want that in my partner," she explained. "But also, I love to laugh and have a good time, so a sense of humor, I think that's huge. So, anyone who can come up with a good joke or two is a winner."
Though ABC has yet to announce the official cast, the show's Facebook page gave fans a sneak peek at the photos, names, ages, and hometowns of 29 men "who may be" on Charity's Bachelorette season on March 18. They include:
Aaron B. — San Diego, CA, 29
Aaron S. — San Diego, CA, 33
Adrian — North Hills, CA, 33
Brandon — Los Angeles, CA, 35
Brayden — San Diego, CA, 24
Caleb A. — Ann Arbor, MI, 29
Caleb B. — Orlando, FL, 24
Chris B. — Whitby, ON, 38
Chris S. — White Plains, NY, 27
Demarcus — Los Angeles, CA, 28
Dotun — Brooklyn, NY, 30
James — Chicago, IL, 28
John B. — New York, NY, 27
John Henry S. — Virginia Beach, VA, 30
Joe — San Francisco, CA, 30
Joseph — Koloa, HI, 27
Josh — Bethlehem, PA, 28
Kaleb — Norcross, GA, 26
Khalid — Dearborn, MI, 28
Michael — South Holland, IL, 29
Nicholas — Bayonne, NJ, 31
Peter — New York, NY, 33
Sean — Tampa, FL, 25
Spencer — Moorpark, CA, 32
Steve — Santa Monica, CA, 26
Tanner — Pittsburgh, PA, 30
Taylor — Beaver Creek, OH, 32
Warwick — Nashville, TN, 27
Xavier — Carrboro, NC, 27
The Bachelorette Season 20 Premiere Date
The Women Tell All special taped on Feb. 24, and according to Reality Steve, Charity will begin filming her season the weekend of March 18. Historically, The Bachelorette has generally premiered each May, but the COVID-19 pandemic upended the schedule a bit in recent years. However, production on Gabby Windey and Rachel Recchia's 2022 season got underway in late March, ahead of a July 11 premiere, while Katie Thurston filmed her season in March 2021 prior to it airing in early June. If all goes according to plan, Charity will likely make her Bachelorette debut sometime around late June 2023.
The Bachelorette Season 20 Filming Locations
Though Charity explained on GMA that she doesn't have "much of a say" in her filming locations, she "kinda tossed out" a few destinations she hopes to visit. "Greece is one of them, so we're gonna kind of put that out in the air and hopefully we get to go there," she shared. "But I'm open to anything. I think with the right person, I think any date will be fun."
What types of dates are off-limits? "I'm not open to the cage swimming with sharks. . . . No, not happening," Charity joked. "But anything else, I am ready for."
This post will be updated as more The Bachelorette Season 20 details become available.
This article was originally published on