All The Clues Zach & Charity Get Engaged On The Bachelor
A producer detailed their "incredibly romantic" canceled London date.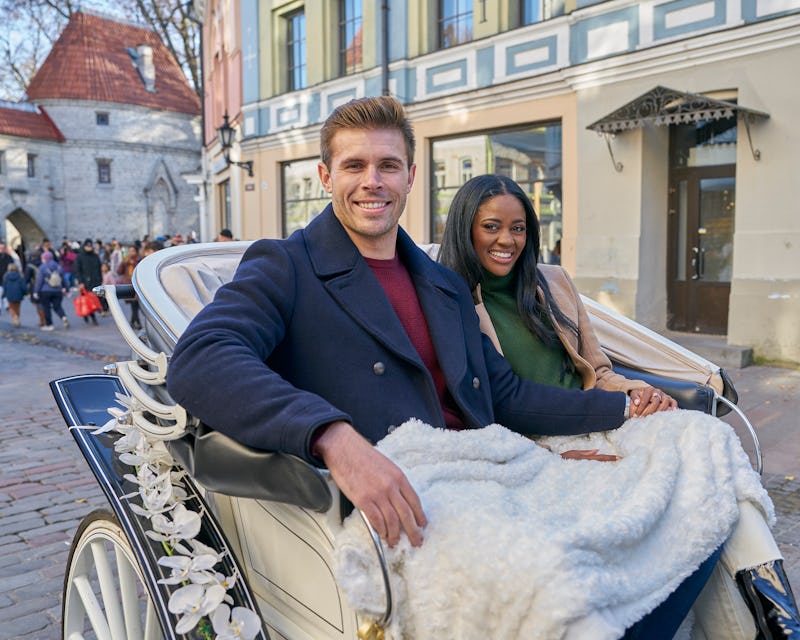 ABC/Craig Sjodin
Scoring Zach Shallcross' second one-on-one date in London moved Charity Lawson to tears. When Zach canceled their date due to his COVID diagnosis in The Bachelor's Feb. 20 episode, however, the 27-year-old child and family therapist cried for a very different reason. "I'm really sad," she shared. "I think all of us, we care deeply, and we're concerned. But you hope, and you dream of something, and I really was preparing my heart for this day, and I knew that it was going to be something special."
She wasn't wrong. The Bachelor executive producer Bennett Graebner recently detailed what was supposed to happen during Zach and Charity's one-on-one in London. "We were all very sad, especially because it was going to be an amazing date with a helicopter ride over the city," he explained to Entertainment Weekly. "There was more to it than that, but it was an incredibly romantic date, and she was obviously very upset and very sad, and so was Zach."
Charity will get a second chance when the cast travels to Estonia in the Feb. 27 episode, though. "Zach was pretty clear that the next date, whenever he was better and could see the women, would be with Charity," Graebner added to EW. "For some reason, the women didn't put that together, and they were kind of surprised when Charity got the next date. I was like, 'How can you be surprised? Of course, she's going to get the next date!' But they were, and so was Charity."
With Hometown Dates quickly approaching, Zach's insistence on getting that special alone time with Charity bodes well for the Georgia native's chances of getting engaged in The Bachelor's finale. She's still speaking fondly of Zach on Instagram, too. "Mr. Shallcross has a way with words," Charity captioned a Jan. 31 post, adding in another that she was "playing for keeps" during the football competition group date and that "every bruise, hit, and side eye was worth it."
But on the flip side, Charity might have even hinted that a run on Bachelor in Paradise could be in her future. On Valentine's Day, she shared photos from the cast's time in the Bahamas, writing that she was "completely smitten in paradise." Regardless, she seems to have had a positive experience on the reality show. Returning to social media after filming on Nov. 25, Charity wrote that she was "back and better." While celebrating her birthday shortly afterward, she also said she was toasting to "another 365… the best year of growth, love, and accomplishments."
Potential spoilers ahead! If those captions made it sound like Charity is single, that's because she probably is. Reality Steve reported that Charity does, indeed, make it to Hometown Dates, and Zach traveled with her to Columbus, Georgia, in early November. However, Zach reportedly sends Charity home at the rose ceremony that follows.
That would also confirm Bachelor in Paradise winner Joe Amabile's early prediction for the season. "I think Charity is going to be in Zach's top four," he said on the Click Bait with Bachelor Nation podcast in early January. "When I saw the teaser for the season, I felt like she was having a conversation where she seemed to be the rational, reasonable person and those people usually go far."