Everything You Need To Know About The Biden Inauguration Performances
Lady Gaga and J.Lo — need we say more?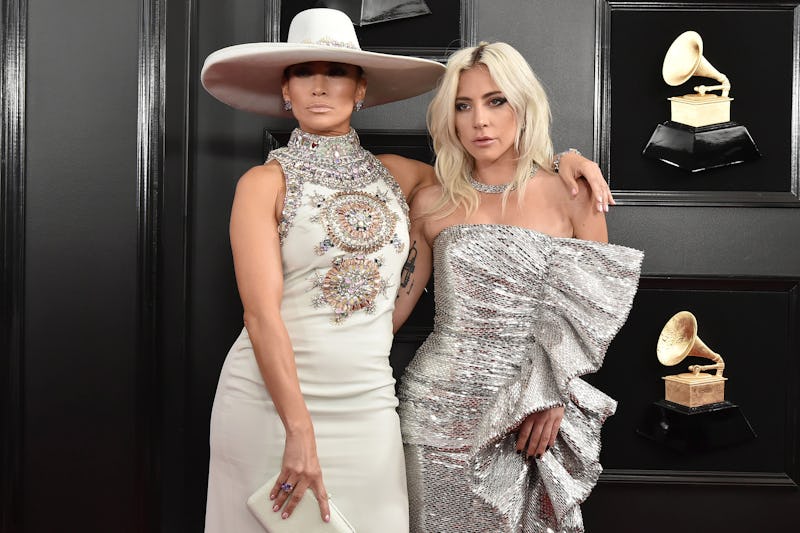 David Crotty/Patrick McMullan/Getty Images
The Biden-Harris administration has begun, and the president and vice president lined up some superstars to help kick off their term. Joe Biden's presidential inauguration took place on Wednesday, Jan. 20, and featured many A-list performers throughout the day. On Jan. 14, the Inaugural Committee announced that Lady Gaga and Jennifer Lopez would take the stage at the swearing-in ceremony. Gaga was selected to sing the national anthem, a fitting choice given how closely she has worked with Biden over the years, even making a speech and performing at his final campaign rally prior to the election.
In addition to the official ceremony, Tom Hanks hosted "Celebrating America," a primetime special featuring even more A-list performers that aired the evening after the inauguration at 8:30 p.m. It's a stark contrast to Donald Trump's 2017 inauguration, which most artists declined to participate in, with many choosing to attend the historic Women's March instead. This year, there was actually some spectacle, hope, and a sense of unity — even if just virtually. Here's everything you need to know about the inauguration performances.
Lady Gaga
The coveted honor of singing the U.S. national anthem at Biden's swearing-in ceremony belongs to Lady Gaga. As previously announced by the Biden-Harris Inaugural Committee, the singer performed "The Star-Spangled Banner" on the West Front of the U.S. Capitol. This marks the second time that she has performed the anthem, following her rendition at Super Bowl 50 in 2016. Gaga posted the news on social media, saying that she was "deeply honored" to be selected for the job and excited to "celebrate the historic inauguration."
Jennifer Lopez
Jenny From the Block glowed up to Jenny From the White House. J.Lo gave a special performance during Biden's swearing-in ceremony and stunned everyone when she delivered a meaningful message in Spanish as she sang "This Land Is Your Land." Surely Chrissy Teigen, who had a genius idea ahead of the event, would be proud.
Demi Lovato
Demi Lovato performed as part of the "Celebrating America" special, and the singer celebrated the joyous occasion with a cover of "Lovely Day." At first, it was thought that she would belt out her politically charged ballad "Commander In Chief," in which she goes after Trump. Following the Capitol attack on Jan. 6, she hinted on Twitter that she was recording a new song inspired by "today's assault on democracy," but it seems she didn't want to go that route during the official broadcast.
Katy Perry
Katy Perry, a longtime Biden supporter, closed out the "Celebrating America" ceremony with an electric performance of "Firework," which was accompanied by an impressive fireworks display that signaled the beginning of a new era. According to Orlando Bloom's behind-the-scenes clip of her performance, her appearance was so incredible it moved him to tears. He shared, "One day our little girl will grow up and see her mother play her part in a moment in history that we hope will heal, we hope will unite, we hope, we love. One proud partner here with a tear of joy."
Justin Timberlake
Justin Timberlake also shared his vocals during the evening program. Timberlake performed a new song he co-wrote with artist Ant Clemons titled "Better Days." The singer announced the news while on Today on Jan. 13. "I got the phone call to be asked [to perform at the inauguration], and I was just like, 'Uh, yes!'" he said. "So incredibly excited. What an honor."
John Legend
John Legend, who has been vocal in the election and runoffs, nabbed a spot among the other A-list performers. The singer also recently supported Biden at a rally in Pennsylvania in early November and performed songs like "Glory" featuring Common.
Bruce Springsteen
While a Bruce Springsteen tribute act pulled out of Trump's inauguration, The Boss himself participated in Biden and Harris' event. Ahead of Wednesday, Springsteen called on his Twitter followers to tune in for a night that celebrates the country's diversity and resilience.
Jon Bon Jovi
Jon Bon Jovi, who has been a vocal supporter of Biden, also joined the lineup. The "Livin' on a Prayer" singer recently performed in a virtual all-star "I Will Vote" concert last October to help raise money for the Biden Victory Fund.
Foo Fighters
In October, the Foo Fighters joined Bon Jovi at the virtual "I Will Vote" concert. Prior to their "Celebrating America" performance, they tweeted, "Music has the power to change the world. So does voting."
Lin-Manuel Miranda
After a slew of Broadway stars sang "Seasons of Love" and "Let the Sunshine In," Hamilton creator Lin-Manuel Miranda recited a "classic work" during the Celebrating America special, which the Biden-Harris transition team announced on Jan. 17.
Garth Brooks
At the request of Dr. Jill Biden, country music superstar (and registered Republican) Garth Brooks performed during the swearing-in ceremony at the U.S. Capitol. "This is a great day in our household, this is not a political statement, this is a statement of unity," the two-time Grammy winner previously said, per The Hollywood Reporter. "This is history, and it is an honor to get to serve."
With additional reporting by Jessica Wang
This article was originally published on