Why Saoirse Ronan Thinks The Way Her New Movie Portrays Female Sexuality Is So Unique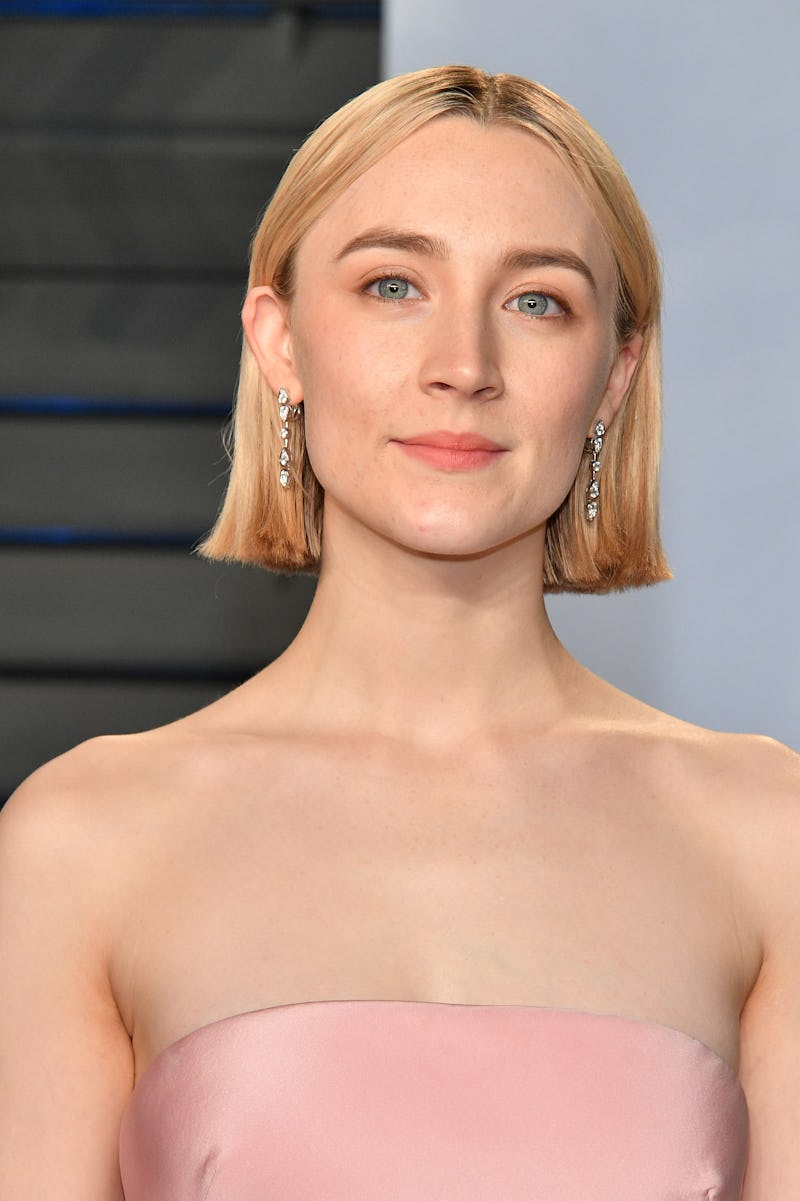 Dia Dipasupil/Getty Images Entertainment/Getty Images
If you've been waiting for Saoirse Ronan's return to the big screen after her award-winning Lady Bird, the arrival of the actor's new film On Chesil Beach couldn't be more exciting. The movie, based on Ian McEwan's 2007 novel of the same name, tells the story of Florence, a 21-year-old terrified of consummating her marriage with Edward (Billy Howle). Her reticence over sex makes the duo question the future of their relationship, and realize how vastly different their needs are when it comes to intimacy. As Ronan herself explains to Bustle, On Chesil Beach portrays sexuality in a way that isn't often seen in films, showing that you can be in love with someone without feeling sexually attracted to them.
"I think her feelings towards her sexuality are not really fully formed yet," says Ronan about Florence, speaking over the phone in early May. "When it comes to her sexuality, it's obviously very layered. It's not quite as simple as it would be for other people."
In the film, both Florence and Edward wrestle with their desires and the societal pressure to have a certain type of relationship. Florence, an accomplished violinist, is perfectly happy being independent before Edward comes along; once he enters the picture, everything changes, and each person is forced to reconsider their own goals and plans. "For most of her life, she has been completely dedicated to her music and that has been the one thing that has given her peace and a sense of freedom," explains Ronan. "But that's until she meets Edward, and he's a gateway to a whole other world that she hasn't ever really been a part of."
Florence's hesitation to have sex stems partly from past trauma; although the film doesn't show her experience with sexual abuse explicitly, it hints at it being one of the main reasons why she struggles so much with feeling comfortable exploring sex. "We don't delve into it too much but you know something has happened, so there's a great amount of denial, shame, and confusion," says Ronan. "I think it's attached to sexuality to her and stops her from being able to enjoy any aspects of it."
Conservative and anxious about intimacy, Florence is in many ways the polar opposite of Ronan's Lady Bird, although both young women have strong personalities and question the toxic dynamics of their relationships. "I made On Chesil Beach just after Lady Bird and it was the end of a very, very long, busy year for me," says Ronan. "I had the chance that year to play three brilliant roles: Abigail in The Crucible , then Lady Bird, and then Florence. I think I just liked how different they all were. Their motives were completely different in what they cared about and what they wanted to succeed in."
On Chesil Beach, though, brings Ronan's career full circle; back in 2008, the film adaptation of McEwan's Atonement earned her an Oscar nod for Best Supporting Actress and made her then-13-year-old self one of the youngest Academy Award nominees in history. At the time of deciding to portray Atonement's Briony, Ronan wasn't familiar with McEwan's work, but now, as an adult, she says she appreciates his way of writing strong, relatable female characters in period dramas that shed light on societal struggles.
"I was very, very lucky that I ended up in a part of a great film like [Atonement]," says Ronan. "But when it came around to On Chesil Beach... I realized that's why I wanted to do Atonement in the first place; it's because these people were incredibly human and their relationships were delicate."
With the respectful way it handles Florence's sexuality and the love she has for Edward, On Chesil Beach stands out from other coming-of-age stories in a much-needed way. The movie's message to not compromise your boundaries for anyone is invaluable, as is its nuanced, thoughtful depiction of sexuality and past trauma.