The Last Of Us Finale Already Has Twitter Dreading Season 2
Joel and Ellie might not be in the clear just yet.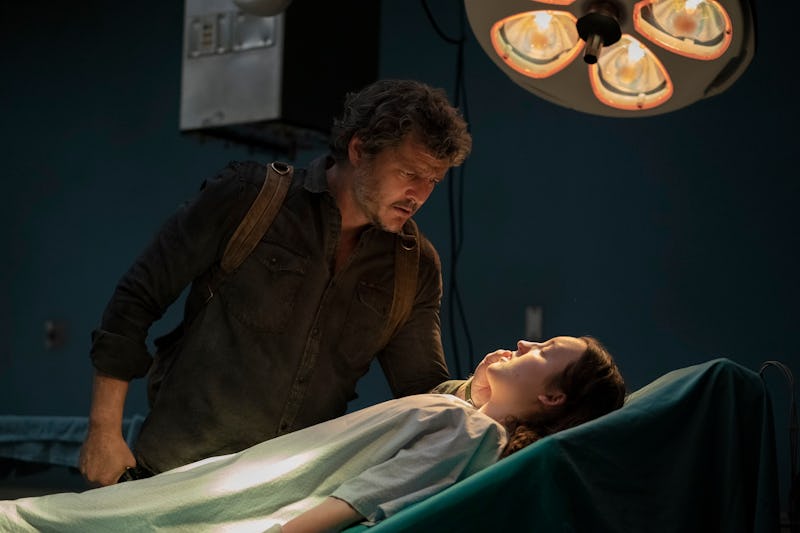 Liane Hentscher/HBO
Spoilers ahead for HBO's The Last of Us Season 1 finale. Just when viewers thought they had no tears left to cry, HBO's The Last of Us finale ramped up the waterworks. In Episode 9, Joel (Pedro Pascal) and Ellie (Bella Ramsey) finally arrived at the Firefly hospital in Salt Lake City but were immediately taken prisoner. When Joel regained consciousness, Marlene (Merle Dandridge) told him that Ellie was in an operating room about to undergo a brain surgery to help produce a cure for the Cordyceps infection that destroyed modern civilization — and that the teen would die in the process.
Unwilling to lose another loved one, Joel went on a shooting rampage, killing every Firefly who stood in his way, including the surgeon. Having essentially doomed humanity, Joel lied to Ellie about what happened while she was under anesthesia, claiming that the procedure didn't work and that he saved her from a murderous group of raiders that attacked the hospital. Though Ellie seemed skeptical, he swore he was telling the truth, so she accepted his answer, and they made their way back to Tommy's (Gabriel Luna) settlement in Wyoming to presumably lead a normal life (or at least as normal as living in a post-apocalyptic world could be).
Joel's decision to save Ellie rather than the world sparked debate on whether that made him a hero or villain. "Unconditional love, we give that way too much credit, like it's the highest form of love," series co-creator Craig Mazin explained to reporters during a virtual pre-finale press conference, per TVLine. "'Unconditional' means literally no conditions. None. Including conditions where you really ought to be doing something that is not within the best interest of the person you love, at least according to some sort of moral code or a standard of ethics."
That's not to say he has a "hard opinion" on the ending, though: "I'm confused about it morally. I think it's a difficult choice. I go back and forth, and I think a lot of people will go back and forth on it."
For now, though, here's how Twitter reacted to the TLOU Season 1 finale.
The Original Ellie Actor Returned
The March 12 episode's opening sequence shed some light on the origin of Ellie's immunity by introducing her biological mother, Anna (played by Ashley Johnson), in a tragic birth scene. As fans of creator Neil Druckmann's video games were aware, Johnson was the original Ellie, providing an emotional full-circle moment in the series. "I got a text from Neil and he said, 'Hey, Craig and I were talking and would you like to play Ellie's mother?' And I just burst into tears," the actor told The Hollywood Reporter. "It's a shock because when video game adaptations move to film or TV generally, the voice actors or motion capture actors aren't usually brought along to be part of that project."
The Salt Lake City Scenes Went From Joyful To Violent
The duo's time in Salt Lake City elicited a wide range of emotions, too. Beginning with Joel's fatherly scene discussing Beefaroni and Boggle, a moment of pure joy followed when Ellie met a giraffe. But the mood took a dramatic turn once they were inside the hospital.
Joel Really Saw Ellie As A Daughter Figure
Perhaps the most pivotal moment of Joel's life arrived when a soldier shot and killed his daughter Sarah (Nico Parker) on the first day of the Cordyceps outbreak. When the series began, Joel was hardened by the tragedy and insisted he only saw Ellie as "cargo" he was delivering to the Fireflies. Before they entered the hospital, Joel implied that Ellie helped heal the wound of losing Sarah. Needless to say, the pair's bond had Twitter sobbing.
Fans Are Dreading TLOU Season 2
Those who are familiar with Joel's fate in the video games (and how the doctor he killed factors into that) are already bracing for TLOU Season 2, with some also hoping HBO's adaptation will change certain plot points. Without giving anything away, Mazin gave some hope, teasing that "The Last of Us Part II … will be different, just as [Season 1] was different," during the aforementioned press conference. "Sometimes it will be different radically … It won't be exactly like the game. It will be the show that Neil and I want to make."
Before HBO premieres Season 2, though, viewers have some time to debate the inaugural finale's biggest moments while also dealing with their emotional hangovers.
Either way, these tweeters can at least rest assured that Joel and Ellie will be back on the screens eventually. By then, hopefully, fans will have recovered before boarding what's sure to be another emotional rollercoaster.