These Masked Singer Piglet Theories Revolve Around A '90s Boy Bander
This pig knows a lot about love.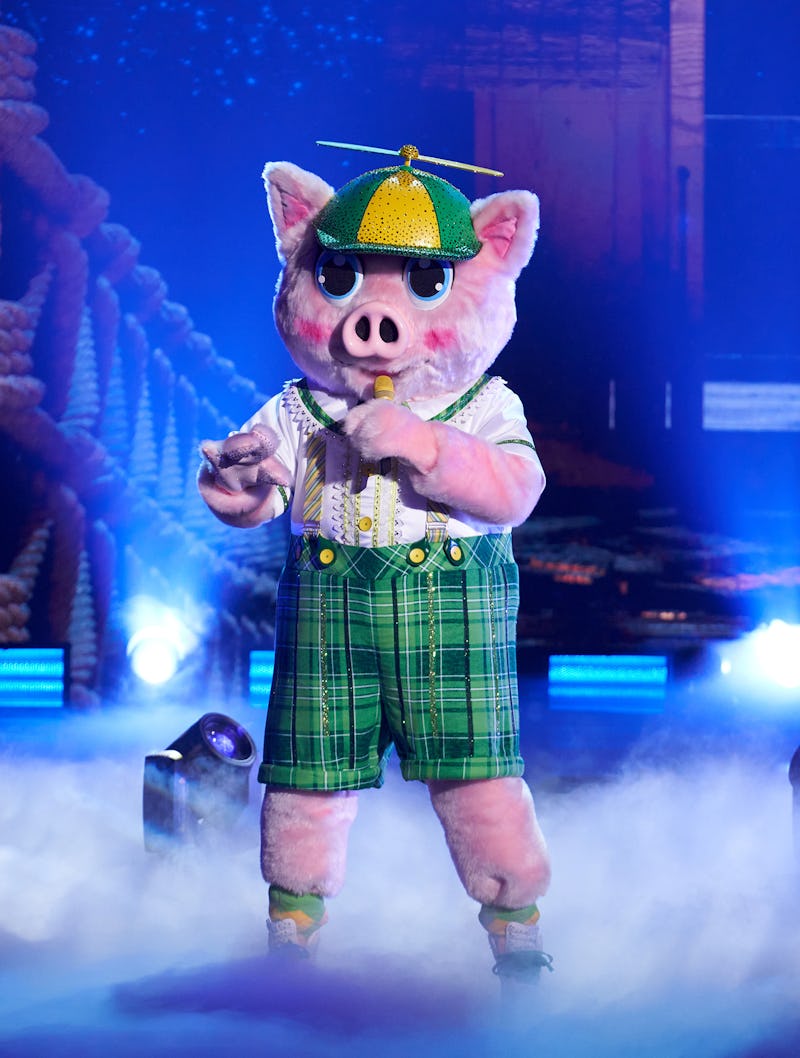 Michael Becker/FOX
The Masked Singer continues to introduce a varying number of wildcard competitors, but most of the original Season 5 singers have managed to hold their own. One competitor who's leading the pack is Piglet, who impressed audiences with his soulful renditions of Dan + Shay's "Speechless" and Andy Grammer's "Good to Be Alive (Hallelujah)." Judges have guessed everyone from Charlie Puth to Austin Mahone, but the popular fan theory is that Piglet is Nick Lachey, the lead singer of the popular boy band 98 Degrees.
Piglet wears a green plaid outfit with a propeller hat. Audiences got clued into his voice early on when a clip before the show's premiere showed him singing Phil Collins' "Against All Odds." "This has to be Nick Lachey," one Reddit user wrote. "If it's not I will eat my shirt."
Alongside boy bands like 'N Sync and The Backstreet Boys, 98 Degrees was huge during the '90s, so it makes sense that diehard fans would recognize Lachey's voice immediately. (If you're unfamiliar, they sang "The Hardest Thing" and Mulan's "True to Your Heart.") The clues seem to line up with him, too. Piglet's first clue package looked like a Bachelor spoof, and he said that he "hasn't always been lucky in love." He added that he's "given away a few roses" and "the world saw my heart break." His second clue package said he feels "right at home" singing love songs. The clue package was also very football-centric and showed Piglet facing off against his "nemesis" with a horse on the helmet.
Most viewers assume that the comment about heartbreak is a reference to Lachey's highly-publicized relationship with Jessica Simpson, whom he divorced in 2006 after four years of marriage. Lachey is also the host of Netflix's Love Is Blind, which could be what the Bachelor clues are really alluding to. Even his costume could be a hint; Lachey is from Cincinnati, Ohio, which is nicknamed "Porkopolis" because of its pork processing plants. Lachey is also a huge Cincinnati Bengals fans, and in 2012, he got kicked out of an NFL game for fighting with a Chargers fan; notably, the original Chargers logo was a horse. Cluedle-doo even said that the Piglet "knows how to stay cool, even in the heat," which feels like an obvious reference to 98 Degrees.
The clues fit Lachey pretty well — and it's hard to deny those pipes — but The Masked Singer has also been known to mislead audiences. There are other fan theories that Piglet actually is a Bachelor alum and that producers are just counting on people to assume that the rose references are too on the nose. One person on YouTube even suggested Piglet could be Matt James, who had a very public breakup with his final pick, Rachael Kirkconnell, after her racist actions were uncovered by sleuthing fans.
Other fans think Piglet could even be 'N Sync's JC Chasez. Piglet's second clue package was very football-centric, and 'N Sync performed at the Super Bowl halftime show in 2001. The Masked Singer also noted that combined, Season 5's contestants have made "three Super Bowl appearances," so it's not totally out of the question.
Fans will have to wait and see who's really under Piglet's mask — and based on how he's been dominating the competition so far, that may be a while.