Gordon Bombay Is Back In The Mighty Ducks: Game Changers On Disney+
Emilio Estevez reprises his role alongside franchise newcomer Lauren Graham.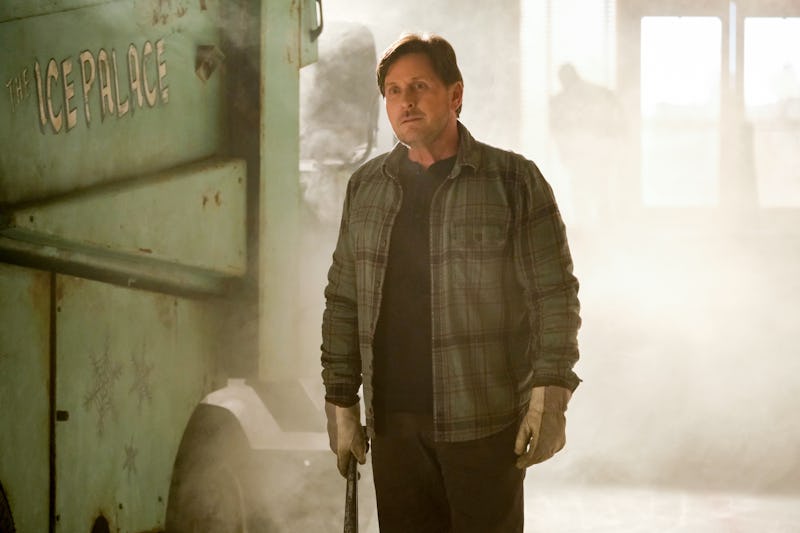 Disney/Liane Hentscher
Premiering Friday, March 26 on Disney+, The Mighty Ducks: Game Changers brings us back to the world of youth hockey first seen in the classic 1992 film. This time around, the beloved, hardscrabble Ducks are the league-dominating bad guys with a merciless if well-coiffed head coach and overbearing helicopter-parents in the bleachers. One thing that hasn't changed, though, is that Gordon Bombay, less well-coiffed than he was in the '90s but perennially down on his luck, is again the reluctant good guy.
The trailer shows the return of actor Emilio Estevez as Gordon while also introducing new and familiar faces. A kid snatching a plastic bottle from the air promises to be the new Goldberg and by the looks of her 2-inch headband, we can expect another Tammy Duncan to join the Minnesota squad. Gilmore Girls fans will be thrilled to see Lauren Graham joining the franchise as a hockey mom.
Here are the actors we know are part of The Mighty Ducks: Game Changers cast, from new franchise faces to the old, familiar Ducks.
Emilio Estevez
"I have spent my whole life chasing hockey and I have absolutely nothing to show for it," Estevez declares, reprising the role of Gordon, who you will remember was court-ordered to coach the Ducks in the original Disney hit. Here, he's similarly disinclined to take on the squad and somehow even more curmudgeonly. No longer a hotshot lawyer, he owns an ice-skating rink where hockey is strictly verboten. But Estevez, looking more like his father, Martin Sheen, than ever, can still land the cadence of a pep talk.
"This is bigger than hockey," he intones as if anything could possibly be bigger than hockey. "This is about you sticking up for yourself."
Brady Noon
Noon plays Evan, and Evan is the new Charlie Conway (played by Joshua Jackson in the original Ducks trilogy). Evan gets unceremoniously cut from The Mighty Ducks, a team that's been held hostage by hyper-competitive hockey moms and dads. He's dejected until his own mom declares that she's going to help Evan put together a new team. You might recognize the relative newcomer from the 2019 hit film Good Boys.
Lauren Graham
Lauren Graham! Graham, already twice-inducted into the TV Hall of Favorite Mothers for Gilmore Girls and Parenthood, shows up as Evan's harried mom, preaching a bygone parenting pedagogy of "let your kids have a little fun." Her character, Alex, is the engine behind the new team, who are essentially the old Ducks: a ragtag group of discards who love hockey despite not being very good at it.
The OG Ducks
Like Gordon Bombay said in the first movie, ducks are fearsome within the animal kingdom for how they stick together: "They know that if they mess with one duck, they gotta deal with the whole flock." While Game Changers is focused on its new generation of misfits, there is still a super reunion buried in the first season's 10-episode run. In Episode 6, titled "Spirit of the Ducks" characters from the original trilogy appear en flock, including Elden Henson as Fulton, Matt Doherty as Averman, Vinny LaRusso as Adam Banks, Marguerite Moreau as Connie, Garret Henson as Guy, and Justin Wong as Kenny Wu.