The Parent Trap's Elaine Hendrix & Lisa Ann Walter Had The Ultimate Reunion
Sadly, Halle and Annie didn't join them at the SAG Awards.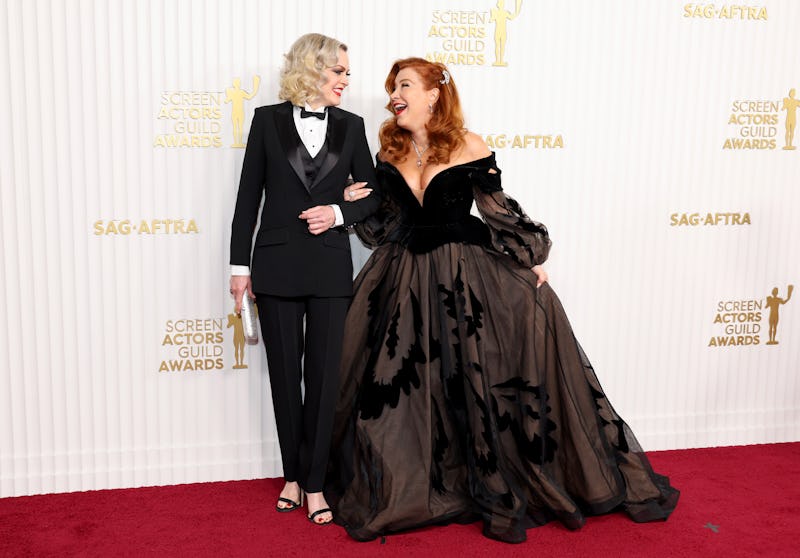 Amy Sussman/WireImage/Getty Images
The 2023 SAG Awards saw some of Hollywood's biggest stars get together, creating unforgettable moments in the process. From the cast of Everything Everywhere All At Once winning the award for Best Ensemble and Andrew Garfield's moving speech for Sally Field on her Lifetime Achievement award, replicating their bond as Aunt May and Peter Parker. Fans of The Parent Trap were also treated to a nostalgic reunion between two of its cast members, Elaine Hendrix and Lisa Anne Walter.
Walter walked the red carpet with Hendrix on her arm, calling her "the best-looking date in a tux I've ever had." The pair looked absolutely stunning, showcasing their close friendship after all these years. Fans were having an absolute nostalgia trip with their appearance, with one fan calling it "such a serve" to see them own the carpet together. "Elaine Hendrix and Lisa Ann Walter still being best friends all these years after The Parent Trap is the most wonderful thing ever," one Twitter user wrote. "Favourite thing about red carpets; The Parent Trap reunion we all needed," wrote another.
Many fans also suggested that this is how The Parent Trap should've ended, with Meredith and Chessy ending up together. And this isn't the first time they've reunited, either. In 2021, they treated fans by recreating one of the film's most memorable scenes of Meredith calling after Chessy by ringing a bell.
The 1998 classic starred Lindsay Lohan in her film debut as the identical twin sisters Hallie and Annie, who were separated after their parents' divorce. Hendrix plays Meredith Blake, their father (Dennis Quad)'s love interest and their potential stepmother, and Walter stars as Chessy, Hallie's nanny. It's clear that Hendrix and Walter still have a soft spot for the film, even suggesting a possible reboot. "With Lindsay doing work again and being as beautiful and fabulous and talented as she is, certainly anything is possible," Walter said during an interview with Extra.