The Real Charles Sobhraj Reportedly Wants To Make A Movie About His Life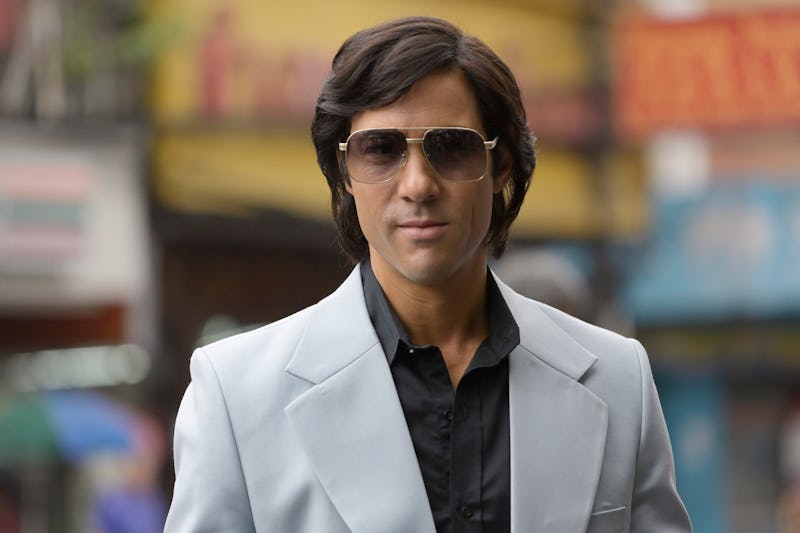 Netflix
The Serpent tells such a thrilling, winding true crime tale that fans won't want it to end. The drama portrays Charles Sobhraj's life of crime as he traveled around Asia in the '70s, conning unsuspecting travelers out of their money and passports and occasionally killing them. However, the BBC/Netflix show is being billed as a limited series, and by the finale, it takes viewers up through the present day. So not only is a second season pretty unlikely, it's also not needed. Sobhraj's story is wrapped up completely.
In the final episode of the eight-part series, Sobhraj is arrested in Nepal upon his return in 2003. In real life, he was then subsequently convicted of the 1975 murders of American tourist Connie Jo Bronzich and her friend Canadian tourist Laurent Carriere. Sobhraj had met them when they were visiting Nepal, and he was later convicted of stabbing them to death before setting their bodies on fire. He's now serving a double life sentence in Kathmandu for the crimes, and there have been no major updates to his case.
Sobhraj has long claimed to be innocent. He told the Mirror in a March 2021 interview that he believes he will be released in a matter of weeks because he thinks he's been "illegally imprisoned." There's no basis for that belief, as he's serving two life sentences. But if there ever were a major change in his status, that could change the likelihood of a second season of The Serpent. Maybe if he escaped from prison again (he's done so in the past, earning him the "Serpent" nickname for giving law enforcement the slip) or if he was released, that could warrant a special update.
Regardless, there are several other projects about Sobhraj that Serpent fans can check out if they're not ready for the story to end. The show pulled a lot of information from the expansive biography Bad Blood: The Life and Crimes of Charles Sobhraj by Richard Neville and Julia Clarke. The book has since been re-released in conjunction with the show under the title On the Trail of the Serpent.
Sobhraj's story has also been told in the book Serpentine: Charles Sobhraj's Reign of Terror from Europe to South Asia by Thomas Thompson as well as the memoir Je Reviens — which was written by Sobhraj's ex-girlfriend and partner in some of his crimes Marie-Andrée Leclerc. There has also been another TV series called Shadow of the Cobra that came out in 1989 and a 2015 Bollywood movie called Main aur Charle‪s‬ based on Sobhraj's life.
Sobhraj is reportedly interested in soon telling his own story via book or movie, according to the Mirror. He tried to get the Mirror reporter's help contacting Virgin Group founder Richard Branson and MacKenzie Scott (Jeff Bezos' ex-wife) to potentially work on a film project. He also teased a memoir. "I want to propose a movie deal. My book is going to be published in about one month," he claimed. However, since the whole premise of The Serpent is documenting Sobhraj's many lies, maybe don't take promises about a movie or a book at face value. We'll believe it when we see it.