Lisa & Brian From The Ultimatum Just Gave An Exciting Relationship Update
The couple welcomed a son named Mason over the summer.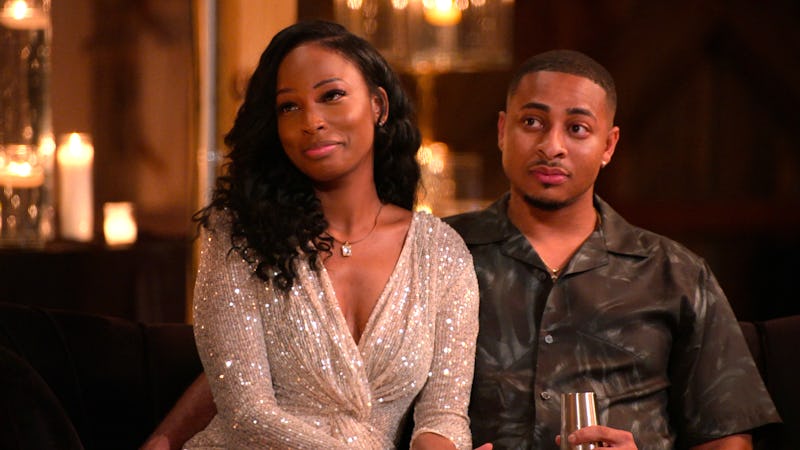 Courtesy of Netflix
After six months of casual hookups, The Ultimatum: Marry or Move On Season 2 couple Jelisa "Lisa" Horne and Brian Okoye committed to each other and had been together for a year and a half before joining the Netflix reality series. Unable to agree on a timeline for marriage and starting a family together, the pair was at a crossroads, and Lisa, 32, issued the ultimatum to Brian, 29, who was hesitant to propose due to his partner's "jealousy issues" and "tendency to turn disagreements into explosive arguments." In Episode 2, however, co-host Nick Lachey dropped a bombshell about the Charlotte, North Carolina-based couple: They "decided to remove themselves from the experience" after Lisa discovered she was pregnant with Brian's baby.
In the next episode, Lisa told Brian she had just taken a pregnancy test that morning. "A baby doesn't fix the problem that we had, obviously," Lisa said, adding, "I do still want to get married one day and all those things, [but] I'm not saying we're having a baby, so let's get married." Brian, for his part, was "super happy," but unsure what that meant for their future. "This changes a lot," he admitted. "But I don't think that changes how I think about marriage right now. I think it complicates things, for sure, even more."
In a mid-August interview with Bustle, Brian and Lisa revealed that they're still together, moved into a new home together, and welcomed a son named Mason this summer. "The baby is here and amazing. He has a great personality, he's fun and he's very smart," Brian gushed. "We're just enjoying really just being parents and really working towards building and developing our child together."
In a separate Bustle interview, Lisa reiterated that their newborn was not the reason they stayed together. "We've been doing a lot of work in therapy, and it has done wonders for our relationship," she added. "We're intentional about wanting to make this work — not for the sake of the baby, I made that very clear. I was like, "I'm not staying with you because I got pregnant by you. We're not doing that." We've been intentional about being with each other, and everything's been great. We're in a good place."
However, she said Brian still hasn't popped the question, adding, "He's been the one to bring it up since we stopped filming. He's like, 'I'm really looking forward to it.' And I'm like, 'I hear you, I don't see a ring though.' So, we're waiting."
The couple also explained why they made the "tough decision" to decline an invitation to share their pregnancy announcement with the rest of the Ultimatum cast. "Finding out the news that she was pregnant, we had to make a decision quick as to whether or not we wanted to proceed," Brian revealed. "Even though the baby boy wasn't here yet, I went into father mode instantly to say, 'Hey, it just doesn't make sense for us to continue the experience.' We wanted to get as much out of it as possible — and it was unfortunate that we couldn't finish it out — but I don't regret it at all because we were able to continue our work once we left the show, talking to a counselor and getting into therapy."
Lisa confirmed that she wanted to share the baby news with the cast in person. "Once Brian found out, he was like, 'Nothing else matters. I want to make sure your mental health is good, I want to make sure you're good, I want to make sure our baby is good, let's go. I want to go to the doctor like tomorrow to make sure everything is alright,'" she added. "And I agreed with him. So, that was his decision. He went into immediate protective mode."
Joking that she doesn't usually "clear up rumors," Lisa reacted to castmate Alex Chapman suggesting she knew she was pregnant before filming began, attributing that possibility to why she seemed overwhelmed by the experience. "People are going to say what they want to say, but it's OK because we knew the truth," she shared. "I didn't know [I was pregnant], so what anyone else had to say didn't bother me. I know they're good people. They're not malicious."
According to Lisa's Netflix bio, she's already a mom to a 10-year-old daughter but hasn't shared any photos of her on Instagram. An article about a women's empowerment charity event she threw in October 2019, referred to Lisa, who is a registered nurse, as a "military wife," though it's unclear when she divorced.
Brian, for his part, isn't particularly active on social media, but in a November 2022 Instagram caption, he wrote that he'd just "celebrated two years of love & growth" with Lisa. In the meantime, the financial analyst has been busy launching Spiral World, a creative marketing agency that he says is coming in the winter of 2023.
This article was originally published on