Everything To Know About The Ultimatum: Queer Love Season 2
Netflix has yet to renew the LGBTQ+ reality dating series.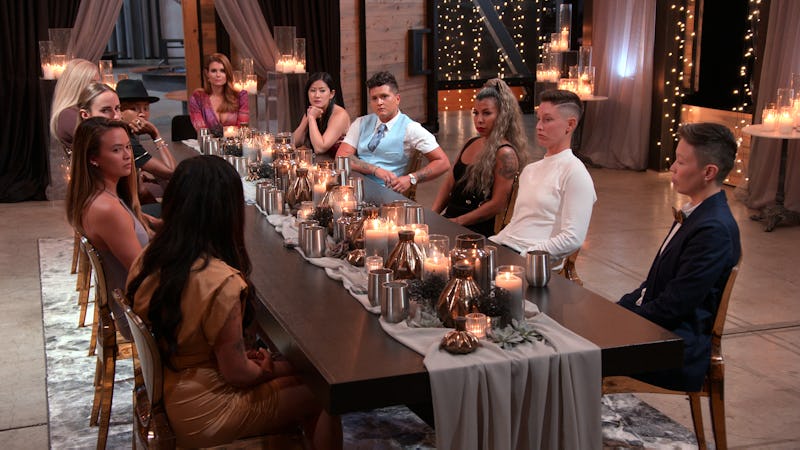 Courtesy of Netflix
Originally conceived as the second season of the flagship series, The Ultimatum: Queer Love premiered in May with an all-queer cast of cisgender women and nonbinary folks. "These stories are really, really special, and the people who were part of this show were so generous and vulnerable and beautiful," host JoAnna Garcia Swisher told Bustle before the reality spinoff series debuted. "I would like to see it be on forever."
Though Netflix has yet to grant that wish with a Queer Love Season 2 renewal, producer Chris Coelen has given the LGBTQ-focused series a major vote of confidence. "I do think there has been a real lack of shows that do feature queer people and I am a huge believer in telling stories that everyone can relate to," he explained to The Hollywood Reporter in May. "It's important that not everybody's experience is the same. When you really understand where people are coming from, what they're going through, you find a lot to relate to. . . . It's one of the best relationship shows — full stop — that is out there."
As fans await an official announcement either way, here's everything to know about a potential Season 2 of The Ultimatum: Queer Love.
The Ultimatum: Queer Love Season 2 Cast
Netflix waited to reveal the inaugural Queer Love cast until just weeks before the first batch of episodes dropped, so expect a wait on any future casting announcements. Though it remains to be seen if a subsequent installment might feature predominantly queer men, Coelen shed some light on their casting process in his THR interview.
"Ultimately, we want to bring people together that we think will have an interest in one another or there are multiple options for each person, if the format is dictating that you get to choose a potential partner," shared Coelen, whose Kinetic Content company also produces Netflix's Love is Blind and Perfect Match, as well as Lifetime's Married at First Sight. "I like that we did this show with a pan-regional approach. Sometimes we've drilled into just one particular city. There are some shows that we've done a nationwide casting. For this, we wanted to try — to the extent we can — reduce geography as a factor for people. That was an important consideration. Our casting team, in putting together a group of people for any shows that we do, we will try to make sure that on paper there's some potential compatibility within the pool of participants. But you never can tell until people are together."
The Ultimatum: Queer Love Season 2 Potential Premiere Date
Because Queer Love is the first Ultimatum offshoot, it's difficult to predict when a second season might premiere. Presumably, Netflix will air an original Marry or Move On iteration next and continue alternating in Queer Love installments, should the series be renewed. There was a year gap between the first two outings, meaning Queer Love could likely return in early spring 2025, if Netflix continues the same release schedule.
This post will be updated as more The Ultimatum: Queer Love Season 2 details become available.