The Upshaws Season 3 Is Already In The Works
Mike Epps shared a promising production update.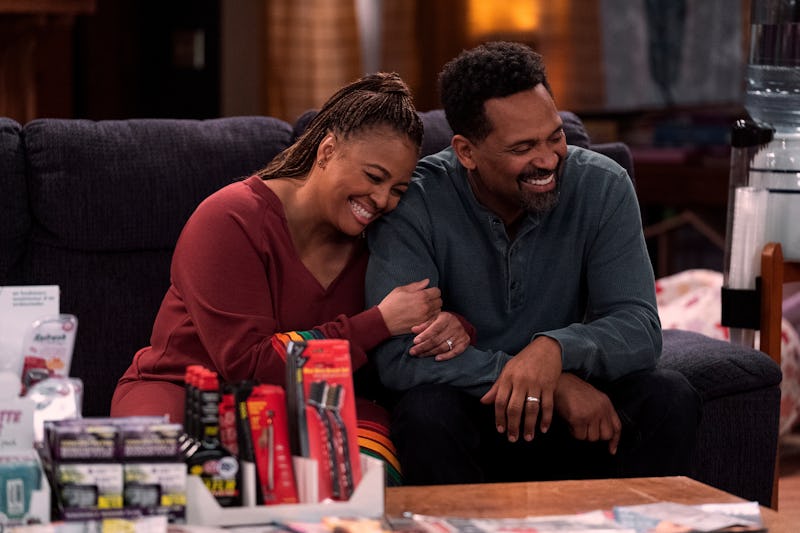 Lisa Rose/Netflix
If you need a break from Netflix's reality dating and serial murderer offerings, The Upshaws has you covered. The popular sitcom about an extended Indianapolis family returned to Netflix on Feb. 16, dropping the second batch of Season 2 (which was divided into two eight-episode halves). But after you finish streaming, is there more on the way?
Indeed, there is! The Upshaws Season 3 was actually announced all the way back in October. "Most of our audience grew up watching multi-cams, and they are excited to see a format that feels like a throwback, but with fresh stories," co-creator Wanda Sykes, who also stars as Lucretia on the show, told Variety at the time.
While the studio audience and sub-30-minute runtimes for each episode do feel vintage, the total episode count (with 10 in the first season, and eight in each half of the second) is in keeping with what viewers have come to expect from more modern Netflix series. However, it's not clear whether The Upshaws Season 3 will be divided into two parts like its predecessor — or if it will have more episodes this time around. Regardless, it's good to know that production is officially underway (but more on that later).
In the meantime, here's everything to know about The Upshaws Season 3 so far.
The Upshaws Season 3 Cast
You can likely count on all of the Upshaw family and friends to return for the next installment — including Mike Epps as Bennie, Kim Fields as Regina, Wanda Sykes as Lucretia, Jermelle Simon as Bernard, Khali Daniya-Renee Spraggins as Aaliyah, Journey Christine as Maya, Diamond Lyons as Kelvin, Gabrielle Dennis as Tasha, and Page Kennedy as Duck.
The Upshaws Season 3 Potential Release Date
So far, there's been a new installment of The Upshaws every year. Season 1 dropped in 2021, while the two parts of Season 2 followed in 2022 and, now, 2023, respectively. So it's safe to assume that The Upshaws Season 3 will arrive on Netflix by 2024. In fact, production is rolling along right now. Earlier in February, Epps shared an Instagram photo of a script for Episode 1, titled, "Thera Please."
"Back at it," Epps captioned the post.
"We are so #Blessed 🙏🏾," commented his onscreen daughter, Journey Christine.
This post will be updated with the trailer, release date, and additional plot details as more information on The Upshaws Season 3 becomes available.