Marvel Fans Didn't Get The Trailer Release Date Quite Right
But at least the first Thor trailer has landed (finally).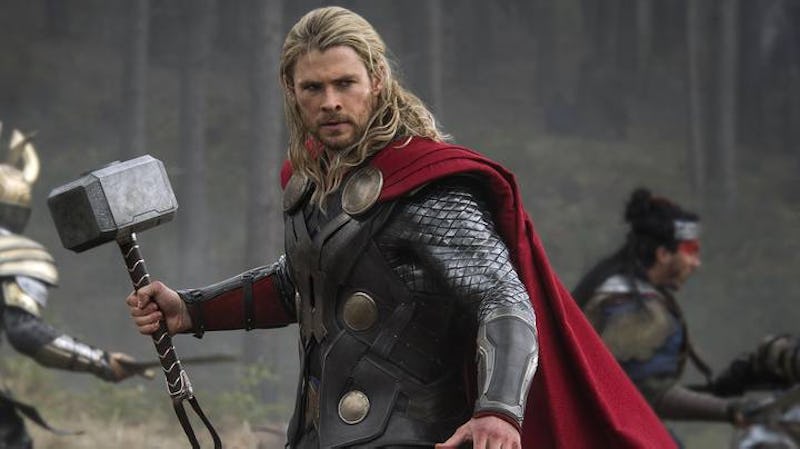 Marvel
Debunked fan theories aside, the long awaited trailer just dropped. But not on the date some Marvel fans were convinced on. But Monday, April 18, instead. Maybe, the fandom was just fed up with waiting.
Transforming into an immediate consulting group, they scoured an Instagram post from Chris Hemsworth on Apr. 4 for clues of a deeper meaning. The Aussie actor posted a picture of himself and his Thor: Love and Thunder co-star Tessa Thompson, and director Taika Waititi doing some "long-lead press" for the film. He's since posted a teaser of the first Thor trailer to his 54 million followers.
Marvel's next big blockbuster is due to hit theatres on Jul. 8, 2022. And the trailer was unusually late, considering, so it's no wonder fans went looking for clues, where there weren't any. Searching for any answers they could get their hands on.
But what was the theory? In early April, despite tumbleweeds, instead of a trailer, interviews with the cast, and promotional content were in full swing, per Tech Radar. Fans were convinced that Chris and his colleagues' hand gestures (they're each holding up one or two fingers) spelt out a potential trailer release date of Apr. 11.
In the photo, Waititi holds up a single digit on each hand, creating an eleven. Right next to him, Hemsworth has throw up devil horn signs, using two fingers on each hand — totalling four fingers. And next to Hemsworth, Thompson is throwing up classic peace signs on both hands, also using two fingers each, so another four in total. Using these numbers, the only possible date you can create, ahead of the film's release, is the eleventh of the fourth.
It turns out, the most likely explanation for the mysterious delay was simply — unexpected reshoots. Per Tech Radar and The Ankler, last minute reshoots involving former Batman star Christian Bale (who's playing Gorr the God Butcher) were still underway as recently as Mar. 14.
Appeasing a frustrated fandom, the first Thor: Love and Thunder teaser trailer is now available to watch, endlessly.
This article was originally published on