Everything To Know About Those Who Wish Me Dead
Angelina Jolie stars as a smoke jumper determined to protect a teenage boy from danger.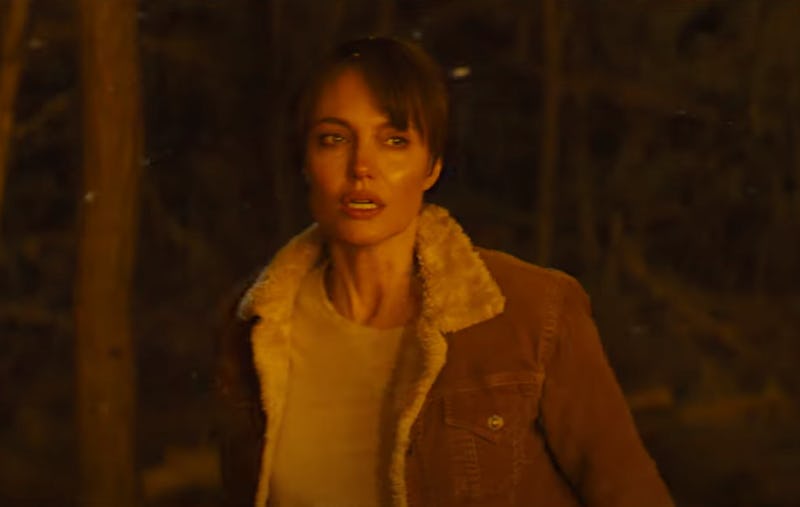 Warner Bros./HBO Max
With nearly four decades of acting under her belt, Angelina Jolie has played many ambitious roles, from assassins to tomb raiders and even the villainous fairy godmother Maleficent. In the upcoming HBO Max thriller Those Who Wish Me Dead, written and directed by Taylor Sheridan, she stars as a specially-trained firefighter determined to protect a teenage boy from both a team of killers and a ravaging wildfire. "I've done action in fantasy," the actor told Entertainment Weekly. "This was different because it was real." Following the trailer release on April 7, here's everything we know about Jolie's latest flick.
The Those Who Wish Me Dead Plot
Based on Michael Koryta's 2014 novel of the same name, Those Who Wish Me Dead follows Hannah (Jolie), an expert smoke jumper, aka a firefighter who's specially trained to jump directly into a blaze. Traumatized by a previous failed mission that left three people dead, Hannah is stationed at a fire tower when she encounters a frightened 12-year-old boy named Connor (Finn Little) in need of help. Having witnessed a brutal murder, Connor is being chased by a team of trained murderers, and Hannah commits to keeping him safe.
In an interview with People, Jolie described her character as "quite broken." "She carries a lot of guilt," said the star. "She's a smoke jumper and a bit of an adrenaline junkie, but she's also somebody that has experienced tragedy, and she feels responsible for it."
She also spoke to the film's complex, emotional plot. "On its surface, the story feels like a thriller, with a lot of really interesting characters and a great adventure across unusual terrain, inside a great fire," added Jolie. "But, underneath, it's an emotional film about people who are thrown together to survive."
The Those Who Wish Me Dead Cast
Jolie leads the film as Hannah, and teenage newcomer Finn Little stars as the troubled Connor. Also set to appear are The Great's Nicholas Hoult and Game of Thrones' Aidan Gillen as twin assassins Patrick and Jack Blackwell, respectively. The rest of the film's cast includes Tyler Perry, John Bernthal, Medina Senghore, and Jake Weber.
Speaking to People, Jolie said she "had so much fun" filming with Little. "I think people will really respond to him in this film. He has a light and a great energy," the actor detailed. "He can become very emotional and weep about something, and he can also jump over a building and dodge bullets and love it."
Little similarly raved about his A-list costar to the magazine. "Angelina is great!" said the actor. "She's fun on set and very easy to work with. She is [a] nurturer on and off set. She's lovely. I was so lucky!"
The Those Who Wish Me Dead Release Date & How To Watch
Due to the coronavirus pandemic complicating our return to movie theaters, Warner Bros. and HBO Max struck a deal in Dec. 2020 to release all of its 2021 films on the streaming platform the same day they hit big screens across the country. Those Who Wish Me Dead will head to theaters and become available to stream on HBO Max starting May 14.