Tobias Menzies Spoke About "Ducking" Prince Philip's Racist Comments In The Crown
The actor opened up about the challenges of portraying the Duke of Edinburgh in a new interview.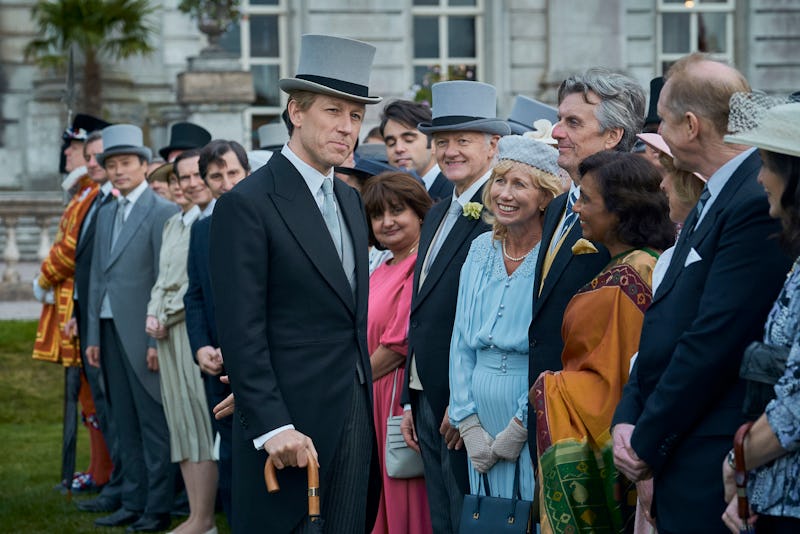 Liam Daniel/Netflix
Playing Prince Philip – a man "seen by many, but known by few" – in Netflix's The Crown proved to be a rather unique challenge for British actor Tobias Menzies. Not least because the Duke of Edinburgh was still alive at the time that he took on the role. Ahead of the Duke's funeral on April 17, and days after his death – he passed away on April 9 in Windsor – Menzies reflected on his portrayal of the late Prince, and admitted to"ducking it" when it came to the late Duke's racist comments.
Speaking to journalist Anushka Asthana for The Guardian's podcast, Menzies and the journalist reflected on the obituaries and tributes made in the past week since the Duke of Edinburgh's death, and how they were largely "very nice" because "it is respectful," not just of the institution he was a part of, but also so soon after his death. "What we hear instead is people saying things instead like 'he was straight-talking' or talking about 'his gaffes,'" explains Asthana. "I think there might be a different way to describing some of them," she continued, rounding up a selection of racist comments made by the Duke during his lifetime. "How did you tackle that side of Prince Philip?"
"I think the honest truth is by ducking it," admitted Menzies. "In a way, it's not what the show engages in. I think what the show is, is a measured and thoughtful appraisal of that institution and the family that sits inside it. Now you can definitely criticise that and say we have added to propaganda about the family — it's essentially a benign representation," he continued, though Asthana interjected that the Netflix drama is not all positive.
"It's true," Menzies replied, "but it doesn't look to ideas of racism, class, or elitism. And my job as an actor within that show is to show as much complexities as I can, whilst fundamentally being on Philip's side. My job is to try and empathise with why he might say some of those remarks, rather than to critique them. "
Menzies took on the role of the prince in season three and four of the Netflix drama, opposite Olivia Colman's Queen Elizabeth. Prior to him, Matt Smith had played a younger version of the Duke. Jonathan Pryce is set to resume where Menzies left off in season five.
"It seems to me that there are quite a few different versions of Philip out in the world," the actor explained. "There are people who are great admirers and supporters of his, and who speak very highly of his warmth and generosity. And there are people who see him as absolutely entrenched in an institution that is arcane and out of date, and I guess some would say, maybe racist, and so that is where the challenge and difficulty of playing someone who is that well known and part of such a well-known family."
In the enlightening conversation — which also examined Prince Philip's royal service and 73-year marriage to the Queen — Menzies detailed all the ways he immersed himself in Prince Philip footage before taking on the role and, notably, Prince Philip's distinctive voice.
"For the drama to work, you have to get close enough to how he sounds and how he moves to allow the audience to go 'that is a bit like him...'" he said, before adding "but it can't become an act of mimicry."
Though Peter Morgan's The Crown is a work of fiction, Menzies was asked how he dealt with viewers believing his depiction of the royal consort was real. "It makes me nervous if I'm totally honest. Because it really is a highly curated show. Very brilliantly written with skillful actors bringing it to the screen — but it really isn't documentary," said Menzies, candidly. "I suppose now only the Queen could tell us if we get close to what he was really like."