Everything To Know About The Crown Season 5
Including who will portray the young Prince William.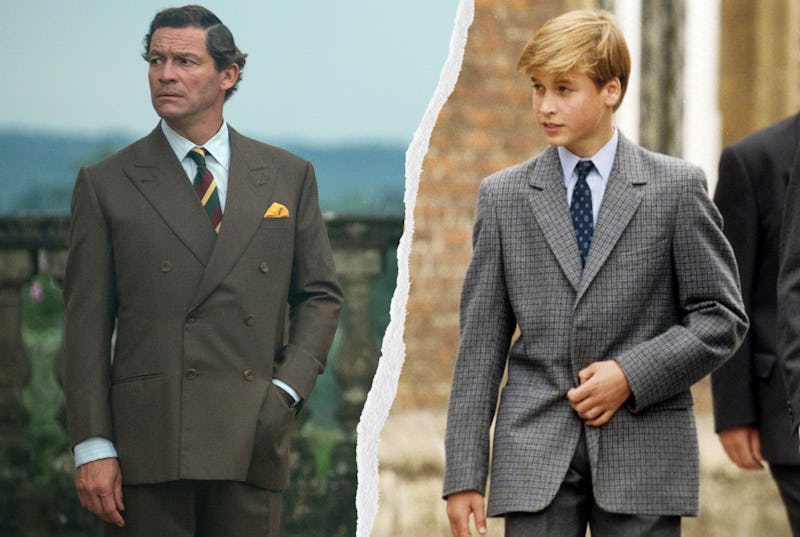 Netflix, Anwar Hussein/Getty Images
The Crown Season 5 signifies yet another new era for the Netflix historical drama, with a new Queen Elizabeth II at the helm. After exploring the stories of Lady Diana Spencer (Emma Corrin) and Margaret Thatcher (Gillian Anderson) in its turbulent fourth season, the series again recast its main roles to jump ahead to the '90s. The season is currently still in production, but details have slowly begun to trickle out. Here's everything we know so far, including the premiere timeline.
The Crown Season 5 Release Date
Netflix has yet to announce The Crown Season 5's specific premiere date, but the streamer did give us the month and year during its virtual fan event Tudum on Sept. 25. Unfortunately, it's going to be a long wait, though that's not unexpected. Deadline previously reported the show would likely return in 2022, and considering past seasons have always debuted in November or December, it seemed we could expect Season 5 to arrive in late 2022. That proved correct, with new star Imelda Staunton pinning down the release date to November 2022 in a video message that dropped during Tudum.
In Staunton's message, she shared that they had "just begun filming Season 5." Just weeks earlier, ET Canada had reported that Elizabeth Debicki and Dominic West, who are playing Princess Diana and Prince Charles, were spotted filming at Dunsfold Aerodrome in Surrey in South East England.
The Crown Season 5 Plot
The Crown Season 5 is expected to center on the lives of the British royal family between the 1990s and early 2000s. As Cosmopolitan reports, one standout moment likely to be covered is the queen's speech on the 40th anniversary of her succession in 1992, a year she famously described as her "annus horribilis." The breakdown of several royal marriages are also expected to be heavily featured, including Prince Andrew's separation from Sarah Ferguson, Princess Anne's split from Captain Mark Phillips, and Prince Charles and Princess Diana's 1996 divorce.
The publication of Diana's controversial tell-all book, Diana: Her True Story, in 1992 will also presumably be included, as well as the explosive interview Princess Diana gave to Martin Bashir on BBC One's Panorama. (In the sit-down, she famously spoke about Prince Charles' affair with Camilla Parker Bowles, saying, "There were three of us in the marriage.") Speaking to The Sun, an insider claimed that The Crown's creators plan on making Diana's infamous Panorama tell-all "the keystone moment in series five."
"To the writers, the stormy marriage between Charles and Di led up to her outpouring on Panorama, and the aftermath of that decision defined her final months," the insider revealed, adding, "they are making a huge investment in that." Prince William "[remains] deeply frustrated" with the possible Panorama narrative, according to The Telegraph. The Oct. 26 report comes months after Diana's son publicly denounced the interview, describing it as "a false narrative," which "needs to be addressed by the BBC and anyone else who has written, or intends to write, about these events."
Despite the rumours, Netflix is yet to comment on the inclusion of this particular storyline. However, the Princess of Wales' death, which tragically occurred in 1997, will be included, per RadioTimes. To help with the potentially difficult and controversial depiction of the royal's final years, The Crown's Peter Morgan had reportedly enlisted screenwriter and journalist, Jemima Khan, a close personal friend of Princess Diana, to contribute to the forthcoming season. Khan initially agreed, however, has since chosen to bow out, claiming in a statement to the Sunday Times on Nov. 6, that the "particular storyline would not necessarily be told as respectfully or compassionately as I had hoped."
Khan has also requested that all her contributions "be removed from the series" and has also declined credit. The Crown's spokesperson has responded, telling the Evening Standard that, "Jemima Khan has been a friend, fan and a vocal public supporter of The Crown since season one" They stated that while she was "part of a wide network of well-informed and varied sources" they added that Khan "has never been contracted as a writer on the series."
As for other moments, series creator Peter Morgan has a methodical process in picking what to feature. "This is the part of the writing process that takes me the longest — working out what to leave and what to put in," Morgan told The Hollywood Reporter. "I like to think that's the magic ingredient and what defines The Crown."
The research process takes Morgan and the writing team "at least nine months" before the actual script is written. "History, even recent history, is so reductive, and so many gems disappear into a black hole." Morgan said he likes to highlight "surprises, the overlooked stories" alongside "iconic events" like weddings, elections, and assassinations.
For those hoping to see a dramatization of Prince Harry and Meghan Markle's infamous exit from the royal family, Morgan confirmed that won't be happening. "I know how my show is going to end — but that's long before where we are now," he told Entertainment Weekly. "Let's wait 20 years and see what there is to say about Meghan Markle. I don't know what there is to say about Meghan Markle at the moment. I wouldn't know, and I wouldn't presume."
Should Morgan change his mind, however, Harry already has a casting suggestion. In an appearance on The Late Late Show with James Corden, he told the talk show host that he'd like Billions actor Damien Lewis to portray him in a forthcoming season. "I'm way more comfortable with The Crown than I am seeing stories written about my family, my wife, or myself. That is obviously fiction, take it how you will, but this is being reported on as fact," Harry told Corden. "I have a real issue with that."
The Crown Season 5 Cast
The Crown's cast will continue to evolve in Season 5. Those confirmed to be joining the series include Oscar-nominated actor Lesley Manville, who will replace Helena Bonham Carter as Princess Margaret. Additionally, Jonathan Pryce will take over the role of Prince Philip from Tobias Menzies. Meanwhile, RadioTimes reported on April 30 that Camilla Parker Bowles will be played by Olivia Williams (The Father), taking over from Oscar winner Emerald Fennell. Queen Elizabeth II, played by Academy Award-winner Olivia Colman in Seasons 3 and 4, will be portrayed by Imelda Staunton in the fifth season. Dominic West will play Prince Charles, taking over for Josh O'Connor. Meanwhile, Elizabeth Debicki will replace Emma Corrin as Princess Diana.
In recently released photos, Debicki can be see as Princess Diana when recreating the widely-recognised "revenge dress" moment. The actor is pictured wearing a dress similar to that risqué off-the-shoulder Black chiffon dress the Princess of Wales wore to a Vanity Fair fundraiser for the Serpentine Gallery in Kensington Gardens in 1994. The actor is also pictured in a teaser image on a sofa with a letter on her lap, arms wrapped around her body and engagement ring firmly in the frame.
Debicki previously expressed her excitement about joining The Crown. "Princess Diana's spirit, her words, and her actions live in the hearts of so many," she said in a statement (via Town and Country). "It is my true privilege and honor to be joining this masterful series, which has had me absolutely hooked from Episode 1."
As well as plenty of other replacements to reflect the time shift, the show will also welcome a new character in the form of John Major, the British politician who succeeded Margaret Thatcher to lead England between 1990 and 1997. Taking on the role of Major is Jonny Lee Miller, who has previously starred in Trainspotting and Elementary. The news was confirmed via a tweet from The Crown's official page.
According to The Sun, the Blairs have been cast, too. Gentleman Jack star Lydia Leonard is tipped to play Cherie Blair, while Bertie Carvel will step into Tony Blair's shoes.
Another somewhat controversial new character entering the show is Prince Philip's close friend and confidante Penny Knatchbull, also known as Lady Penny Brabourne. Knatchbull, who often joined Prince Philip at outdoor sports events, will be played by Californication actor Natascha McElhone. Sources told The Sun that this relationship "raised a few eyebrows" and "sparked quite a few whispers," but the Duke of Edinburgh and Knatchbull always maintained they were "just friends."
As Variety reported, the drama has finally cast its Prince William following a nationwide search. The young prince will be portrayed by newcomer Senan West, the real-life son of Dominic West, who plays Prince Charles in the Netflix hit. Senan will make his on-screen debut as Prince William in the final episode of the forthcoming fifth season.
Will The Crown Season 5 Be The Last?
The Crown's fifth season had previously been confirmed to be the show's last. However, Morgan later announced the Netflix drama will end with Season 6. "As we started to discuss the storylines for Series 5, it soon became clear that in order to do justice to the richness and complexity of the story we should go back to the original plan and do six seasons," he said in a statement. "To be clear, Series 6 will not bring us any closer to the present-day — it will simply enable us to cover the same period in greater detail."
Reporting by Sam Ramsden, Jack Irvin, Candace Cordelia Smith, Rebecca Fearn, L'Oréal Blackett, Sophie McEvoy, and Gretchen Smail.
This article was originally published on