Tom Holland's Year Off From Acting Won't Last As Long As You Think
The actor revealed he is taking a break following a "difficult" filming experience.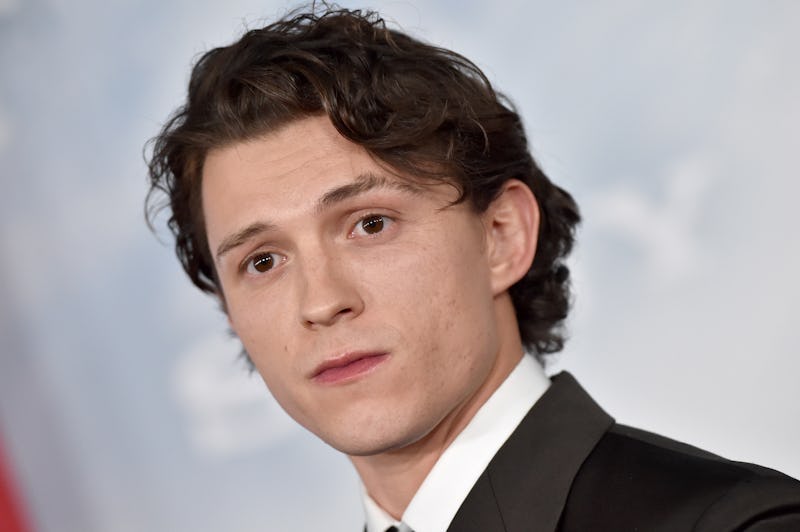 Axelle/Bauer-Griffin/FilmMagic/Getty Images
Following his many appearances as Peter Parker in Marvel's Cinematic Universe, Tom Holland has had an exceptionally busy schedule in recent years. Speaking in a recent interview, the Spider-Man actor revealed his plans to take "a year off" from acting following a "difficult" experience filming the Apple TV+ series The Crowded Room. Although, Holland's acting hiatus might not be as long as fans anticipate.
Speaking to Extra, the actor shared that he had a "tough time" making the psychological thriller, which he also produced, as he was forced to explore "certain emotions" that he has "definitely never experienced before." He continued: "Then on top of that, being a producer, dealing with the day-to-day problems that come with any film set, just added that extra level of pressure. I'm now taking a year off, and that is a result of how difficult this show was."
However, during a subsequent appearance on Live with Kelly and Mark, Holland revealed that he is already "eight months into" his year off. "I've been chilling at home in London, going to Grand Prixes, playing golf," the actor shared, adding that poor critic reviews of The Crowded Room are not what inspired his decision to step back from his professional life. "It's so funny. Obviously, The Crowded Room came out. We didn't have very favorable reviews. So the press story was that I have taken this year off because of the reviews," he explained.
During his previous interview with Extra, Holland also shared that he "really enjoyed" working on the Apple TV+ series and "loved the learning curve of becoming a producer."
"I'm no stranger to hard work. I've always lived by this idea that hard work is good work. And I really enjoyed it," he added. "But then again, the show did break me. There did come a time where sort of was like, 'I need to have a break.' I am excited to see how it turns out, and I feel like our hard work wasn't in vain."
In 2022, Holland also announced he was taking a break from social media for his mental health. In a video at the time, the actor explained: "I get caught up and I spiral when I read things about me online. And ultimately it's very detrimental to my mental state, so I decided to take a step back and delete the app."
Inspired by Daniel Keyes' 1981 novel The Minds of Billy Milligan, Apple TV+'s The Crowded Room follows the story of a young man who is arrested for his involvement in a New York City shooting, and is later interrogated by an unlikely investigator who is tasked with unraveling his mysterious past. Starring alongside Holland in the new drama are Amanda Seyfriend, Emmy Rossum, Sasha Lane, Will Chase, Lior Raz, Jason Isaacs, and Christopher Abbott, among others.
This article was originally published on