Vanderpump Rules' Tom Sandoval Tried To Ease Fan Outrage After Cheating Rumors
"I fully understand and deserve ur anger & disappointment towards me."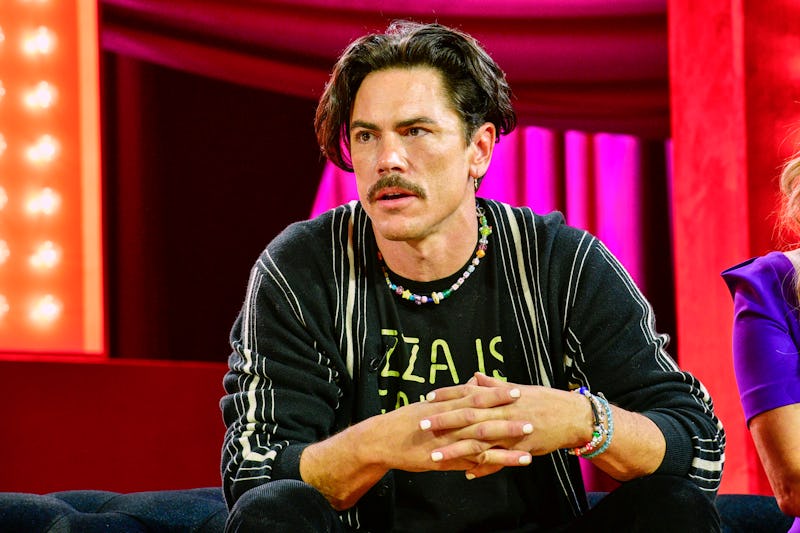 Bravo/NBCUniversal/Getty Images
Just one day after reports of Vanderpump Rules co-stars Tom Sandoval and Ariana Madix's breakup and cheating allegations surfaced, the Schwartz & Sandy's co-owner broke his silence in a March 4 Instagram statement. His message contained an apology — but not necessarily the one you'd expect. Instead of addressing Madix, he apologized to fans who were upset by his actions.
"Hey, I fully understand and deserve ur anger & disappointment towards me," Sandoval wrote, asking fans to leave business partner and fellow cast member Tom Schwartz, as well as his family and friends, "out of this situation." He continued, "Schwartz specifically only found out about this very recently, and most definitely did not condone my actions. This was a very personal thing."
When TMZ reported on March 3 that Sandoval and Madix had split after nine years of dating — because he allegedly cheated on her with Pump Rules castmate Raquel Leviss — angry fans began review-bombing his Los Angeles-area restaurant and lounge, Schwartz & Sandy's. Explaining that he has three other business partners and 20 employees "who rely on the restaurant for income for them and their families," Sandoval added, "Please direct ur anger towards me and not them. They did nothing wrong. Im [sic] so sorry that my partners, Greg, Brett, and Schwartz and our [employees] have to suffer for my actions. I will be taking a step back & taking a hiatus out of respect for my employees & partners."
Sandoval, who disabled comments on his Instagram post ended his message, "I need some time to address everything else. Sorry for everything."
The same day, another statement appeared on Schwartz & Sandy's Instagram account, addressing the "outpouring of outrage" that had been directed at the business. "Those of us who are not famous have dedicated our time, hearts, and money to make this restaurant a reality," the March 4 message read, in part. "We too are disappointed by the current situation, as Ariana has always been a good friend and a great supporter of the restaurant. We appreciate that you may feel a certain way, but please understand that the livelihoods of others also depend on this business."
On March 3, a source told People that Sandoval's reported affair with Leviss had been "going on for upwards of 6 months — all the while, Tom was sleeping next to Ariana in bed." The magazine's insider further claimed that Madix was "completely blindsided" when she discovered inappropriate messages on her longtime boyfriend's phone on March 1. "This is someone she thought she knew; someone she planned to spend the rest of her life with," the source added. "You can't even put into words that betrayal."
So far, neither Madix nor Leviss has publicly commented on the reports. However, Pump Rules co-star Lala Kent revealed on social media that Madix gave her permission to "torch" Sandoval and Leviss. In addition to getting a hug and flowers from Bravo alum (and Sandoval's ex) Kristen Doute in an Instagram story, Madix has also received support from other cast members, including Scheana Shay, Katie Maloney, and Leviss' ex-fiancée, James Kennedy, who've all rallied around the "devastated" reality star.
Viewers will see the reported affair drama documented on Vanderpump Rules Season 10, which is currently airing on Bravo. After a source confirmed to Bustle on March 3 that "Bravo is currently filming and we will see it play out" this season, People reported that Sandoval and Madix filmed a one-on-one conversation in their shared home.
Stay tuned.