The Pump Rules Cast Is Stunned By Tom Sandoval & Ariana Madix's Breakup & Cheating Rumors
Twitter is shocked by TMZ's allegations that Sandoval cheated with co-star Raquel Leviss, and so are their co-stars.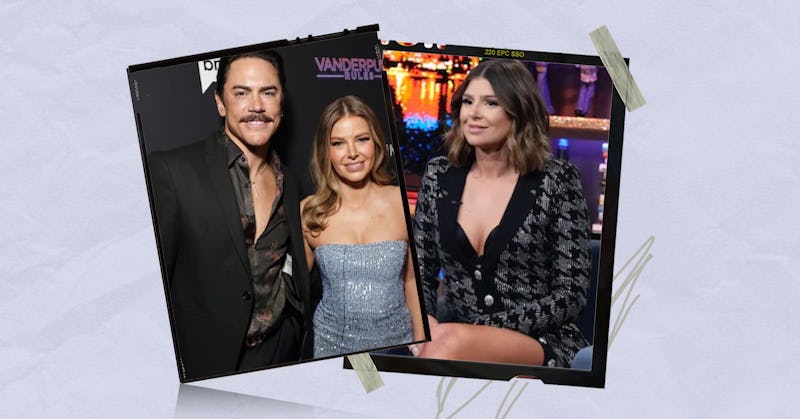 Bravo/NBCUniversal/Getty Images
Things at SUR are about to get messy — again. On March 3, TMZ reported that Vanderpump Rules stars Tom Sandoval and Ariana Madix have split after nine years of dating after he allegedly cheated with their co-star Raquel Leviss. The outlet reports that Madix discovered Sandoval's alleged infidelity "in the last couple days" and ended their relationship soon after. A source tells Bustle that "Bravo is currently filming and we will see it play out" on the show's 10th season, which just premiered on Feb. 8. Bravo representatives had no comment when contacted by Bustle.
Madix has denied rumors that she and Sandoval had an open relationship, which was shown in the Season 10 trailer. "I'm really not that cool, thought that was obvious," she tweeted. Madix was just seen supporting Sandoval at his cover band's show at TomTom, the restaurant he partially owns with Pump Rules matriarch Lisa Vanderpump and co-star Tom Schwartz, on March 1. After the story went viral, Madix deactivated her Twitter and Instagram pages, and she and Leviss have yet to publicly comment on the reports. However, their Pump Rules co-stars have not stayed silent.
On March 4, Sandoval issued his first statement since the scandal, which fans are calling Scandoval, first broke. In a note posted to Instagram, he said Schwartz was not aware of his indiscretions and explained how it's affecting their new restaurant Schwartz & Sandy's. "Hey, I fully understand and deserve ur anger towards me, but please leave Schwartz, my friends and family out of this situation," he wrote. "Schwartz & Sandy's might have my name on it, but also there are 3 other partners and 20 employees, who especially rely on the restaurant for income for them and their families... Please direct ur anger towards me and not them." He finished his letter with a very general apology, writing, "Sorry for everything."
Lala Kent, who has feuded with Sandoval and Madix in previous seasons, immediately came to Madix's defense. On her Instagram Story, she responded to press headlines of Sandoval calling her "ultra douchey" and not "real" enough for the show. "Oh Sandoval... Your problem with me is that I'm a little too real for your comfort," she wrote, tagging his Instagram page. "I've seen you for a long time, and you don't like that. But, I think now's the time for you to shut the f*ck up." She promised to come for both him and Leviss at the Season 10 reunion, which has not filmed yet, and tagged Leviss directly in a separate Story. "I suggest you get some energy for me," she wrote. "You're gonna need it."
DJ James Kennedy, Leviss' ex-fiancé, posted a screenshot of TMZ's headline to his Instagram page without a caption, but in the comments, he went after both Sandoval and Leviss. "Hope you all feel as sick as I do," he wrote. "This explains everything." Madix's brother Jeremy, who has appeared on Pump Rules, weighed in by commenting on Kennedy's since-deleted post. "Tom's a try hard having a midlife crisis with his cringy band and Raquel has faked her way to the top trying to make something of her life willing to step on whoever to get there starting with James," he wrote in part.
Kennedy also sent a message to fans planning to attend Sandoval's band's show in Orange County on March 3 in an Instagram Story video. "Don't forget to bring the tomatoes and the cabbage," he said. "You want to get a good aim and you want to squeeze the tomato a little bit just so it's just a little juicy before you throw it." Former Pump Rules star and Sandoval's ex-girlfriend Kristen Doute, who feuded with Madix on early seasons of the show, wrote that she's "Team Ariana 25/8" on her Instagram Story, adding in a separate post, "Karma is indeed coming, so Raquel should just move home."
Some other cast members have reacted to the drama in more subtle ways. Schwartz's ex-wife Katie Maloney posted just two clown emojis on her Instagram Story, while Scheana Shay has reportedly unfollowed Leviss on Instagram after supporting her through her split from Kennedy in the early episodes of Season 10, as noticed by Twitter fan accounts. Bravo honcho Andy Cohen also appeared to add fuel to the fire by posting a siren emoji to Twitter, and asking: "How many parts is too many parts for the #pumprules reunion???"
The Pump Rules cast has continued to rally around Madix as Scandoval unfolds, with Shay, Doute, and Maloney all being photographed outside her home over the weekend. After Sandoval issued his first statement, Kent, Kennedy, and Maloney all reposted it to their Instagram Stories and asked why he didn't apologize to Madix specifically.
The reports are extra surprising considering how Leviss' entanglement with Maloney's ex-husband Schwartz has been a driving storyline of Season 10. Maloney has said the two agreed to not date anyone in their friend group after announcing their divorce, but Leviss and Schwartz have admitted to having crushes and an "innocent" flirtation with each other on camera. The two reportedly made out at Shay's wedding to Brock Davies in August 2022, which has yet to be seen on the show. However, the reports that Leviss allegedly switched to the show's other Tom have fans going nuts.
Schwartz and Vanderpump have also yet to comment on the allegations.