Are Tom & Katie Divorced? The Vanderpump Rules Stars Are Still Close Friends
Schwartz is still reeling from their shocking divorce, leading fans to wonder if there's hope for a reconciliation.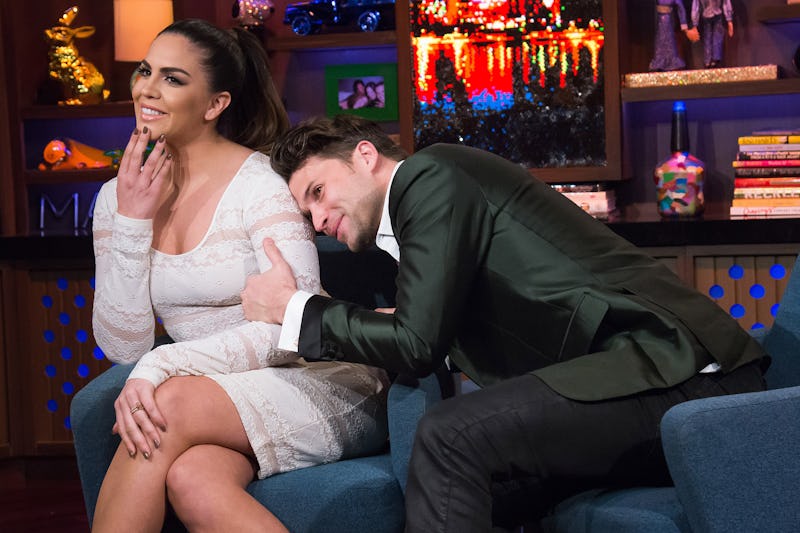 Bravo/NBCUniversal/Getty Images
Vanderpump Rules stars Katie Maloney and Tom Schwartz shocked the Bravoverse in March 2022 when she announced they were divorcing after five years of marriage. Fans saw the former couple get married on the show after seven years of dating in a ceremony officiated by Lisa Vanderpump. Their split is the hottest topic on Season 10 of the Bravo series, but Schwartz's devastated reaction to his divorce, their pursuit of an ongoing friendship, and the unclear status of their divorce on the show could make fans wonder if there's any chance of a reconciliation.
It turns out their split was indeed permanent. Maloney and Schwartz finalized their divorce in October 2022, after filming for the season had concluded. According to documents obtained by US Weekly, the exes shared the profits from their former home in Valley Village, Calif., which was sold for over $2 million in August. They split assets based on which items were under each person's name.
Thankfully, they officially ended on good terms. Schwartz appeared on Maloney's podcast in August, just a couple of months before the divorce became final, to give fans an update on their friendship and how proud he is of their breakup. "We're still hanging out, not in an unhealthy, exorbitant way, but we give each other space," he said. "We still check in on each other. I'm happy that we're still close. I think, relatively speaking, we've done a damn good job divorcing each other."
The former couple opened up about their divorce on the Season 10 premiere of Vanderpump Rules, months before they actually started filming new episodes. "I've never been a priority to him," she explained in a confessional. Schwartz nearly proved her point in his own interview. "She laid it all out and it made perfect sense," he said. "I can't give you the specifics, because I was so upset, I wasn't really listening. But also I don't want to ask her again, because one of the reasons she broke up with me is I'm not a good listener. Long story short, I just didn't know how to make her happy."
By the time they started filming, Katie and Tom still met up regularly, sharing their dogs Butter and Gordo VonFriendenheimer. But they also continued to reckon with the reasons for their divorce, sharing an emotional moment at Schwartz & Sandy's, the new bar that Maloney partly blames for their split, at the end of the second episode. "This bar was basically the other woman in our marriage, and I'm standing inside of her now," she remarked.