The Controversy Behind Amazon's Them, Explained
The new horror series has drawn sharp criticism since its April 9 premiere.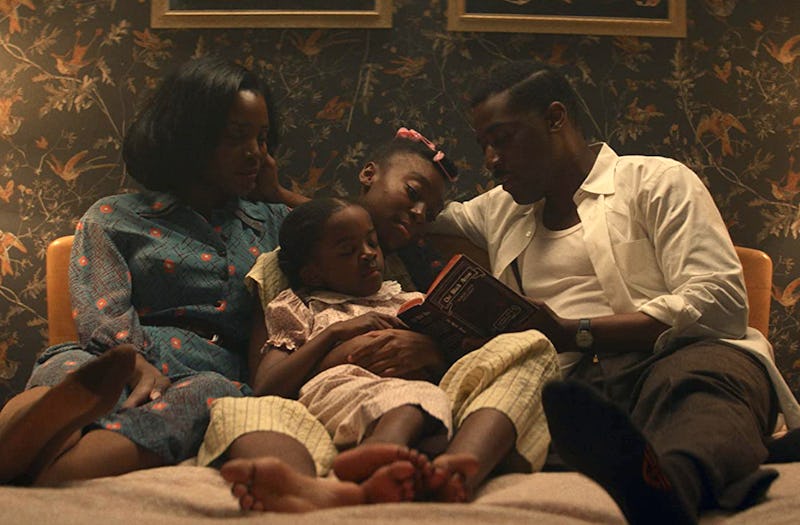 Content warning: This post contains mention of of rape and racist violence. Echoing films like Get Out and Antebellum, Amazon's new anthology series Them intertwines traditional horror with the real terrors of racism. The first season, titled Them: Covenant, made a splash at SXSW in March, but has since drawn sharp criticism for the way it depicts brutality against Black people, with many arguing that it's outright trauma porn. "I am comfortable calling it one of the most anti-Black pieces of pop culture I've seen in the last few years," Angelica Jade Bastién wrote in her review for Vulture.
Taking place over 10 days, Them: Covenant follows the Emorys, a Black family in the 1950s who move from North Carolina to a white neighborhood in Los Angeles after experiencing a highly tragic event. They're one of many Black families who made this journey during The Great Migration, a more than 50-year period in which 6 million Black Americans left the South to escape lynching and menial jobs.
The Emorys are hoping Los Angeles will be better, but when they pull up to their East Compton home, they're met with a haunted house and an angry crowd of white neighbors who will do anything to get them out. HBO's Lovecraft Country explored similar themes, but Them contains a shocking amount of racist violence in comparison. The fifth episode depicts the terrifying murder of a Black infant while his mother is raped, and a later episode shows a Black couple's eyes being gouged out with hot pokers before a white mob burns them to death.
Creator Little Marvin acknowledged that the violence is extremely upsetting, but that to him, that was the point. "Yes, there is a concern, but at the end of the day, I as an artist have to sit with myself and grapple with the authenticity of the show," he recently told the Los Angeles Times. With Them, he wanted to write scenes that would "rip through the screen, grab the viewer by the jugular and force them to contend with a history of violence against Black bodies in this country."
While Amazon includes content warnings at the start of the series, the viciousness of the scenes has led many viewers to question the limit of depicting white supremacist violence. Who does the violence really serve, and who is it meant to actually educate?
Some viewers lambasted Little Marvin and executive producer Lena Waithe (whose film Queen & Slim was also criticized for depicting Black pain) for using racism as the focal point of the show. Others pointed out that the showrunner and a majority of the directors and executive producers are white, leading to questions of whether this was the right team to tell this particular story.
Critics also asserted that Them is a rather apt title, as it seems to be made more for a white audience more than anyone else. "Them is a bloated series that repackages some of the worst evils ever committed to Black people in the United States for entertainment — and it does so with little to no depth about their implications," Michael Blackmon wrote for Buzzfeed. "The show is definitely horror, but the only viewers who may be scared, possibly even traumatized, are Black people."
Aisha Harris at NPR agreed that the violence is intensely off-putting, particularly for Black viewers. "There are scenes involving Black pain and suffering so mortifying, I can imagine many viewers not being able to finish watching it," Harris wrote. While she noted that there is "a time and place for such explicitness in the right creative hands," she found Them's use of the Emorys' pain to be overall "cynical." For example, many of the white characters who commit the violent acts get away with it. "Unlike so many of the other Black horror stories that we've loved and rewatched (even through our fingers), our protagonists don't even clearly come on the other side victorious," Ineye Komonibo wrote for Refinery 29. "Them's preoccupation with depicting Black suffering begs an important question: Who exactly is this show for?"
While some Twitter users argue that it's important not to shy away from historical atrocities, Them ultimately feels like part of an unfortunate (and growing) trend in Hollywood to commodify Black suffering for mass consumption. In her 2020 Antebellum review, Vulture's Bastién spoke to the exhaustion of Hollywood continuing to invest in these traumatizing stories. "I am tired. I am tired of pop-cultural artifacts that render Black people as merely Black bodies onto which the sins of this ragged country are violently mapped," she wrote. "I am tired of suffering being the primary lens through which we understand Black identity. I am tired of being so hungry for Black joy and Black representation that scraps feel like a meal."
If you or someone you know has been sexually assaulted, you can call the National Sexual Assault Telephone Hotline at 800-656-HOPE (4673) or visit online.rainn.org.
Read on here for mental health and wellness resources for healing in the Black community.