Even Katie Thurston Is Glad She Sent Karl Home On The Bachelorette
She had some thoughts to share on Twitter after showing him the door.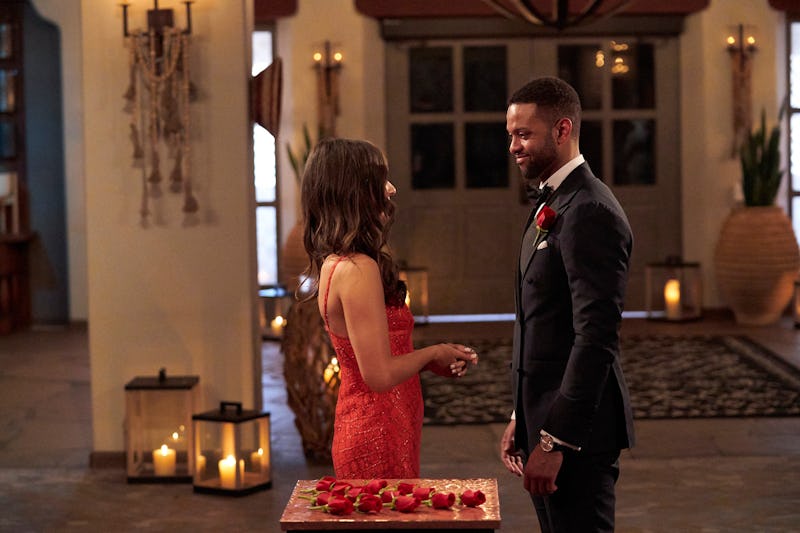 ABC
Not long into Katie Thurston's Bachelorette season, it became clear that Karl Smith would be an early antagonist. At the end of the June 14 episode, he abruptly informed Katie that the other men may not be on the show for the "right reasons" — despite having no evidence to back his claim. This made it all the more satisfying when, in the June 21 episode, all of the men united together against Karl to get him sent home.
After Katie announced that she wanted to cancel the remainder of the cocktail party and go straight to the rose ceremony, Karl — in a bout of some seriously misplaced confidence — announced that he was sure he wouldn't be going home and that it would actually take military force for him to leave. But when fellow contestant Mike Planeta was called to collect his rose, he took the opportunity to let Katie know the rest of the group's position on Karl. "We feel, as a unit, it's our job to protect your heart," he explained, "and we've come together in solidarity [to let you know] that we think that, unfortunately, what Karl said wasn't the truth."
When Katie then decided to send Karl packing (which was somehow not her original plan, as she revealed to hosts Tayshia Adams and Kaitlyn Bristowe), the suitor left without a word — no military action required. Naturally, Twitter had lots to say about how it all went down. Even Katie herself joined in.
Katie's surprising admission that she was planning to keep Karl around didn't go unnoticed.
But while viewers were excited to see the group successfully oust Karl, many were sad to see a promising suitor, John Hersey, get sent home in the shuffle.
Viewers hoped John's "sacrifice" would not be in vain — but by the end of the episode, it started to look like Thomas Jacobs might be stepping into fulfill the villain role after revealing that he did in fact have some misaligned intentions. This, in turn, led to some vindication for the much-maligned Karl.
As one tweeter succintly put it, this show has officially given us trust issues.