Twitter Wants Ryan Gosling's Barbie Song "I'm Just Ken" To Win All Of The Awards
"'I'm just Ken and i'm enough and i am great at doing stuff' is a god-tier line."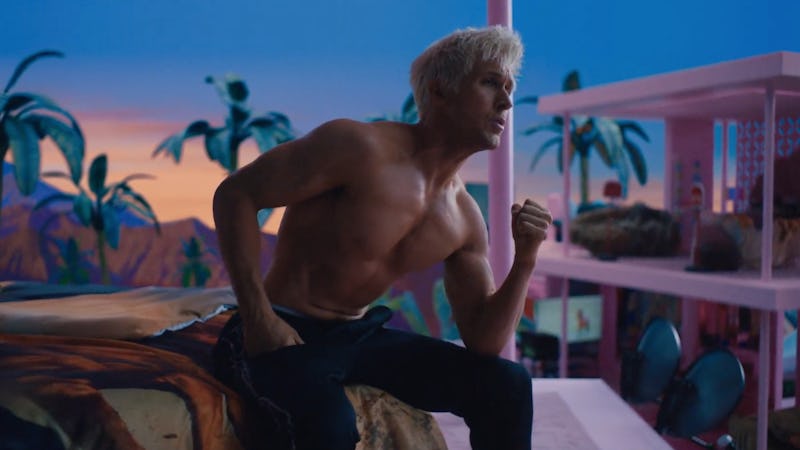 Warner Bros.
The song of the summer is finally here, and yes, it's sung by Ken. A preview of Ryan Gosling's highly anticipated Barbie song "I'm Just Ken" dropped on July 10, and even though the full track hasn't been released yet, Twitter is already calling for it to win all of the awards.
In the new video, Gosling's Ken sings his big number while pondering life (shirtless on his bed, as one does) and getting in his feels, particularly about his relationship with Margot Robbie's Barbie. Interspersed with clips from the film, Gosling reflects on his place in the world with brilliantly inane yet cuttingly deep lyrics like "I'm just Ken, everywhere else I'd be a 10," before he turns his yearning for Barbie up to a 10, sending Ken to new emotional depths.
The power ballad comes courtesy of Mark Ronson, who produced the film's star-studded soundtrack including Billie Eilish, Lizzo, and Dua Lipa, the latter of which also makes an appearance in the movie. Guns N' Roses member Slash even plays guitar on the track, as Ronson told Variety at the film's Los Angeles premiere. "I sent him the song and he was like, 'This is a good song... cool, I'll play on it,'" he recalled. "He kills it, he plays the solo at the end and the rhythm parts. It's wonderful."
As the superproducer told TIME, "I'm Just Ken" was one of the first songs written for the movie. "I went into the studio one day, and I got the idea for the line, 'I'm just Ken, anywhere else I'd be a 10,' and I thought: 'That's his whole life,'" he said. Ronson quickly recorded a demo that director Greta Gerwig played for Gosling, who said it spoke to him "deeply," which came through when it was time to record it. "He was just nailing it because he's such an amazing actor," Ronson said. "I hadn't also figured that, of course, he would sell this song better than anyone because he is Ken."
Fans are in full agreement, immediately taking to Twitter to sing Gosling's praises and express their excitement through memes.
Twitter is especially praising the song's lyrics, like "I'm just Ken and I'm enough and I am great at doing stuff."
Naturally, there's already cries for "I'm Just Ken" to win the Oscar for Best Original Song at the 2024 Academy Awards — and all of the Grammys, of course.
Ken-heads, it's time to start the Oscars campaign.