Dua Lipa's Barbie Costume Includes A Seashell Bra, Blue Hair, & A Tail
Life in plastic looks fantastic.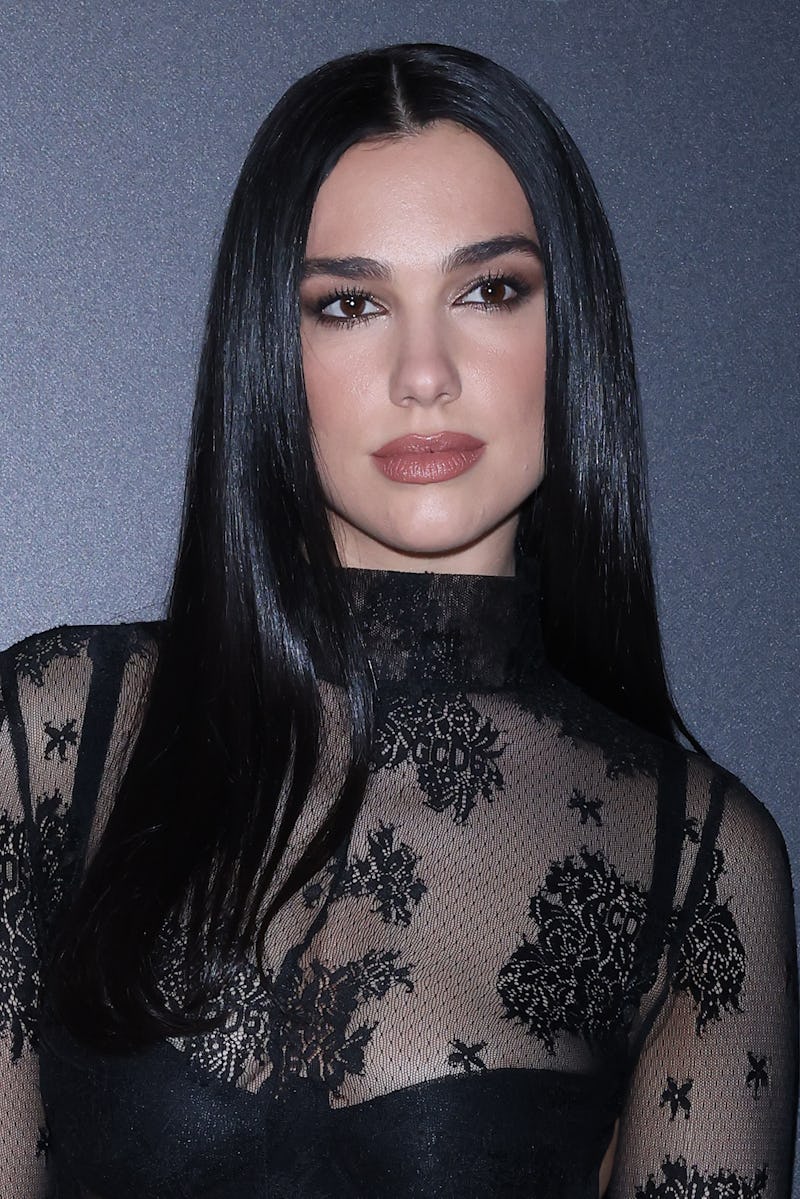 Stefania D'Alessandro/WireImage/Getty Images
Since the Barbie movie live-action film was announced, any info about an all-pink-clad Margot Robbie (as Barbie) and the platinum blonde Ryan Gosling (as Ken) routinely went viral. Even photos of them rollerblading sent the internet into a tizzy. Now, there's even more to get excited about, because Dua Lipa is joining the cast.
The Greta Gerwig-directed film was always slated to include multiple Barbies and multiple Kens. And on Tuesday, more cast members (AKA other iterations of the famed Mattel dolls) were announced on social media via a series of solo posters for each character. And let me tell you, the cast list is stacked. Among the actors announced were Kate McKinnon, Helen Mirren, Michael Cera, Nicola Coughlan, and none other than pop icon Dua Lipa.
On Instagram, the "Sweetest Pie" singer shared her poster and wrote, "This Barbie is a mermaid!!" Anyone who grew up playing with the Mattel toy would know that Barbie came in several mermaid iterations — even a glorious long-haired one. So Lipa's role already feels so nostalgic.
In the poster, Lipa channeled the azure hues of the ocean her character likely hails from. Like most mermaids in pop culture, Lipa donned a metallic blue seashell-shaped bra. Though her mermaid tail (called a fluke) isn't fully seen in the pic, her finned bottoms matched the top, also in a metallic aquamarine shade, embellished with an actual seashell in the middle.
The mermaid 'fit, however, wouldn't be complete without voluminous hair. Lipa served the look with a long, wavy, electric blue wig. She even swiped on matching blue eyeshadow to tie the look together. In keeping with the under-the-sea theme, she wore large pearl hoop earrings and a pearlescent necklace.
As expected, the announcement is setting Twitter ablaze. For one, the casting marks Lipa's film debut. (She is set to star in another movie, Argylle, also out this year, release date TBD.) But Lipa won't just be acting in Gerwig's film — she'll be making music for the movie too.
July 21 truly can't come any sooner.