"Queen" Victoria From Peter's Bachelor Season Has Dubbed Herself With A New Title
"If you can't handle me at my queen, you don't deserve us at our goddess."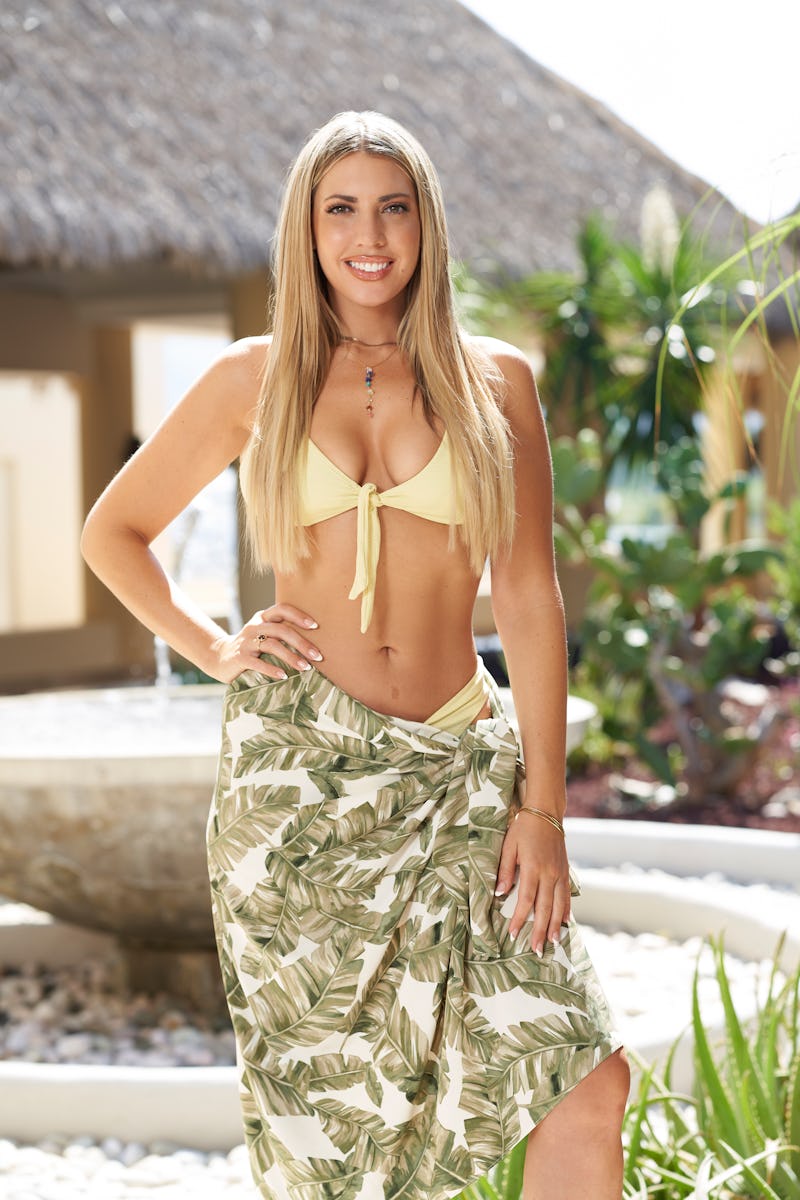 ABC/Craig Sjodin
The Bachelor has had some pretty absurd job titles over the years, but they'd never had a "queen" before Victoria Larson. The controversial contestant wrote in her ABC bio that she'd "outgrown her 'once upon a time' jetsetter lifestyle but not her sense of grandeur," and she wasted no time making her lofty impressions of herself clear.
During Matt James' of The Bachelor, Victoria wielded a crown, called the other women names, and generally stirred up drama within the cast. Matt ultimately sent Victoria home in order to make the show a "safe space," but she didn't go quietly. After telling Matt she felt "so sorry" that he'd listen to "hearsay and not all the facts behind a situation," she departed without giving him a hug or proper goodbye. "He's not my king and I'm still a queen," she told the cameras. "He's a jester. ... Matt's not the guy for me. I'm never dating another Matt again. I hate that name now."
While appearing on Good Morning America in January, Victoria claimed her behavior was "all in good fun," adding, "If my words or actions hurt anyone, I sincerely apologize and I'll do better and hold myself accountable. I'm not a bully — I'm really not."
Now, Victoria is set to appear on Bachelor in Paradise Season 7 — and she's apparently traded in the title of "queen" for "goddess." Here's everything else to remember about her ahead of the show.
Victoria's Job
When she's not busy with her so-called royal duties, Queen Victoria (who also goes by Vikki) is an actor, health coach, and entrepreneur. The former pageant contestant founded Vikki Larson Beauty, which sells self-care products and offers health coaching and pilates. A health coaching session is $250, while her 21-day detox program is $800.
Victoria explains on her website that her passion "for all things health and wellness" began while she was attending college at Florida State University. "I struggled with counting calories, excessive working out and finally came to [an] equilibrium," she wrote. "My desire to help others and my education from Institute for Integrative Nutrition through NYU, along with my personal journey of getting physically, spiritually, and mentally healthy in addition to my pilates [certification] makes me the perfect health coach. My ultimate goal is to help each client find balance and joy in their life."
Victoria also founded Jet Set Glo, which similarly offers health coaching, pilates, and "all things beauty for mind body and soul." In addition, her Instagram lists her as a manager and ambassador for Fort Lauderdale's Pretty Please Couture, though the website associated with the page has been disabled.
Victoria's Instagram & TikTok
Victoria typically uses her Instagram to promote her businesses and spread positive messages, as meditation and spirituality seem to play a large role in her life.
She also has a TikTok, where she clapped back at haters after they took note of her new look since appearing on The Bachelor. "Hit 'em with a plot twist anytime you want, sis. It's your life," she said, shouting out her "Botox girl" but reminding followers that she "looked good both ways." She shared a similar message on Instagram, crediting her changed appearance to sleep, "not having a swollen eye," and lip injections.
"Going on the bachelor straight from covid and the pandemic, my priorities honestly were not wrapped around external beauty," she wrote in July 12 post. "I've gotten to focus on both internal and external beauty since then and would appreciate the hateful, hypocritical comments about my appearance and 'behavior' while on a tv show to cease. Plus I was always beautiful so don't always judge someone from one season."
Victoria's Arrest
In 2012, Victoria was arrested for stealing $250 worth of groceries and makeup from a Publix in Tallahassee, Florida, according to People. She later pleaded no contest to charges of petit theft and was ordered to six months of probation, per E! News. "When initially the story broke I called my dad, of course, and he's like, 'How do you feel?' and I'm like, 'I feel liberated,'" Victoria explained during her January GMA interview. "Everything's exposed! I can tell my future husband, 'Google me — I have no secrets to hide.'"
What Victoria's Looking For
Victoria's Bachelor bio says she "needs a strong man who can keep up but who won't be controlling in any way, shape or form." She's a self-described lover of romance, and is looking for someone who's loyal, honest, and independent.
This article was originally published on