April Got Her Own Happy Ending After The Ultimatum
It just wasn't with Jake.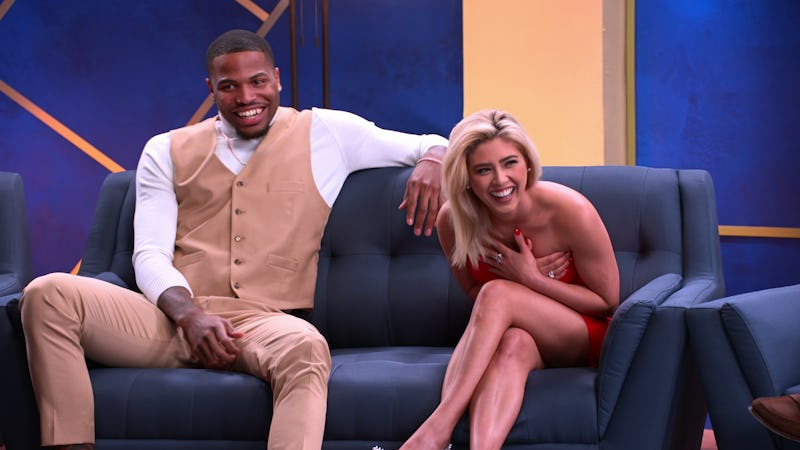 Netflix
Prior to joining Netflix's reality dating series The Ultimatum, April Marie had a clear vision for her life. "I just want a ring, and I want a baby with you, now," she told her boyfriend of two years, Jake Cunningham. Jake brought up the fact that he'd recently bought April a car, but she reminded him that the whole reason she wanted an SUV in the first place was because she'd "pictured car seats in the second and third row." Jake, on the other hand, wanted to have fun, travel, and become more financially stable before settling down.
April wasn't willing to wait, and told Jake that she didn't want to devote years to a relationship that wasn't going to end in marriage and children. So she issued him an ultimatum, hoping that it would push him to make the leap. "And if you don't have that clarity by the end of this experiment, I will be done," she warned.
As April began dating men from the other couples, she explained that she's looking for a "manly man" who is exciting, adventurous, loving, and at least six feet tall. Her partner's financial situation was much less of a factor to her. "This b*tch is financially stable, OK?" the self-described "firecracker" said, noting that she'd paid for her breast implants by herself. "I don't need your wallet. I can take care of my own ass."
For her three-week trial marriage, April initially chose Hunter, explaining that she liked his calming presence. However, he ultimately decided to propose to his girlfriend Alexis on the spot and leave The Ultimatum early. April felt like she'd wasted her first week on the show, but decided to press on and couple up with Colby — whose first choice, Lauren, had also accepted a proposal and bowed out of the series early. April and Colby got along great — she described their trial marriage as "the most amazing three weeks" of the experiment — but they lacked a physical spark.
After moving back in with Jake for the second three-week trial marriage, things continued to be rocky for the couple. Arguments ensued, including one after April went through Jake's unlocked phone and found videos of his trial marriage partner Rae twerking. Meanwhile, Jake learned that April had been "texting a lot of guys that she found out partying at the club" and accused her of playing "jealous little tricks." But just days before Jake answered her ultimatum, April told his mother — who made it no secret she preferred April over Rae and even kept in touch with her throughout the experiment — that they were "kinda like smooth sailing and like listening to each other finally."
On their last day together, April also told Jake that she'd gotten her period, despite believing she might be pregnant with his baby. She said that she didn't like that they'd been arguing so much and hadn't seen eye to eye, calling their interactions "uncomfortable." Speaking in the third person, she told the cameras as she left the apartment she'd shared with Jake: "April knows what she wants. April knows when she f*cking wants it. Jake doesn't know where his head's at. Jake doesn't know what he wants and it's time for him to figure it out."
Though April was well aware of Jake's connection with Rae, what she didn't know at the time was that Jake had already told Rae that she was the one he wanted to leave with. After April told Jake, "Marry me, or I'm moving the hell on," in the finale, he admitted that he still wasn't ready. Though he promised her, "Me and Rae are not running off together. We're not doing that," viewers learned that Jake ultimately chose to leave the show with Rae, offering her two tickets to travel anywhere in the world.
That tracked with hints April dropped about being single when cameras stopped rolling. Almost immediately after filming ended in May 2021, for example, April posted an Instagram photo with a single-sounding caption: "Stop waiting for someone to bring you flowers. Plant your own garden. And decorate your own soul." Subsequent posts had similar themes, including an August caption that read, "Don't chase boys honey, pass them." The same month, she posted another photo, "Come pick me up, you're taking me on a date."
Jake and Rae revealed during the reunion that they never took the trip, however, choosing to work on their respective relationships with April and Zay, instead. As April shared during the special, she continued staying at Jake's apartment as they tried to make things work on-and-off for about five months after filming wrapped. But ultimately, they couldn't move past the events of the show.
In a March 30 interview with Bustle, April said that she's since "completely shut" that door on any further romance with Jake, admitting it cut deep watching their relationship's demise play out on screen. "But friendship-wise, I have told Jake and his family that if anything was to go wrong or he had an emergency or needed anybody to be there, he can always call me," she explained, adding that watching Jake and Rae's one-on-one interactions on The Ultimatum helped her understand their connection. "At first I was like, 'This relationship is bullsh*t, there's nothing going on between them,'" April said. "But then seeing them have fun, I was like, 'This is actually really cute.' I totally got the two of them together."
After she and Jake cut ties around October 2021, April went on a date with an "older" Austin real estate broker and is now in what she calls a "fairytale relationship" with him. "He just has his sh*t together and treats me like a queen," she said of her new man. "Everything is just so picture-perfect, it's almost too good to be true. I have absolutely no complaints about him. He's my absolute best friend, he's the male version of me. I love this man from head to toe. Literally, I'm so happy and I'm so thankful that we crossed paths."
In their first six months of dating, they've traveled everywhere from the Bahamas to Costa Rica and Los Angeles, and April is just enjoying "having him to [herself]" for now. "I'm doing everything I've been wanting to do with my best friend now," she said, adding that she's now "fine with [marriage and babies] happening when it's meant to be." She has also been focused on herself, sharing Instagram spon-con from brands like Shein and Fashion Nova and bragging about hitting 500k+ TikTok views on one post. Career-wise, the Austin-based tech recruiter ended March "strong," posting that she'd taken on three new clients, including "one of the only 4 federally approved crypto banks."
That's all to say she now has no regrets about joining The Ultimatum, despite her and Jake's breakup. "If you had asked me the day of when I was like on the floor crying when I found out he and Rae ran off together, yeah, I was 100% in regret mode. I was like, 'What did I just do?' I felt so guilty and like I derailed everything, " she admits. "But looking back at it a year later, I think everything worked out for the best for everybody, individually and relationship wise. … As nasty as the breakup part of it looked, I'm happy where I am today, and some of the hard steps take us to the best places in life. So I'm thankful for that."
This article was originally published on