11 Things We Learned About Camila Cabello & Shawn Mendes' Relationship In Wonder
From their love of watching old home movies to their private life in New York City.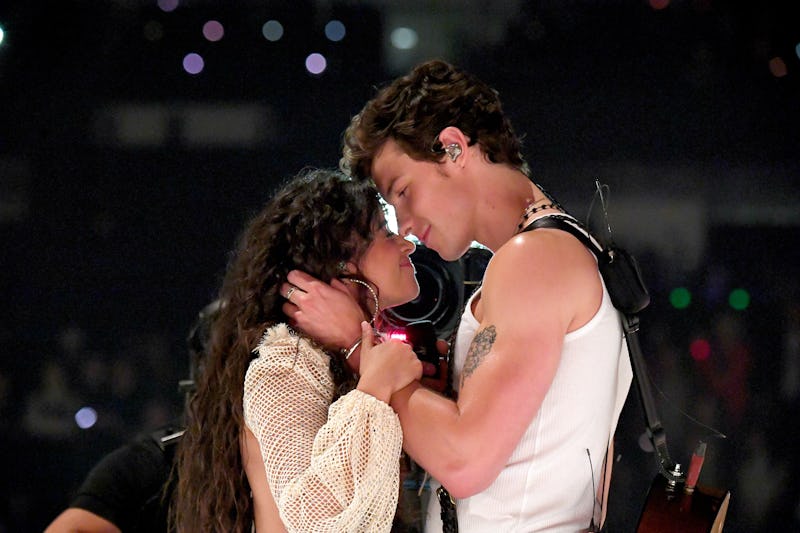 Jeff Kravitz/FilmMagic, Inc/Getty Images
When a couple is in the public eye as much as Shawn Mendes and Camila Cabello, people are going to get the impression that they know everything there is to know about their relationship. After all, fans have seen the young pair perform together at glamorous awards ceremonies and at-home concerts, they have seen them professing their love for one another on social media, and they've no doubt perused paparazzi photos of them in their preferred tabloid. But there's still plenty about Camila Cabello and Shawn Mendes' relationship that fans don't know about, and that's where the new Netflix documentary Shawn Mendes: In Wonder comes in.
In case you couldn't tell, the Netflix original doc is about Mendes. Specifically, it follows him over several months in 2019 as he takes part in two significant endeavors. One is his 100-plus venue world tour, and the other is the writing and recording of his upcoming album, Wonder. But in between the work, the doc shows a lot of Mendes' personal life. We get to see him at home with his family and old friends. We see footage of him from back when he was just a kid with big dreams. And yes, we see a good deal of Mendes and Cabello together. Though their relationship is hardly the focus of the documentary, there is still plenty about the couple that can be learned by watching In Wonder. Namely, the 11 things listed below.
In Shawn Mendes: In Wonder, the relationship between Shawn Mendes and Camila Cabello comes across as loving, genuine, and most shockingly of all, pretty normal.