Blake Moynes Adopted A Rhino After The Bachelorette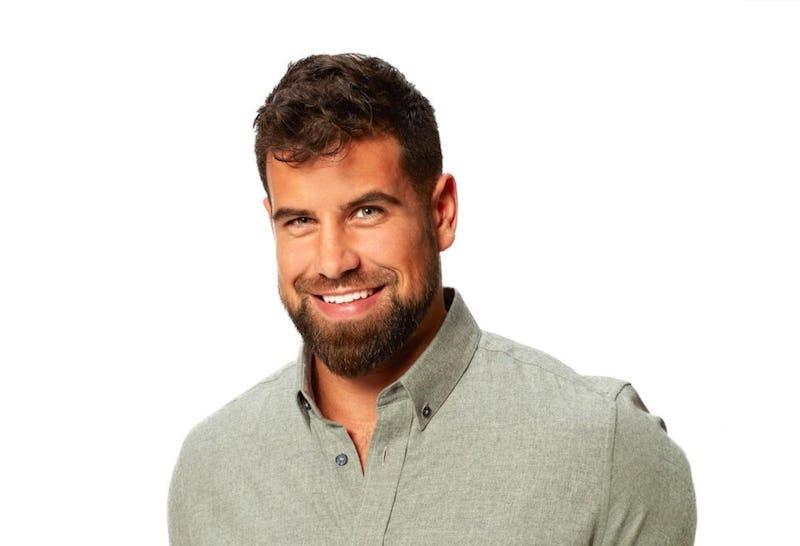 ABC
At some point in Katie's Bachelorette season, fans are going to see a familiar face. Blake Moynes, who competed Clare Crawley and Tayshia Adams' shared season of the franchise, shows up in a promo in a surprise bid for Katie's final rose. "I definitely knew who he was, which also [he's] Tayshia's ex-boyfriend! So that's weird," Katie told Us Weekly of his arrival. (Tayshia is co-hosting Katie's season alongside Kaitlyn Bristowe while Chris Harrison is on hiatus following last season's racism controversy).
She went on to reveal that she and Blake had actually talked before her season started filming. "We had chatted before, but usually what happens is, like, the guys will reach out to the women once they're eliminated and be like, 'Good luck, you did great.' Like very generic, you know?" she said. "So to see him, I was like, 'Why is he here?' Like, 'What's happening?'"
Fans will recall that Blake had a hard time after Clare quit The Bachelorette to be with Dale Moss and Tayshia stepped in to take her place as lead. He tried his best to connect with Tayshia, but during a date focused on tantric breathing, Tayshia realized the spark between them just wasn't there, so she sent him home. "I just don't know if I can get there," she told him. "It's not that you're not an incredible guy, I just don't know if like, the timing was off for us. I think it's — I think it's time we go our separate ways."
Later, Tayshia told the cameras that while she thinks Blake is "such a good guy," she knew that she had stronger relationships with other men.
After the show, Blake dove back into his job as a wildlife manager. In December 2020, he shared that he'd "adopted" a rhino named Sophia through the conservation sanctuary Care for Wild. "Last year after connecting with many of the orphaned rhino babies at @careforwild, I decided to adopt Sophia," he captioned a post. "Adopting helps ensure the animals safety, securing veterinary items, anti-poaching needs and of course the necessary daily feed & milk."
Over the past few months, he's also posted photos of himself with an Eastern fox snake, a hawk, a peregrine, and a Snowy owl — and of course, he's always sharing memories with his main pals, Koho the canine and Bear the black cat.
Since arriving home, Blake has also spent lots of time hanging out at the lake at his off-grid cottage in Canada and drinking blueberry tea in the great outdoors, as one does. Depending on how his time with Katie goes, perhaps she'll be paying a visit up north.
This article was originally published on