Katie Thurston Revealed Her Confused Reaction To Blake Moynes Joining Her Bachelorette Season
Fans thought Tayshia and Clare's ex was the mystery man in the box.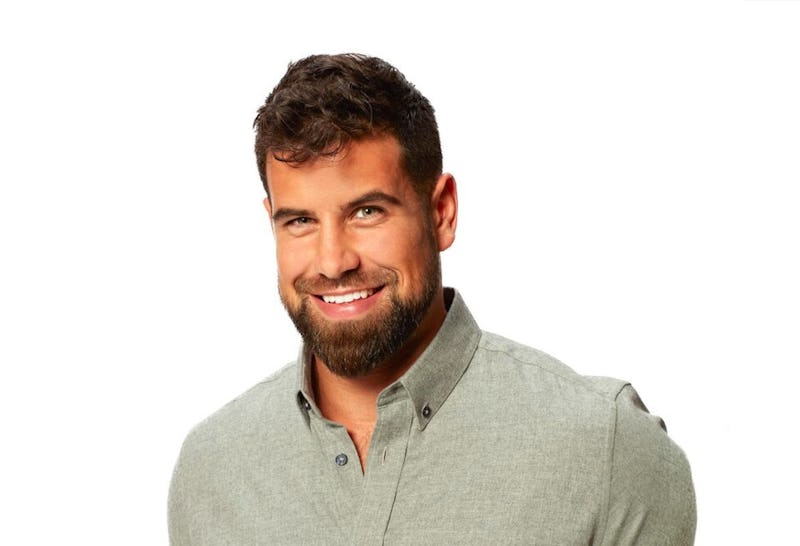 ABC
Katie Thurston's Bachelorette season appears to feature a surprise fan-favorite contestant from Clare Crawley and Tayshia Adams's unintentionally-shared season of the franchise: Blake Moynes. While he isn't included in the official cast, a new official promo clip teases a mystery man set to join the competition, and Us Weekly reported in April that Moynes was spotted on set at the Hyatt Regency Tamaya Resort and Spa in Santa Ana Pueblo, New Mexico — so it's safe to say he's likely to be revealed soon. In case you don't remember, Moynes connected with Crawley before she prematurely left her Bachelorette season for Adams to take over. The unexpected switch hit him hard — he started stress balding as a result — and it was difficult for him to adapt to the changes.
Moynes's previous Bachelorette bio revealed that he's a professional wildlife manager working out of Hamilton, Ontario, Canada. It also noted that he's eager to find a romantic partner due to his status as the final single guy in his friend group, which explains his likely return to The Bachelorette. Reflecting on his last appearance on the series, he spoke to Us Weekly in December 2020: "If it was Tayshia from the beginning, I think my story would have been a little bit different. It was tough because I felt, like, even emotionally, I could feel it, like, she could see something there," he said. "And it was so frustrating to get in the limo and be like, 'There's something here, but you're just not letting it happen.' And that was the most unfortunate." Adams sent Moynes home following their one-on-one date, and she ended up getting engaged to Zac Clark.
While Moynes told the publication that he's since moved on from his feelings for Adams, he also said he continues to think about "the what-ifs" and "the potential" for their relationship, noting that he still doesn't feel complete closure from the situation. That might make things a little awkward when he shows up to Thurston's season, which is hosted by Adams alongside fellow former Bachelorette Kaitlyn Bristowe. And according to Bachelor Nation sleuths as well as Us Weekly, it seems he could be the mystery man seen hiding in a box in the season's most recent teaser trailer.
Ahead of the season premiere, Thurston revealed that Moynes had reached out to her while Matt James's season was airing. Sounds intriguing, but the "generic" message wasn't anything more than a brief "good luck, you did great" note, as she told Us Weekly. She continued, "And so to see him, I was like, 'Why is he here?' Like, 'What's happening?'" Katie didn't reveal when Moynes joins the season, and she also didn't even confirm if he was there for her. After all, he is Adams's ex and could just be seeking that closure he mentioned.
During the June 7 episode of The Bachelorette, the mystery man in the box was revealed — and to many fans' disbelief, it wasn't Moynes. Instead, it was a new contestant named James, a handsome, charming new suitor that Thurston says is "super hot." Whether Moynes will end up crashing the season is to be determined, but nothing is ever off-limits in Bachelor Nation.
This article was originally published on