Fans Won't Have To Wait Long For More Episodes Of You
The first half of the season sets up a major confrontation.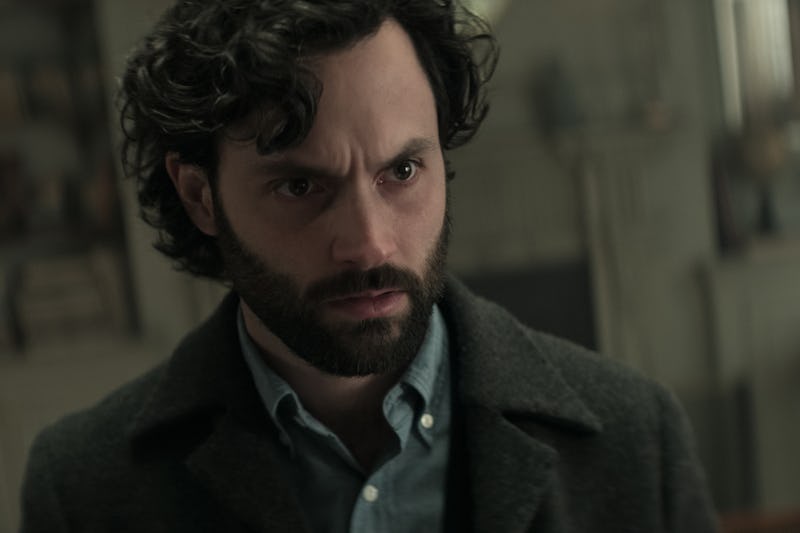 Netflix
Spoilers ahead for You Season 4 Part 1. Joe Goldberg's lust — and bloodlust — for his special someone continues, this time across the pond. Based on Caroline Kepnes' book series, You Season 4 follows Joe (Penn Badgley) as he lies low in London after killing Love, fleeing Madre Linda, and faking his own death. He's hoping to find librarian Marienne (Tati Gabrielle) again, who learned about Joe's propensity for violence before he and Love had their final showdown. In the meantime, Joe settles down as a literature professor under the alias "Jonathan Moore." Somehow, he yet again finds himself involved with not only a group of wealthy snobs, but a killer whose methods may rival his own.
"He does have a talent for falling in with a very privileged and insular circle," showrunner Sera Gamble explained to Entertainment Weekly. "Each season there's a different flavor to that, and this season we got to play with a group of people who actually have titles. The European aristocrats come from incredibly old families. It's just a different world."
The season is broken into two parts, with You Season 4 Part 2 — comprising of Episodes 6 to 10 — debuting on March 9, 2023.
That means fans will have to wait a whole month to see the conclusion to that cliffhanger ending. In Episode 5, Roald (Ben Wiggins) discovers Joe dealing with Gemma's body, so he accuses Joe of being the murderer in front of the remaining socialites. Joe runs and is able to subdue Roald in the woods, but is suddenly knocked out by Rhys (Ed Speelers). When Joe comes to, Rhys reveals to him that he's the Eat the Rich Killer, and he plans on pinning all the murders on Roald. Rhys admits he was "inspired" by Joe and wants to team up, but he quickly becomes disappointed when he catches Joe trying to escape. He sets the room ablaze before walking out, and Joe and Roald just barely survive with Kate's (Charlotte Ritchie) help.
Afterward, Kate invites him to the bar, and he says no, adding that he doesn't want to hurt her. On the TV, Rhys gives a press conference on how the Eat the Rich Killer has pushed him to run for mayor to clean up London. The final moments of the episode tease a major showdown between Joe and Rhys — and just like with Love, Joe is painted as the lesser of two evils.
"Four seasons in, we need [Joe] to be reasonably self-aware but he obviously has huge blind spots," Gamble told Entertainment Weekly. "He keeps finding himself f*cking up over and over again, so he will be working very hard to try to redeem himself this season. That's part of the fun of the season, is watching him try to be better and try to be kind of heroic in many ways."
Joe may consider himself head and shoulders above Rhys, but we'll have to see if Joe can truly leave his murderous ways behind him. He may feel like a different person in London, but "the problem is in him, it's not so much outside of him," Badgley told ET Online. "He's trying to change. He is always trying — failing trying."