Tayshia Adams & Zac Clark Gave An Update About Their Wedding Plans
They're not in a rush to walk down the aisle.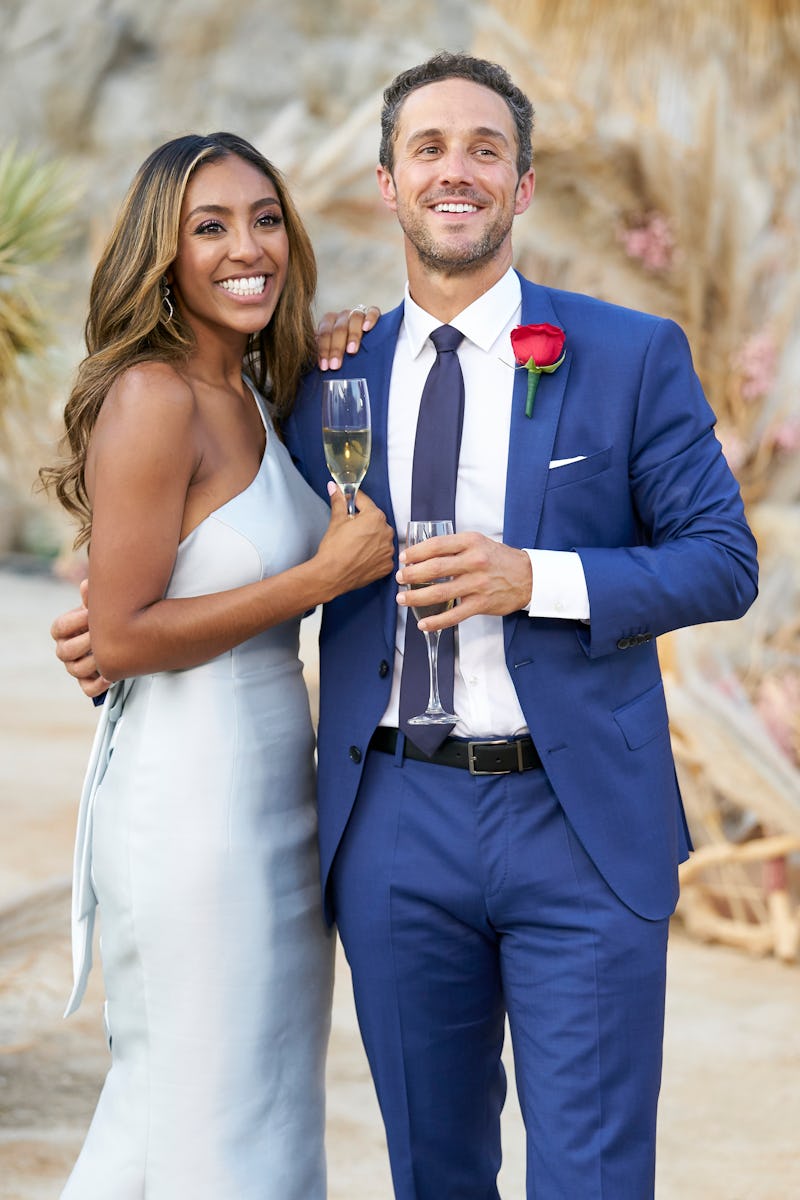 Craig Sjodin/ABC
Last season of The Bachelorette was unprecedented in a lot of ways, but it capped off with the usual fairy tale ending. After sending Ivan and Ben home, Tayshia Adams accepted a heartfelt proposal from Zac Clark. "I'm going to choose you tomorrow morning. I'm going to choose you next week and next year. I'm going to choose you forever, because I love you," he said before getting down on one knee. Tayshia returned the feelings, describing a "wild, wild love" for Zac that "woke up her heart" to romance again.
That doesn't mean they're in a rush to walk down the aisle, though. In an April interview with US Weekly, Zac said that they "obviously" have wedding plans but that they haven't finalized any details. "There are plans to get married, but it's been a wild start to the year," he explained. The two have yet to set a wedding date, but Zac confirmed that they'll absolutely tie the knot eventually.
This laid-back approach makes sense, given that the couple told Good Morning America in December 2020 at they were just content to "just date each other" for now and go "with the flow." Zac added that he wants "a big wedding, when the day does come," but said in the US Weekly interview that they probably won't televise it.
For now, Tayshia told Cosmopolitan that they're just enjoying being together. "We're doing great, we're doing well. Any wedding planning? No, not really," she said in a May 17 interview. "I'm really just trying to enjoy New York. And I think that's where our energy is just because, I don't know, we just want to enjoy each other. Really, that's what it is. Engagements are supposed to be fun as well, so we're just making the most of it."
Tayshia added that she's been enjoying living with Zac. "Oh my god. It's like a sleepover with your best friend," she said. "New York has been such a joy to experience. It's so different living there as opposed to visiting. It's a different kind of magic. It's been fun."
At the end of last year, Zac and Tayshia spent their holidays together at his place. "She has a one-way ticket to New York," Zac told People. "We're going to get comfortable. And I'm going to date the heck out of her!" At the time, Tayshia said that she was keeping her own space in Orange County while she and Zac navigate their relationship, but it sounds like lately she's been spending more time in New York.
She told Cosmopolitan that the biggest reason they they haven't made any big moves is because of the pandemic. But she's looking forward to seeing Zac's parents again — and to the day when both of their families can finally meet in person. "I feel like since now everyone's starting to kind of travel, vaccinations have been done on both ends of my family, so it's bound to happen sooner rather than later," she said.
This article was originally published on