WeWork Co-founder Adam Neumann Is Still Really, Really Rich
A new Hulu documentary details Neumann's tenure at WeWork. Here's what he's been up to since leaving the company.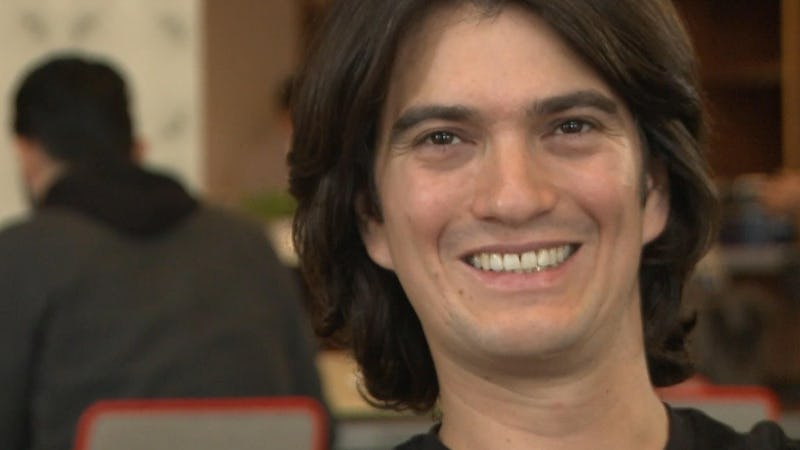 Hulu
WeWork launched in 2010 with its signature product: swanky co-working spaces, boasting stylish furniture, beer on tap, and ping pong tables galore. The shared offices lured a certain kind of millennial worker — one who was perhaps "bootstrapping" their own tech startup, or seeking networking opportunities with others in fast-growing industries — and WeWork quickly took off. The company spread around world, at one point garnering a multi-billion dollar valuation — and then it all came crashing down. The new Hulu documentary, We Work: Or The Making and Breaking of a $47 Billion Unicorn, explores how WeWork became so overvalued, and details the downfall of its co-founder, Adam Neumann. But now that the WeWork bubble has popped, what is Neumann doing now?
First, some background. Neumann was born in Israel in 1979, per Insider. His parents divorced when he was seven years old, and spent time in a communal kibbutz environment as a child. He lives with severe dyslexia, and didn't learn to read or write until the third grade; regardless, he would later attend Baruch College in New York City, after moving abroad with his sister in 2001. After his first forays into entrepreneurialism failed to take off (he tried his hand at making shoes with collapsible high heels, and knee pads for babies) Neumann launched WeWork with cofounder Miquel McKelvey.
Hulu's documentary, directed by Jed Rothstein, goes Neumann's tenure at WeWork — including how his management style created a troubling company culture, and how his financial decisions put the company in jeopardy. (A small taste of Neumann's now-legendary behavior at WeWork can be found in a New York Times report: "Mr. Neumann would convince employees to take shots of pricey Don Julio tequila, work 20-hour days, attend 2 a.m. meetings. He'd convince them to smoke marijuana at work, dance to Journey around a fire in the woods on weekend excursions, smoke more pot, drink more tequila.") When the company's finances were made public in advance of WeWork's planned IPO, investors and journalists became aware for the first time just how much money the company was hemorrhaging — and how many questionable decisions Neumann had made. Neumann was asked to step down as CEO in 2019 and hasn't returned to the company since.
But one thing hasn't changed since his days at the helm of the company: Adam Neumann is still really, really, really rich. His departure from WeWork earned him a $1.7 billion payout; ongoing negotiations with WeWork investor SoftBank secured him another $50 million payment in February of 2021. And that's not to mention the WeWork stock he still holds, which the Wall Street Journal reports is worth about $2 billion (though he's reportedly set to sell about a quarter of it to SoftBank).
Over the past couple years, Neumann has been selling multiple pieces of real estate for multi-millions and liquidating his many homes around the country. He and his wife, Rebekah Paltrow Neumann, spent some time in Israel to escape scrutiny after WeWork's highly-publicized implosion, but have returned to the U.S. In the summer of 2020, he acquired the rights to the curriculum developed for WeGrow, a private school launched as an educational arm of the We brand; Forbes reported that his wife Rebekah planned to relaunch WeGrow as Student of Life For Life (or SOLFL, pronounced "soulful"), but no further developments have been reported since. And in October of 2020, Neumann led an investment round in Alfred, which CNN describes as "a startup that works with residential buildings to provide concierge-like services for residents."