Martin Bashir's Panorama Interview Controversy, Explained
The disgraced former BBC journalist is featured heavily in The Crown Season 5.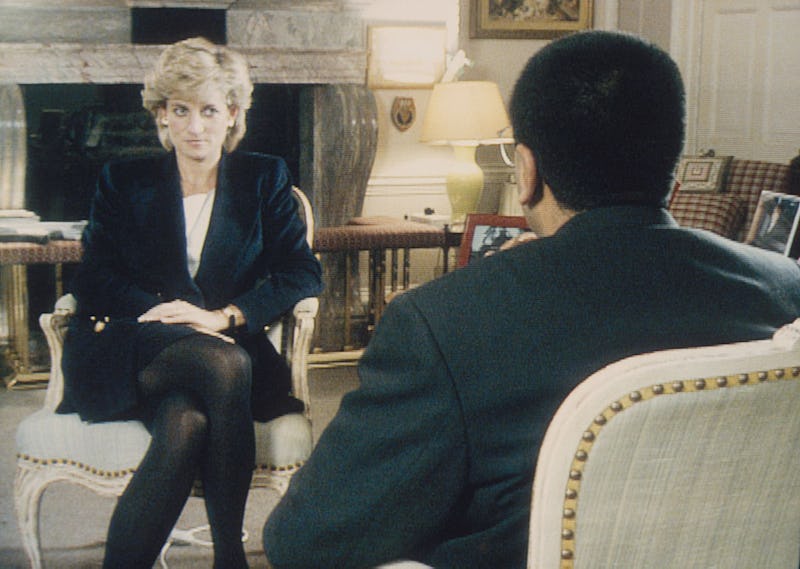 Tim Graham / Contributor / Getty
In 2021, an independent inquiry found that the BBC had fallen short of "high standards of integrity and transparency" in its dealings with Martin Bashir's 1995 Panorama interview with Princess Diana. A year later, the BBC issued a formal apology for the "improperly" obtained interview, vowing to never air it again. Released in Nov. 2022, Netflix's The Crown Season 5 brought fresh attention to Bashir with a reenactment of his infamous sit-down with Diana, leaving many fans of the royal drama wondering: where is Martin Bashir now?
The aforementioned 2021 inquiry — which came as the result of accusations of unethical journalism from Diana's brother, Earl Spencer — was commissioned by the BBC and led by former Supreme Court judge Lord Dyson. On top of the finding that Bashir had used "deceitful" tactics to secure the interview, the inquiry also stated that the BBC's 1996 internal investigation into what happened was "woefully ineffective" too.
Following this, Prince William released a statement condemning the BBC's actions and saying that his mother was "failed not just by a rogue reporter, but by leaders at the BBC who looked the other way rather than asking the tough questions." He also added that the interview "made [his] parents' relationship worse."
Prince Harry released a statement, too, saying "The ripple effect of a culture of exploitation and unethical practices ultimately took her life."
In Jul. 2022, BBC Director-General, Tim Davie, publicly apologised to King Charles, Prince William, Prince Harry, and the Prince of Wales' former nanny, Mrs. Alexandra Pettifer, for Princess Diana's bombshell Panorama interview and promised to "never show the programme again."
Surveillance Claims & Fake Documents
In October 2020, allegations emerged that Bashir had created two fake bank statements to deceive Diana's brother into introducing him to Diana. Spencer allowed the Daily Mail access to notes he allegedly had from a meeting with Bashir back in 1995. Spencer claimed the journalist made a string of false claims during the meeting in order to secure his trust and bag the interview. Per Sky News, these included "allegations that Diana was under surveillance" and "that her bodyguard was plotting against her."
The BBC had already apologised for Bashir's creation of the fake bank statements before the 2021 inquiry, and they claimed that it played "no part in [Diana's] decision to take part in the interview."
Matt Wiessler, the graphic designer alleged to have created the fake documents in question, said he went to BBC bosses a month after Diana's interview had aired, but he was ignored. He later received an apology, but said it came "too little, too late."
Wiessler also criticised both Lord Birt, then BBC director-general, and Lord Hall, who led the 1995 investigation of the interview. Speaking in 2021, he said, "Nobody has come forward. It's just weak, calculating, and quite honestly after 25 years it's nasty what they are doing — to this day."
What Are Martin Bashir's Current Circumstances?
In May 2021, the BBC confirmed that Bashir had "stepped down" from his position as the BBC's Religion Editor "due to ongoing health issues," and he has since remained out of the spotlight — even setting his social media accounts to private.
"He let us know of his decision last month, just before being readmitted to hospital for another surgical procedure on his heart," said Jonathan Munro, director of BBC News, in a statement at the time. "Although he underwent major surgery toward the end of last year, he is facing some ongoing issues and has decided to focus on his health," he added.
In 2020, Bashir failed to respond to the allegations due to being "seriously unwell." The BBC said in a statement at the time: "Martin Bashir is signed off work by his doctors as he is currently recovering from quadruple heart bypass surgery and has significant complications from having contracted COVID-19 earlier in the year."
A BBC inquiry later found that there was no evidence to suggest that Bashir was rehired as religious affairs correspondent to cover up the circumstances around his interview with Diana.
"None of the individuals involved in the recruitment of Martin Bashir had knowledge of all of the matters contained in the Dyson report," said BBC executive Ken MacQuarrie, who ran the rapid internal investigation in a statement to the Guardian. "I have no doubt that if any of the individuals … had been aware of what is now publicly known … Martin Bashir would never have been reappointed at the BBC."
What Has The Government Said?
Until 2021, 58-year-old Bashir was the BBC's Religion Editor. The scandal prompted questions about the corporation's investigative journalism practices. It later caught the attention of Downing Street, with the former Prime Minister Boris Johnson's spokesperson saying on Nov. 10, 2020, that the inquiry was "the right course of action." They added: "As a public service broadcaster, we expect BBC journalists to adhere to the highest standards."
Following the investigation into Bashir's rehiring in 1996, Tory MP Julian Knight posed questions about the rehiring process, including: "Where was the due diligence? Senior members of the BBC knew [at the time of rehire] that Bashir had lied about the use of faked bank statements to gain access to Princess Diana."
At the time, the former Culture Secretary, Oliver Dowden, also said that the government would look further into whether the BBC needs a transformation, and "consider whether further governance reforms are needed."
Contributions from L'Oréal Blackett, Rebecca Fearn, Kay Leong, & Sam Ramsden.
This article was originally published on