After The Bling Ring, Nick Prugo Was Embroiled In Another Scandal
In Netflix's The Real Bling Ring, Prugo recounts how he burgled celebrity homes. But what has he been up to since then?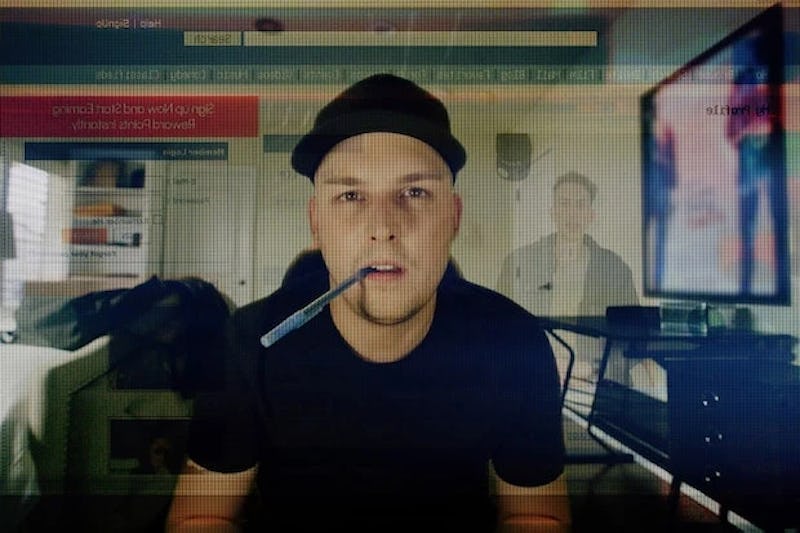 Channel 4
The "Bling Ring" — the group of Southern California teenagers who made national headlines after burglarizing several celebrity homes — is an unforgettable aspect of Hollywood's early-aughts era. And with the release of Netflix's latest docuseries The Real Bling Ring: Hollywood Heist, all eyes are back on the perpetrators, including Nick Prugo.
Prugo and his friend, Rachel Lee, were the architects behind the legendary string of larcenies. Between October 2008 and August 2009, Prugo and Lee successfully robbed the homes of several stars, including Rachel Bilson, Orlando Bloom, Audrina Patridge, and Lindsay Lohan, stealing millions of dollars' worth of clothing and accessories. The pair sometimes recruited others to help with their raids, most notably Alexis Neiers, who was present during the Bloom burglary.
Once the story broke, the public couldn't get enough of the teenagers who'd robbed Hollywood's rich and famous. The story became so big that the "Bling Ring" crimes inspired Sofia Coppola's 2013 film, The Bling Ring, starring Emma Watson, Katie Chang, Israel Broussard, Taissa Farmiga, and Claire Julien.
But all that was well over a decade ago. Where is Nick Prugo now, and what's he been up to since his days in the Bling Ring? Here's what we know.
Who Is Nick Prugo, & How Was He Involved In The "Bling Ring"?
Prior to his days in the "Bling Ring", Prugo had a brief stint as a child actor, but he gave up acting in high school, according to the RadioTimes. Around that time, he became friends with Lee, and they eventually began committing crimes together in 10th grade. According to Vanity Fair, they began lifting cash and credit cards from locked cars at night as a duo, at one point stealing $8,000 in cash.
During the robbery at Lohan's home, Prugo's face was captured on surveillance cameras. After an anonymous tip named Prugo as one of the culprits, police used his Facebook profile to confirm his identity. He was arrested in September 2009. On the advice of his attorney, the then-18-year-old Prugo confessed to the police in October 2009, in hopes of procuring immunity. However, the deal was never established in writing, and Prugo was later indicted on seven counts of first-degree residential burglary, as well as one count conspiracy.
In 2012, Prugo pleaded no contest to two counts of first-degree residential burglary, a deal that also required him to testify against some of his co-conspirators. He was sentenced to two years in jail — however, his sentence was significantly reduced "for good behavior and work credits," according to the Los Angeles Times, and also because he had already served time prior to sentencing. He was released in April 2013, after spending only a few days behind bars.
"I don't think any of us realized how severe it was until we actually got caught," he told Good Morning America in 2010. "Now that I look back I realize how serious it was. Looking back, it scares me to death."
Where Is Nick Prugo Now?
The news around Prugo was mostly quiet after his release — that is, until he became involved in another Hollywood scandal. In 2015, he was charged with "stalking and soliciting rape," according to The Cut, following allegations from Dawn DaLuise, a Hollywood-based esthetician and celebrity skincare guru. DaLuise accused Prugo of harassing her and her two daughters, as well as falsely claiming that she was had planned the murder of another salon owner (in 2014, DaLuise was arrested and served 10 months in jail for the allegations, though she was acquitted of all charges a year later).
The following year, Prugo entered a plea deal for the DaLuise case. The solicitation of rape charges were ultimately dropped, though he was still sentenced of 350 hours of community service and three years' probation for the stalking charge. Prugo was ordered to stay away from the victim and her family, according to LAist.
These days, the former "Bling Ring" leader seems to be living a tame life. Perthe Netflix docuseries, Prugo now runs an online business with his husband of five years. He is also applying for a certification of rehabilitation and a Governor's pardon for his "Bling Ring" crimes.
This article was originally published on