Simon Leviev Is Out Of Prison & Facing New Allegations
Another woman is speaking out after dating "The Tinder Swindler."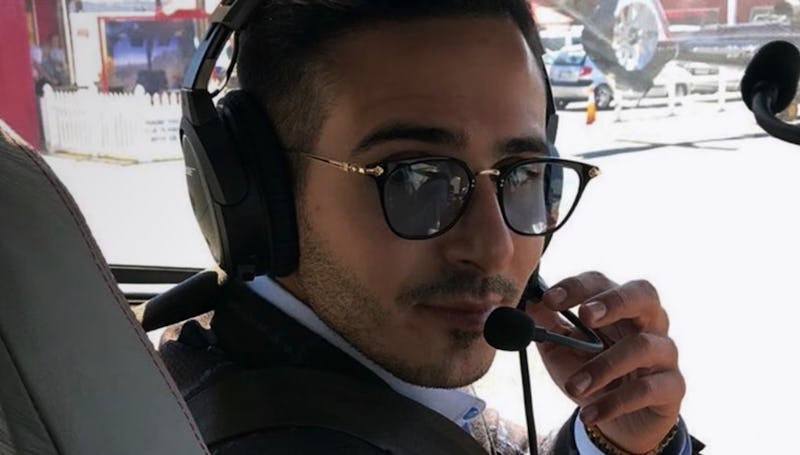 Netflix
If you've watched Netflix's documentary The Tinder Swindler, you're already familiar with Shimon Hayut, a con man who goes by the name of Simon Leviev. The 2022 film explored how Leviev bilked dozens of people across the world out of millions of dollars with a scam that amounted to a Ponzi scheme: Using the money he'd emotionally manipulated out of one mark, he'd dupe the next into believing he was a wealthy playboy, and he continued the chain in perpetuity… until his luck ran out.
The documentary, directed by Felicity Morris, looks at how Leviev swindled three particular women, all of whom were left with tens — if not hundreds — of thousands of dollars in debt. Two of them, Cecilie Fjellhøy and Pernilla Sjoholm, told their story to the Norwegian publication VG in 2019 in the hopes of preventing Leviev from entrapping other women. Later that year, another victim, Ayleen Charlotte, saw their story and helped get Leviev arrested in Greece by Interpol and the Israeli Police. He was extradited to Israel, where he was tried on outstanding charges of fraud and sentenced to 15 months in prison.
But what happened after his time behind bars? Below, an overview of what Simon Leviev's been up to, from his return to a luxurious lifestyle to the recent accusations by another ex-girlfriend.
Where Is Simon Leviev Now?
As The Tinder Swindler recounts, Leviev only served five months of his 15-month prison sentence. He was reportedly released in 2020 as part of an effort to keep prison populations smaller and prevent the spread of COVID-19. Soon, he was back in the spotlight. In December 2020, the Times of Israel reported that Leviev had impersonated a paramedic in order to gain access to the COVID-19 vaccine before the general public. (In news footage showing him being vaccinated, Leviev, who has a penchant for designer clothing, appears to be wearing a mask featuring a Louis Vuitton print, which does not cover his nose.) However, he claimed he had not lied to get vaccinated early, saying, "I am a businessman. I have money. I can buy anyone or anything that I want."
"I am not someone who waits in line or at places," he told Israel's Channel 12. "With all due respect, I will not sit and wait 3-4 hours. I am not someone who waits and no one can say a word about it."
The documentary's debut in February 2022 brought global attention. Despite what it revealed, Leviev seemed to be living the good life in Israel, based on his Instagram. Footage posted to his account showed him enjoying luxury goods, including an iPhone, designer sneakers, sports cars, and more. He was also dating Israeli model Kate Konlin, who initially publicly defended him.
What Was Leviev's Next Move?
Leviev rebranded himself as a "real estate expert." A November 2021 Vents Magazine profile even described Leviev as "a millionaire of repute [who] has played the high stakes in the world of real estate for years." In this interview, somewhat hilariously, the con artist advises aspiring real estate titans to "keep it real," adding, "Your networks and your relationship with them can either pull the rug from under your feet or place it just when you needed it the most. So choose wisely."
Both Vents and Leviev's personal website — which he once used to sell his business workshops but took down — said that Netflix was producing a series based on his life — an especially ironic lie, given that Netflix released The Tinder Swindler. His website also claimed that Leviev was worth tens of millions, which he supposedly earned through canny investing in Bitcoin and real estate.
What Was Leviev's Reaction To The Tinder Swindler?
Once Netflix's documentary came out, Leviev — who'd opted not to be interviewed by The Tinder Swindler filmmakers — claimed it was "a completely made-up movie." He spoke to Inside Edition exclusively and insisted he was "a legit businessman." "I'm not a fraud and I'm not a fake," he said. "People don't know me so they cannot judge me. I'm the biggest gentleman in the world." His then-girlfriend, Kate Konlin, supported him during the interview, wondering "how someone can build such a fake story" and saying he hadn't borrowed any money from her.
Are There New Allegations Against Leviev?
Although Konlin defended Leviev in February 2022, she has joined his past victims in speaking out against him. In a BBC interview broadcast on Feb. 18, 2023, she described their relationship as controlling and said he talked her into publicly supporting him. "He told me, 'If you stick up for me, people will believe me, because you are a woman,'" she said. Even so, when she watched the documentary with him, she said she "knew it was all true." (In response to her allegations, Leviev told the BBC that Konlin "lies and lies.")
Konlin further opened up about their relationship, which began weeks after he slid into her Instagram DMs in 2020. He quickly charmed her and her friends, she shared. "At first, our relationship was a love bomb," she said. Much like the women from The Tinder Swindler, she was won over by his romantic gestures and voicenotes.
As the relationship progressed, though, Konlin says Leviev started to belittle her and she felt like she was "walking on eggshells." Plus, his requests for loans started coming after a few months together. Like the other women, she found herself in a bad situation. She says he borrowed $150,000 and would berate her about money. In a voicenote she shared with the BBC, he tries to explain why he hasn't repaid her by shouting that he's a millionaire but is just "stuck."
The couple broke up after an argument on March 29, 2022, but Konlin didn't speak out right away. Now, she wants to share her experience to help others get out of similar situations. As for Leviev's claims that she's been dishonest about their relationship, she told the BBC, "He's called every woman who has spoken out against him a liar. He doesn't want me to tell my story of emotional abuse."
"This is not an interview about money (it is also part of the story)," she wrote in part on Instagram on Feb. 19, 2023. She went on to say the "severe mental abuse" caused her to suffer hair loss, weight loss, allergies, and thoughts of suicide. "I open my heart and my story and every day I heal," she added.
Could Leviev Face More Prison Time?
In The Tinder Swindler, his victims made it clear they still wanted him to face greater legal consequences for his actions. Sjöholm later told the U.K.'s Metro that she was "never going to give up on that." As Morris' film expressed, it's frustrating to see a figure like Leviev carry on with his life relatively unscathed, especially while his victims struggle with their ongoing debts. But the film accomplished what Fjellhøy, Sjoholm, and Charlotte set out to do when they sat down with journalists to tell their story: Now, most people who hear or Google the name Simon Leviev will know him not as a real estate mogul but as a con man.
This article was originally published on