The Original Kung Fu Series Has Been Rebooted For The Better On The CW
The modern retelling moves the needle forward for Asian representation.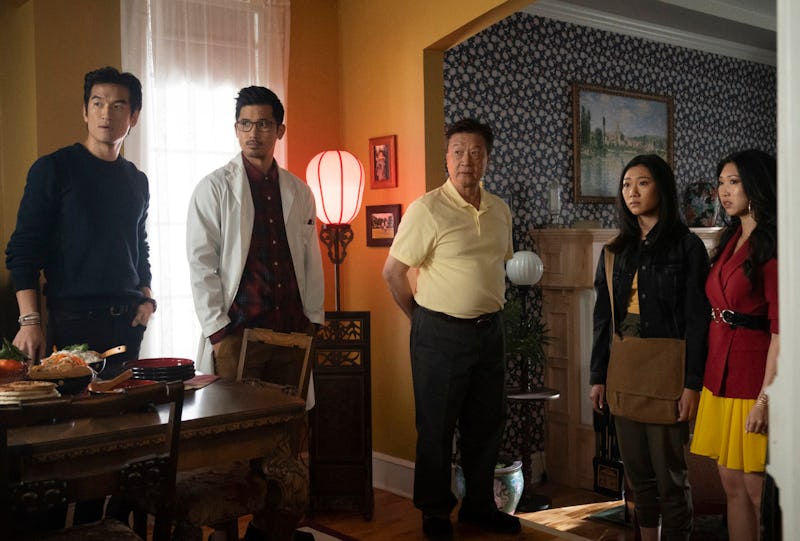 Katie Yu/The CW -- © 2021 The CW Network, LLC.
So many TV shows these days are reboots or revivals of older shows. While most seem to come from the '90s and early 2000s, The CW reached back to the '70s for its new series Kung Fu. The reimagination gender-swaps the lead role, and that's just one of the key changes in the martial arts-centric reboot. If you go back and stream the original Kung Fu series that aired from 1972 until 1975 (it's available on Amazon Video, iTunes, Google Play, and YouTube starting at $1.99 per episode), you'll see that the revamped show is way different in some other very important ways.
The 2021 Kung Fu series moves the needle forward for representation in a way that the original just failed to. Olivia Liang stars in it as Nicky Shen, a college dropout who uses her newfound martial arts skills to protect her hometown, and she's joined by a cast largely made up of actors of Asian descent. The show's casting marks a first for network dramas, as The New York Times reports.
In the '70s series, the main character was meant to be Chinese American, but producers passed over Bruce Lee for the martial arts-heavy role and instead gave the lead to white actor David Carradine, who was of mostly Irish heritage. Upon his casting, Carradine didn't know anything about kung fu and wasn't trained in any martial arts, Screen Rant reported in 2020. To play Kwai Chang Caine, Carradine relied on "tanned skin, stilted speech, and forced squint," per The Guardian. The outlet reported that he was selected over Lee because producers worried his accent would be difficult for audiences to understand and thought he looked "too Asian." (For an Asian role, no less.)
While people of Asian descent still have it extremely hard in Hollywood and America in general (which 2021 has shown us again and again), The CW reboot is working hard to combat that. Alongside Liang, the series has cast Tzi Ma and Kheng Hua Tan as Nicky's parents, Vanessa Kai as her Shaolin mentor, plus many other actors of Asian descent to round out the cast. Though we've seen sitcoms focus on Asian American families before, like Fresh Off the Boat and Dr. Ken, this is new territory for a broadcast drama.
Liang told Bustle that she is proud to help transform the story for our modern age. "It feels really empowering to get to reclaim [martial arts] and to say you know what, it's not a stereotype. It's something that we can be really proud of because it's a huge part of [Asian] culture," she said. She added that she hopes Kung Fu will be part of a "long-term solution to bringing representation, inclusion, and acceptance into people's homes."
It's a shame bad it has taken nearly 50 years to see Kung Fu embrace Chinese culture rather than cast a white actor to play a Chinese American kung fu artist. But this is one small step during a time when we need Asian American representation more than ever. As Liang told The New York Times, "The lack of representation 100 percent contributed to the horrifying things that are going on right now against Asians because we're not a part of a lot of people's narrative. They don't see us in their communities; they don't see us on TV. They forget that we are part of the world."
She wants Kung Fu to help change that — not just to give people of Asian descent something where they can see themselves, but for people of all communities to watch. "Representation, as much as it is about us being able to see ourselves onscreen, is more about being seen by other groups of people who are not Asian," she said.