The PLL: Original Sin Season Finale Finally Revealed A's Identity
"There's nothing gentle about our A."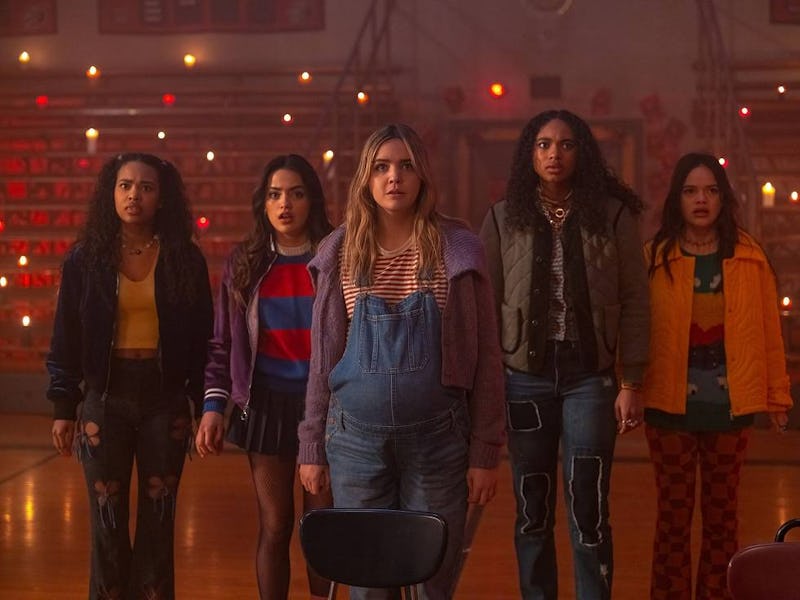 HBO Max
Spoilers ahead for Pretty Little Liars: Original Sin. Remember A? The vindictive blackmailer from Pretty Little Liars who tormented high schoolers Spencer, Hannah, Emily, and Aria for seven years? In the original show, multiple people took the mantel of "A" from season to season. There was even an "Uber A" and "A's Army." Eventually, A turned out to be Cece Drake, Alison's sister.
In HBO Max's reboot, Pretty Little Liars: Original Sin, A is back, armed and dangerous. The new masked A of Millwood is tormenting another set of women — Imogen (Bailee Madison), Tabby (Chandler Kinney), Noa (Maia Reficco), Faran (Zaria), Mouse (Malia Pyles) — and unlike Rosewood's villain, this A is scarier than ever. First, A looks straight out of a horror movie with a slasher mask, unkempt hair, and a construction jumpsuit. Plus, this new iteration is much more gruesome.
"Our A is very vindictive, brutal, cutthroat, and has zero remorse or fear of pushing the limits to the farthest that it can go," Bailee Madison tells Bustle. "There's nothing gentle about our A. If our A is out to get you, your life is in A's hands."
According to Original Sin creators Roberto Aguirre-Sacasa and Lindsay Calhoon, there is none of the years-long guesswork like in the original. "Lindsay and I [are] both storytellers. We love beginnings, middles, and ends. So we decided early on that whatever mysteries we introduced in the first few episodes of Season 1, by the end of the season, they may not have completely concluded, but they all needed at least a satisfying conclusion," Aguirre-Sacasa tells Bustle.
The question of "Who is A?" also takes on another layer in this new PLL iteration. In the original, the Liars were already friends and committed their "sins" and lies — at least in their tormentor's eyes — together. But in the town of Millwood, the Liars' moms are connected to their Big Bad's ultimate vendetta. "These girls are thrown together very suddenly by A, and they don't really know what's going on, and they have to uncover the mystery of why A is targeting them specifically and why they're the ones being tormented," Chandler Kinney, who plays horror-film-buff Tabby, tells Bustle. That's definitely an added dimension that the PLL fandom has to consider when sleuthing for clues as to A's identity. But the audience can finally put an end to the investigation because A's identity is finally revealed in the Season 1 finale, and it's a doozy.
Who Is A in Pretty Little Liars: Original Sin?
Original Sin laid out several suspects for who the masked killer could be, including Wes, Sheriff Beasley, Freddy, Principal Clanton, or Madame Ghiri. But A's real identity proved to be far more complicated. While many viewers assumed the villain was inspired by Angela and her death in the premiere episode, the finale reveals that the "A" in question actually stands for "Archie," the twin brother of Angela. Why did Archie go on a murder spree? Well, that's connected to Principal Clanton, aka Archie's father.
After falling in love with Rose Waters, Clanton quickly and unknowingly became a father to twins Angela and Archie. However, because Rose and her family were in need, the Waters accepted hush money from the Clantons to leave town. Principal Clanton remained in Millwood, rising through the ranks of education and earning the title of vice principal at the high school. Around that time, Rose reemerged and asked that Angela be enrolled at Millwood High. Clanton obliged, not realizing he was ushering his daughter into the environment that would ultimately lead to her demise.
Clanton explains his entire backstory after coaxing the Liars into the school for one final test. He tempts them with revenge on the bullies in their lives, only to congratulate them when they choose mercy. The Liars then head into the school's gymnasium, where all of their mothers are being held captive by Archie and a gun-wielding Clanton.
The Pretty Little Liars: Original Sin Season 1 Ending, Explained
In 1999, Angela confided in Davie, Imogen's mom, about her assault at the hands of future sheriff Tom Beasley. Angry about the accusations, Davie recruits her friends Sidney, Elodie, Corey, and Marjorie (the mothers of the Liars) to systematically ostracize Angela. They essentially turn Angela Waters into a ghost, getting the entire school to ignore her existence. One day, Davie seeks out Angela to apologize and offers her an invitation to a New Year's Eve rave. When Angela finally arrives at the party, she's emotionally distressed, and it gets worse when she discovers the attendees continue to ignore her. After a long series of rejections, Angela climbs to the roof of the rave's warehouse, and we see the scene from the show's opening where Angela jumps to her death.
Clanton blames the Liars' mothers, especially Davie, for the death of his daughter. However, as Tabitha points out, Clanton should be including Sheriff Beasley (Eric Johnson) in his revenge plot because he assaulted Angela in the first place. Clanton reveals that he plans to pin the whole scheme on Beasley, but he doesn't know that the sheriff is nursing a stab wound from his wife after he threatened to kill Kelly as he did Karen (Mallory Bechtel).
The principal explains that to stop the cycle of violence and bullying, the sins of the mother must fall to the daughter. Clanton orders Archie to kill Imogen. She races home and lures Archie into the bathroom before stabbing him several times — in a scene inspired by Psycho. Back in the gymnasium, Kelly arrives with Greg (Elias Kacavas), finally delivering the backup the Liars had hoped for. Startled, Clanton shoots Greg in the arm, and then Tabitha clubs the principal over the head with a desk nameplate. Kelly, Greg, the Liars, and their mothers track down Imogen at her home. Sitting across Archie's limp body, the pregnant teen informs everyone that her water broke.
The season ends with a Christmas-time flash forward, where everyone appears to be in good spirits. Clanton was arrested. So was Chip (Carson Rowland) for assaulting Imogen and Tabitha, but he was able to make bail. It seems like the whole ordeal is over, but then the final scene cuts to the hospital where Archie and Beasley are alive after surviving their stab wounds. In one last horror homage, Archie breaks free from his bed and murders Beasley in his sleep. The season comes to a close with Archie arriving on Chip's doorstep and killing him just as the credits begin to roll. While the show's mystery seems to be mostly solved — and A's real identity is known — Original Sin leaves everyone wondering what Archie will do now that he's free.
This article was originally published on